I remember a time when I would go on a trip. A time when, packing my suitcase and going to the airport, it was routine! Yes, but here it is, almost a year after a long pandemic crisis, these trips seem to me to be only distant memories ... Anne Ramos from the blog in our bubbles suggested that I write this blog for an article carnival to discuss my three favorite destinations. I of course immediately accepted. If at first I wanted to talk about my three best trips, I quickly found myself faced with a problem. I have had the chance to travel for many years, also, good travel memories, I have my bags full of them.
But, to be honest, of all these adventures, it's not necessarily what I got to see underwater that makes me remember one place rather than another.
I quickly remembered my trips to Indonesia. Each experience in this country was different. Each visit turned out to be inseparable from a meeting with a character and often the beginning or the continuation of a friendship.
Bali:
From my first trip to Bali, it was love at first sight. The Island of the Gods is a playground with a multitude of diving spots. It is also a place with a magical culture and traditions. The Balinese are super welcoming and I was very quickly bewitched by their kindness.
On each of my trips to the heart of this region, I found myself in this small village called Amed. There are many French people who have settled there. This is the case of Antoine Martin the boss of Bali Dive Trek. Located just before Tulamben, this little piece of paradise is a well-known secret. For me, it remains my favorite diving spot. The dives from the shore are magnificent and diverse. We stay close to Tulamben for fans of Liberty. In Bali, we often associate the place with the macro, well it's true, we can also see manta rays and mola-molas there. But Amed is also a whole lot of sites, more or less deep, where we find pelagic. This kind of uncrowded place turns out to be well known to Antoine, who, in addition to being an outstanding trainer, knows every nook and cranny like his pocket. To end the day, on the beach, several small restaurants and several reggae bars with the sweet name of Wa Wa We 1, Wa Wa We 2 and Wa Wa We 3 await you.
Bali is a large island that hides many other secrets, such as the Gili Islands or Ubud (highly touristic place), inland. One thing is certain, every time I go on a trip, I leave happy, refreshed and with my head full of good memories!
Wangi Wangi in Wakatobi:
Responding to Robin Cuesta's invitation to Sulawesi Dive Trek, I went to this little Indonesian paradise. Well, access at the time was not easy, it seems to me that it has been arranged since. There was even talk of opening a direct flight with Bali. If Bali has the defect of presenting a very large Western influence, here it is not. Wangi Wangi exudes authenticity.
It's a very small island, devoid of a big tourist hotel, and honestly, so much the better. The tourists I met during my trip there were counted on the fingers of one hand. A real change of scenery, not one person to complain !! For meals, we feast in small warung which offer delicious dishes, we can also eat in the market, which is absolutely magnificent. And there are also the lala pan, unmissable gourmet counters at least twice starred in the boui-boui guide. Nature side, surrounding the island, superb mangroves in the heart of which, to my great surprise, despite exploring in the heart of nature, I saw few wild bugs there. Small disappointment all the same. I must have come face to face with a sea crocodile, it will be for another trip. The best for the end, the dives ...
There is a great diversity of corals there. Cousteau, during his visit to the region during the Belle Epoque, described it as underwater nirvana. If it is true that I saw many very beautiful corals in very good health there, I was, on the other hand, marked by the absence of pelagics. Maybe we were too close to the coast?
Indeed, if Robin had invited me, it was in order to explore, together, the vast network of caves emerging all over the island but also throughout the Sulawesi region. Those on Wakatobi, real cenotes, are easy to access and are perfect for an initiation to cave diving. It's even more a pleasure when you realize that it can still be done without being waterproof, a real pleasure.
Only downside, unfortunately, there is always one with some pollution. These small cenotes are at the heart of the city. This water point is used by the entire population for laundry and washing. This is an issue that had been ignored by the locals before Robin arrived.
When he showed them all the trash he had found, the community immediately responded positively. It must be said that in this very specific case, the real culprits turned out to be the manufacturers who, in Indonesia, in order to reduce costs and increase sales, manufacture and sell everything in a single rosette.
The Sea of ​​Bandas and the Raja Ampat:
Okay, yes, I'm cheating a bit. They are two different places… But I couldn't miss either one or the other. In terms of scuba diving, it seems to me that the sea of ​​bandas is among the most beautiful experiences I have had in my life. The Bandas Sea is perhaps even richer than the Raja…. If this sounds hard to believe, it really is how I feel. It seems to me that in terms of fauna and flora, these were more varied and denser. We no longer know where to look! It moves in all directions!
The Raja Ampat, name meaning the islands of the four kings, are however magnificent, I intend to return there as soon as possible to support a French NGO " The Sea-People Which, together with the local population, works to restore coral reefs. You can, in this regard, also put your little grain of sand there and allow this paradise to remain one by adopting a coral or by subsidizing one of their gardeners. The Rajas are a magnificent destination both on land and at sea. The locals have an incredible smile and every encounter is a rich experience. This is the big difference with the Bandas Sea. There, you don't meet anyone and you don't go ashore.
The final word:
To conclude, a trip is not limited to underwater fun. You can also immerse yourself in the local culture, create new friendships. Each trip, through these experiences, has allowed me to learn a little more about myself. A trip depends entirely on the introspections that one makes there. These shape us and allow us to make ourselves better.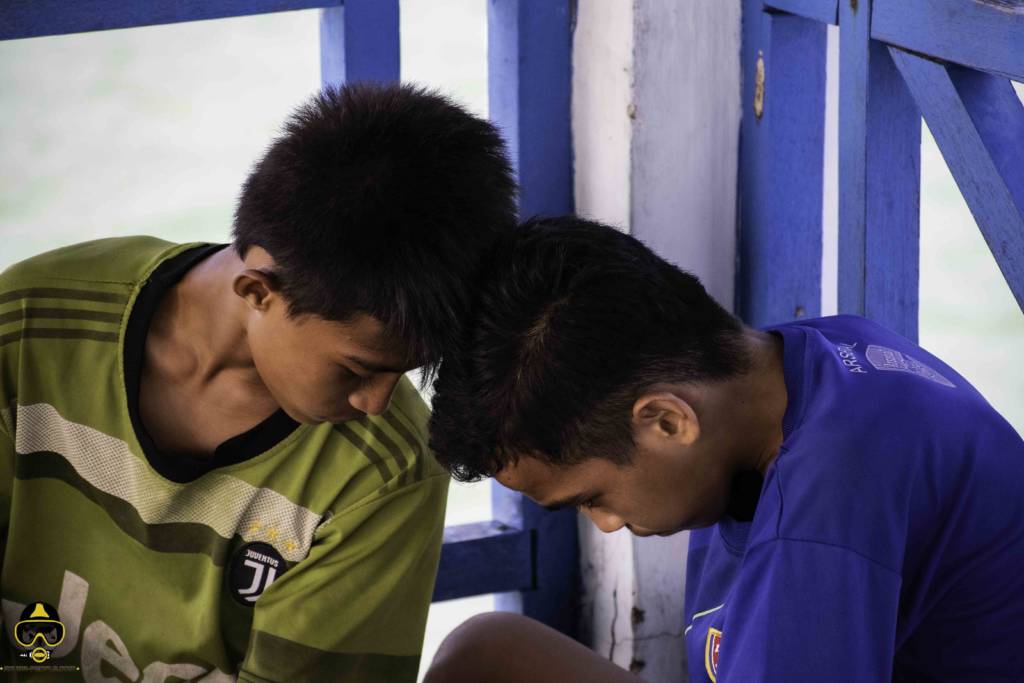 Article and photo by Christophe Chellapermal.
Blog: Click here for the blog link: In our bubbles