D-6 before the opening of the Salon de la Plongée: this year, more than ever, it is under the sign of celebration that the event will open. Between exhibitions, meetings, trips, and special evenings, we have selected for you some "unmissable" not to be missed under any circumstances!
A PARTY BEFORE EVERYTHING
"It reigns this year, rejoices Hélène de Tayrac, organizer of the show, a real desire to party! "For everyone, and without a label, the 2013 Show is defined both as a giant festival that promises encounters and emotion, and as a general public show that broadens our horizons as die-hard scuba divers, as shown. the choice of the theme of the year. Everyone in the water, each with their passions, desires, level, dreams and projects! The Show will be plentiful: "packed to the brim as Hélène de Tayrac reminds us in terms of the number of exhibitors", since in recent days she has had to refuse people; but also in terms of entertainment. "It won't stop: three major exhibitions, conferences, screenings, endless activities! It will take at least two days to go around it, and the exhibitors have really imagined a lot of things! "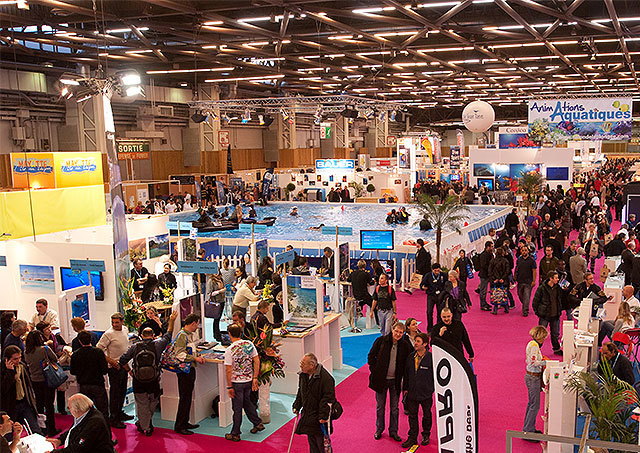 IN WATER WITH THE GREATEST APNEISTS
We already told you, but for those - and especially those? - who have not yet recorded the info, you will be able to splash around with all our freediving champions! They are waiting for you for baptisms in the Salon's swimming pool, which for the occasion should reach the temperature of 26 or 27 degrees by Friday morning… You can take out your best swimsuit, "they all intend to be super available. », Hélène de Tayrac assured us yesterday! And if you want to keep a souvenir, you can ask for the poster of the champions at the entrance, to be signed by each of them.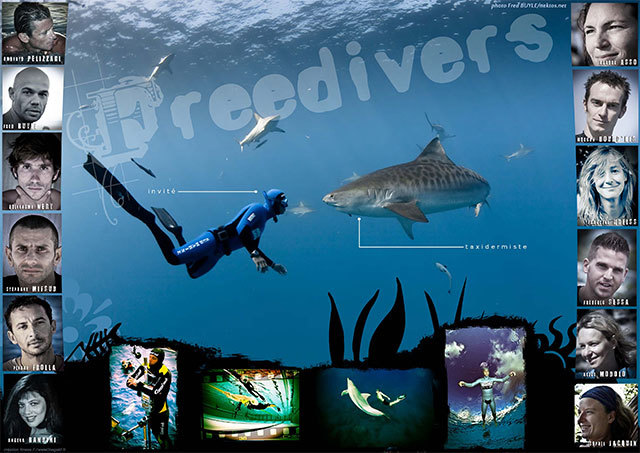 SCUBA-PEOPLE.COM -> Stand: A 04 - B 03
To all honor, we are delighted to announce that for the first year, we are exhibiting. We therefore hope to see many of you on your stand - A04 / B03 - to get to know each other but also to collect your ideas and suggestions.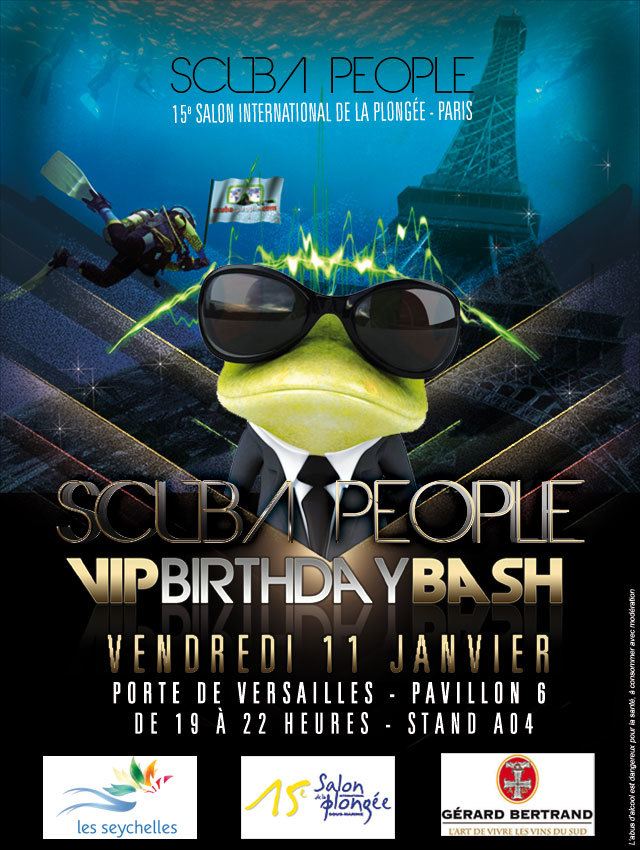 And as your site has just celebrated its 3 years of existence and was honored with the palme d'or for website of the year at the Festival International de l'Image Sous-Marine de Marseille, we have concocted for you a festive evening, in partnership with the Seychelles Tourist Office, Friday from 19 to 22 p.m.
ABYSSWORLD -> Booth: C 21
Among all its range of destinations, the Tour Operator Abyssworld favors for more than 20 years stays in the Philippines, and enjoy the show to help you discover its specialty: traveling safaris, supervised by French-speaking guides, which allow you to discover all land and underwater facets of the archipelago. You will find the members of their Team on stand C21, but also two of their passionate guides, Vincent Brocas and Cédric Cholley, on the stand of the Philippine Tourist Office n ° C40-D43.
AQUALONDE -> Stand: C 42 - D 45
JéJé and his team are not the type to let themselves be counted ... at home every day from 11 am (in the morning ...) it's aperitif until ...
BLUE LAGOON -> Stand: C 01 - A 02
After two years of absence, Blue Lagoon returns, and to mark the blow you reserve a few surprises: oxygen bar, molecular cocktail bar, gifts, posters, and two raffles on the program, which you can participate during the show. And this year, Osman Ersen invites you to head for the Philippines: "Be it on the island of CEBU (Moalboal or Malapascua), the island of NEGROS, the island of BOHOL, or cruise, the Philippines meet all the expectations of divers and non-divers. Establishments worthy of 5 *, impeccable service, friendly and smiling people, dives rich in color and emotion, succulent dishes ... these are the ingredients to make a dream trip. Prices for this destination vary from 1600 to 1900 € depending on the departure dates and the chosen hotel. "
Centro servizi sub -> Stand: E 22 - E 24
Aldo FERRUCCI, the specialist in Tek & Rebreather diving invites you to come and share Italian moments of conviviality on his stand.
Saturday nights 11 and Sunday 12 January, Apero at Aldo stand E22 E24 from 17h30. On the program: Cocktails galore Italian red wines Italian spumanti e prosecchi Italian gastronomic specialties
At 18 p.m. the extraction of the 10 daily prices.
DIVING ATTITUDE -> Stand: E 09
Our friends from Hurghada invite you every day to greet them but even more particularly on Saturdays at 18 p.m. in order to celebrate this New Year with dignity.
INCANTU -> Stand: E 39 - E 41
Like every year, find the whole team of this center that we no longer present; The icing on the cake, this year the Corsicans are adding 1 tonne of Corsican charcuterie in order to make you taste the best of the island of beauty but also bring some home.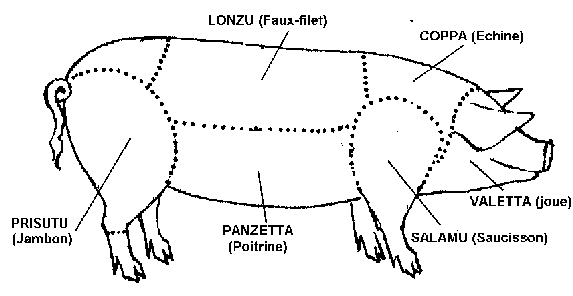 KEY LARGO -> Stand: E 08 - F 07
We invite you on Saturday 12 January at 19 hours for a cokctail-presentation of snorkeling with sharks in South Africa in the presence of Pierre FROLLA, Pascal KOBEH photographer and Bénédicte MENU reporter at Figaro Magazine who realized this report for Le Figaro Magazine in South Africa in November 2012.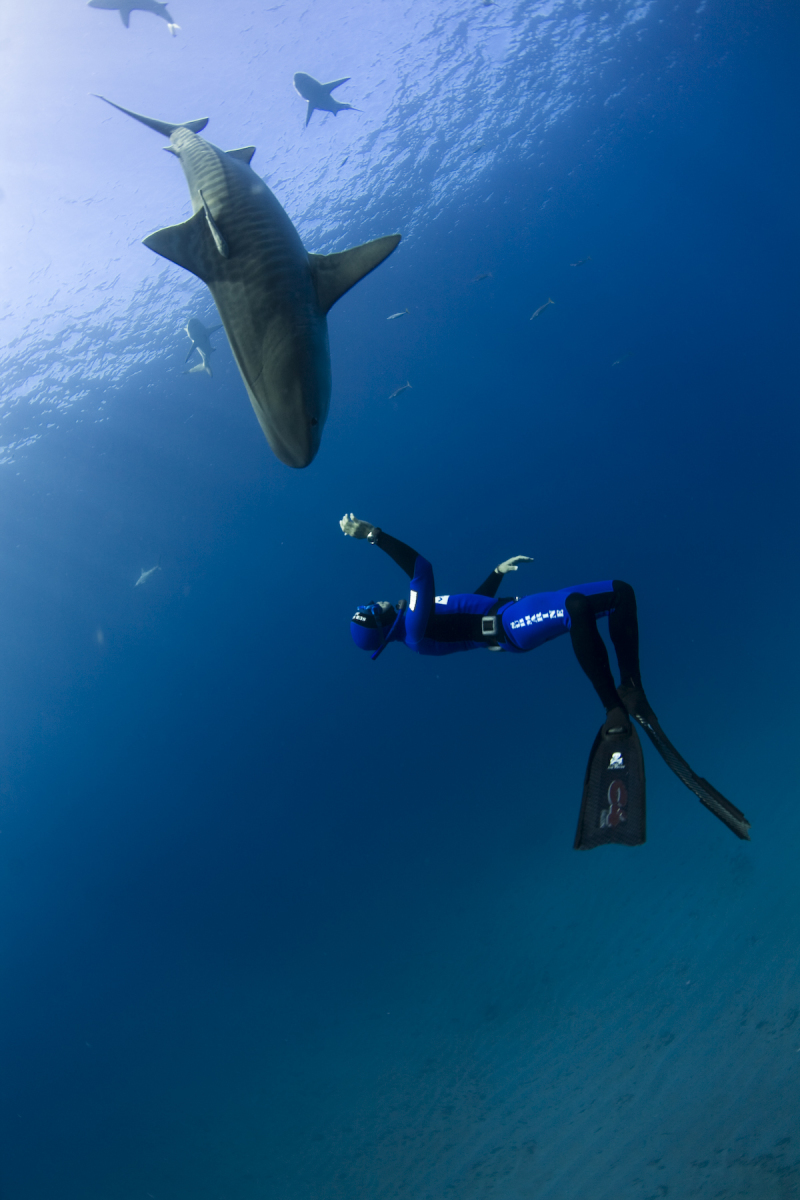 PHOCEA MEXICO -> Stand: C 03
The French center of Mexico that we no longer present, awaits you firmly with a multitude of surprises.
Lots to win:
- 1 week in Mexico: Plane, return airport transfer, 7 nights with breakfast, 6 dives in playa del carmen and 2 dives in cenotes valid for 1 person, operation in partnership with the Oceanes agency
- 1 week in Mexico: Plane, return airport transfer, 7 nights with breakfast, 6 dives at playa del carmen and 2 dives in cenotes valid for 1 person, operation in partnership with the Dive Spirit Travel agency
- 1 week in Mexico: Plane, return airport transfer, 7 nights with breakfast, 6 dives at playa del carmen and 2 dives in cenotes valid for 1 person, operation in partnership with the Blue Lagoon agency and the organization of the Show
- Vouchers up to 400 Euros valid on a trip to Mexico in partnership with Blue Lagoon
MAG DIVING -> Stand: B 20
Win a trip to the Maldives and many other gifts! Meet at the interactive terminals at the entrance and exit of the show and of course, at the Plongée Magazine stand.
SCUBAPRO -> Stand: C 26 - E 21
SCUBAPRO and the SEA centers are pleased to invite you to the cocktail organized on their stand on Friday 11 January from 21 hours in order to celebrate the 50 years of the brand.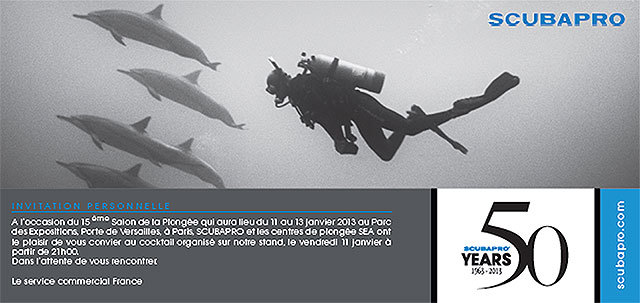 ESCAPE SPOTS -> Stand: E 05
Escape spots, among other flagship destinations, will offer you its "surprise dives" this year around Sao Vicente in Cape Verde. Still far from the main tourist lines, the small mountainous island with its quiet charm promises you nearly forty diving spots, at a maximum depth of 25 meters: on the program, stingrays and mantas (but not in groups), nurse sharks from 2 to 4 meters, many toad fish, turtles (except in July and August), tazards, barracudas, moray eels, parrots, schools of jacks and snappers. Humpback whales visit the south coast in February and March. The whale shark is present between July and December. Galapagos sharks are sometimes near a small island to the north.
THE SEYCHELLES ISLAND -> Stand: E 08 - F 07
Come meet the Seychelles Tourist Office team to find the answers to the big competition organized in partnership with scuba-people.com and try to win a return trip for 2 to the Seychelles for a diving cruise on Silhouette Cruises
TURTLE PROD -> Stand: G 28 - G 30
As usual, the man who swallows Wonder batteries for breakfast invites you every evening 1 hour before the Show closes to have a drink of the glass of friendship
FIND ALL OFFICIAL INFORMATION ON THE SALON SITE: