In southwestern Madagascar, in Tsimanampesotse National Park, the remains of numerous lemurs have been discovered in three underwater caves, hitherto unexplored. It could be the largest collection of fossils of extinct lemur species ever discovered.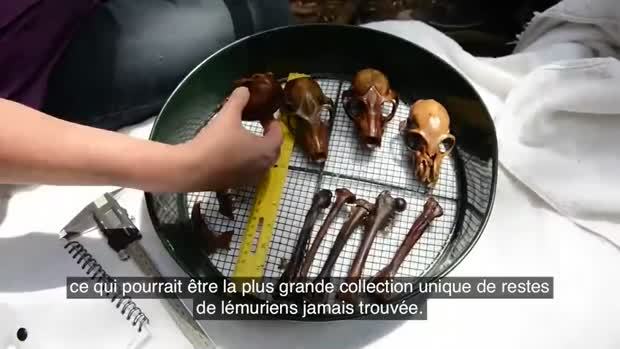 The research was carried out by a team of researchers funded by the National Science Foundation and National Geographic. This discovery is remarkable in several ways. Because of the large number of fossils discovered but also because of their quality of conservation. "There are really a huge number of fossils in one place. They are very complete, which is unusual in paleontology because often you will find broken bones or body parts separated from each other. Here, everything is together, in good condition, "says Alfred Rosenberg, anthropologist at Brooklyn College.
The underwater caves housed in particular the remains of giant lemurs (Megaladapis) which disappeared 500 years earlier and giant fossas (Cryptoprocta spelea). Bones of rodents, bats and carnivores have also been found. This underwater cemetery is a unique place in the world and could provide researchers with a very good sample of the fauna that inhabited Madagascar 1000 years ago. Among the wide variety of fossils, researchers hope to make new discoveries. But also to bring additional knowledge on the species of extinct lemurs. Moreover, the analysis of fossils could make it possible to know what led to the extinction of these species of lemurs. It will perhaps explain this strange underwater concentration of extinct lemurs ...