The mood of Francis Le Guen
Because sometimes, do not mess around!
Music credits: Erwan & Eric Le Guen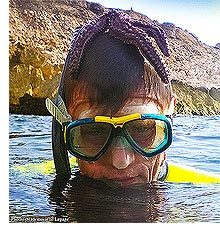 Diving… What a wonderful activity. School of humility and… humidity! First, a good trip in a zodiac where you are thoroughly rinsed. Then the diving itself, where, by definition, we are rather wet. Then, the return, in the spray and the sea waves. Just to rinse off….
But it is not finished. Because what distinguishes this sport between all is that once on the ground, "dry", it is necessary to get wet. We must rin-cer!
And yes. While we would aspire to rest, warmth and a certain drought, imagine that we still have to transbahide the equipment, at best on rickety pontoons, at worst on infested beaches, as desired, of vivid, coral sharp or poisonous rays, when not over a mile of open ground at low tide, riddled with sharp pebbles, tricky water holes, and broken bottles. Direction the rinsing tank! Where the barrel, if we're on a boat. Between us be said, this barrel of "fresh water" tends over the course of the cruise to resemble a pickle jar, with a salt content close to or even greater than that of sea water. 'macerate pissy neoprene in it ...
But in fact, why should you rinse your equipment? It's a bit like asking skiers, at the end of their descent, to roll in the snow. Or climbers, rubbing themselves with gravel ...
So, we send men into space who face solar flares, cosmic rays, micrometeorites, hallucinatory temperature changes, not to mention accelerations and oven temperatures during reentry and divers, after a miserable 20 'dip in the salt water, should they go to the shower and decontamination tanks as if they were coming from Fukushima? But what is this insincerity?
That's what you see, salt water is corrosive. And diving equipment fears seawater! The souls will argue that it is simply badly designed. After all, when you think about it, it's a bit like making rainwater-loving rain gutters! But it is so. Let's move on to the silicones, rubbers and various plastics that, in principle, are resistant to seawater to talk about metals, still present in many pieces of equipment.
Imagine that these perverse industrialists are very good at combining metal in their constructions, which we know to be very efficient stacks in seawater. Electrolysing like no one, corroding, budding, mushroom, snag at who better. All kinds of small pistons, valves, nozzles and injectors machined to the ten thousandth but which deteriorate visibly in case of prolonged immersion.
Do not even talk about photo equipment, lamps and flashes that, not content with being perfect electrolytes at the contacts, board batteries and explosive capacitors able to sink a wreck a second time in case of entry of water. From sea.
Because of course, in fresh water, we are more peaceful. Besides, I suspect I have long preferred caving dives to escape this despicable chore of rinsing ...
And yet, we have built a number of nuclear submarines that patrol the oceans for months without needing to be flushed. Bathyscaphes and other Nautiles that resist the abyss rather well. So ? Stainless steel? What stainless steel? How is that too expensive? Electric contacts gilded with fine gold, unalterable? But, you have luxury tastes, my dear… I'm going to make you try a soft iron / copper / aluminum sandwich, ladled chrome: you are going to tell me the news! Come on… Don't thank me.
So, naturally, if you want to protect your investment and survive the next dive, you rinse! Long, maniacally. We sprinkle in all the holes, we dissolve, we scrub ...
In the rinsers, there are several schools: those who go direct fully equipped in the shower (with water desalinated, ie brackish) and disquip themselves to the wild, undress in broad strides, trampling on the recalcitrant Neoprene, rinsing at the same time, man and gear. This is the technique of pig rinses.
The meticulous. Who carefully place their equipment at the bottom of the bin as if they were alone there. Terrified when other groups come to dump dumpers of stabs, clothes, regulators and sometimes weight belts, completely covering precious photo boxes, domes in the air… Sagouins!
The undecided. Should I rinse the mask? the palms? the tuba? Useless, it's rubber! Yes but in the bag, they will contaminate the rest. It's endless!
Let's talk about bags, by the way. They are often perfectly waterproof. To better keep the seawater inside, halfway up the equipment. It is also a matter of using a pressure cooker during transport, revealing the rich smells of wet neoprene, saturated with decaying plankton, upon opening. In the best case…
We must also rinse the bags! But we always forget their Achilles tendon: the zipper. It is also carefully composed of two complementary metals. History to find the next day the slide concreted of white salts and impossible to move. When she does not stay in the hand of the madman who, with bloodshot eyes, tries to open it by force.
So yes, I dream of hard-wearing diving equipment, inert to seawater, self-drying… In the meantime, we must rinse!
But the pompom is this muffled impression that some diving trips go hand in hand with laundry, dishes and cleaning ... In associations, it is normal that everyone gets wet but when traveling? In commercial structures? So we paid for the stay? No that Lisette! When I go to a restaurant, I don't do the dishes!
Tired of getting rinsed ...