Commander Cousteau's Calypso joined the Turkish Izmit shipyard at the end of March.
The Abis Dusavik, 115 m freighter, arrived Monday March 14 at Concarneau to load the legendary Calypso, an operation described as spectacular and delicate, because the two cranes of the freighter, with a lifting capacity of 150 tons each, have had to lift the Calypso, 111 tons, thanks to four attachment rings fixed on the cradle. The Calypso was then to be placed in the hold where it would be stowed for the crossing.
Cape Town Turkey
It is finally in Turkey, and not in Italy as initially envisaged, that the former ship of Captain Cousteau should be restored.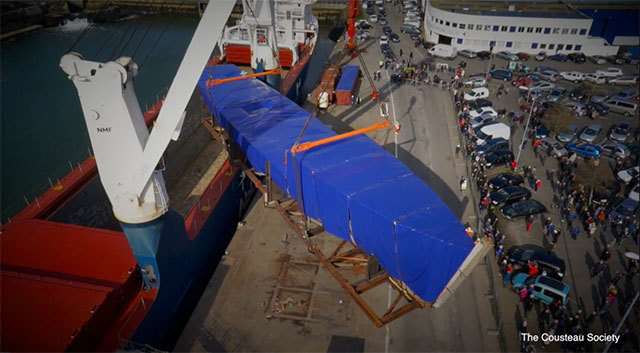 "The choice fell on a specialist, associated with an American company, in Istanbul. An Italian engineer, Dr Marco Cobau, will be on site throughout the restoration, to represent the Cousteau Team with the advice of Patrice Quesnel ", indicates the Cousteau Team, which still estimates the duration of the works at two years. works.
More: http://www.cousteau.org/