Regular readers of Le Mag already know him well. Indeed, it was Steven Surina who shared with us his passion and his knowledge of sharks all last season. It is clear that this one still had things to say since he has just released his first book "Understanding and Swimming with Sharks". We took advantage of this outing to ask him a few questions about a rum ... maybe even two ...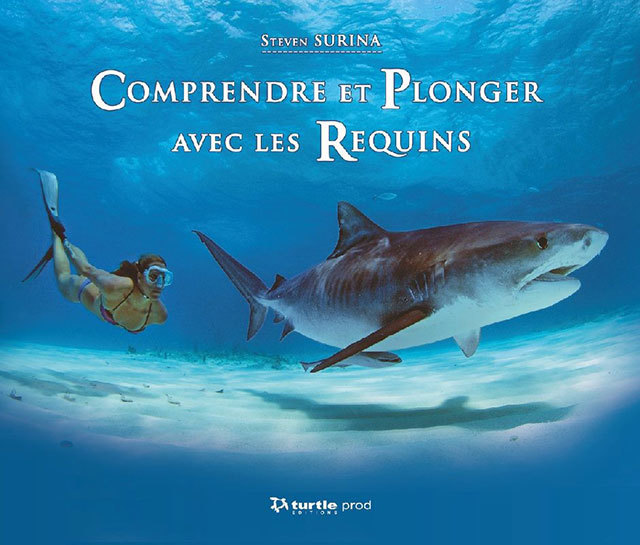 How did you get the idea of ​​writing such a book?
In reviewing my Red Sea conferences with Shark Education, I realized that divers had theoretical knowledge without any real pedagogical structure. So I first started writing an interactive booklet about fifteen pages where I exposed the history, biology and preservation of sharks, with a descriptive sheet for each species of shark that could meet a diver in Egyptian waters.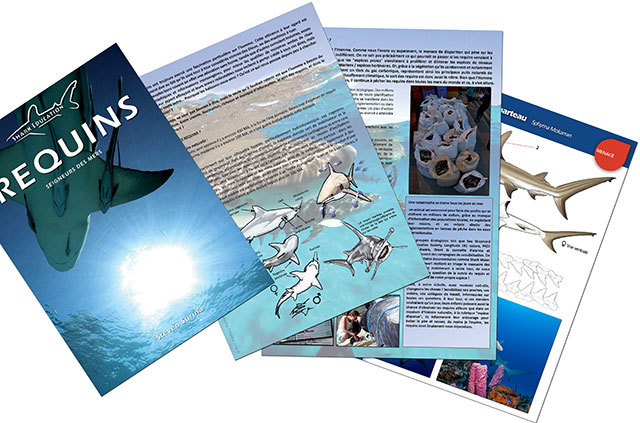 These booklets were offered in addition to my shark seminars. Having found more than a smear of rum on the bar, others in the garbage, others still partially torn or soggy in some dive box, I decided to stop distributing them ...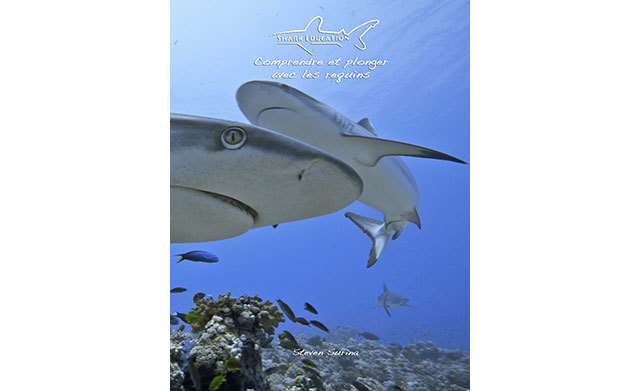 Over the years, at the request of the divers, I imagined the writing of a content synthesizing all the conferences of the stay in a form other than that of this unfortunate first booklet. The innovative idea was to work on creating content that could help all divers better understand how to approach and interact with a shark. This approach was unprecedented for the French-speaking public.
So I made a model that I submitted to my customers on the boats, making it evolve and improving it permanently according to their comments and their expectations. Then, I made contact with Nicolas Barraque of Turtle Prod, immediately interested in the project to the point of becoming the publisher.
How long have you written to write this book?
The writing was done in several times. With the texts of the first booklet, purified so that their contents are less dense, which constituted a first file, then with the articles on the behavior of the sharks published in the Mag of Scuba-people, which also served me as base on which m support and finally thanks to the help of a translator friend, I was able to consult some books published in English. To answer your question, let's say it took me about four months to complete three-quarters of the book I had to write ... between two bottle inflations during the 2014 season in Sudan! The diagrams, the illustrations, the collection of images graciously offered by all the photographers of the book, plus the final layout, in all, I would say we can add two more months!
To summarize, writing this book took me six months of hard work, while being a guide on cruises in Egypt and Sudan.
What is the book about precisely?
The primary goal of Shark Education is to allow any diver to understand the situation in which he is underwater with a shark. He must decipher the codes of the interaction and the corporal languages ​​in order to optimize his chances of meeting, without putting himself in danger and without scaring the shark, with the final objective to dive with a shark and not to be satisfied with to observe ... the escape. During the dive-shark trips that I organize, all this is explained in conferences animated with photos and videos.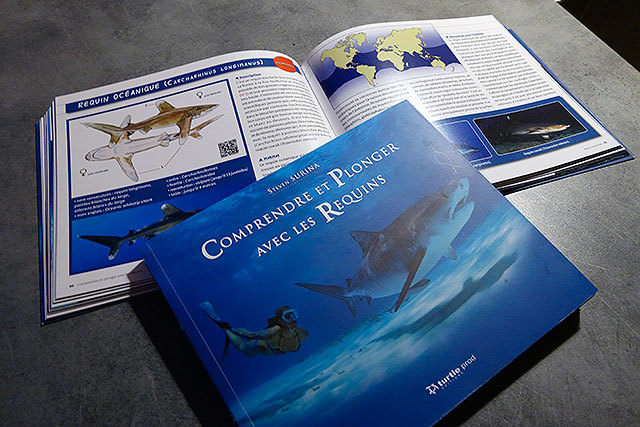 I have written a lot of information in this book that will allow any diver in any part of the world to understand his underwater situation with a shark. This is the original touch of my book in comparison with other French books about sharks and intended for a public of divers. And my book is accessible to both novices and more experienced! The book also includes fifteen descriptive sheets of species commonly encountered by humans, including five who develop an even more specific study of their behavior in the presence of divers, namely the bulldog shark, the oceanic shark, the silky shark, the shark tiger and shark hammer scallop. All cards are illustrated with detailed photos and drawings with the Turtle Prod tab and QR codes allow readers with smartphones to access a video of the shark studied on the web.
Why did you write such a book?
Reading through all the books on the subject in all languages, I realized that all of them are either scientific books, which are certainly very interesting but extremely specialized, or books for children. And these books absolutely did not meet the needs of divers, namely, the behavior of sharks in their presence. So I wrote "Understanding and Diving with Sharks", specially dedicated to divers to help them better interpret the interactions between them and our finned friends.
Why would we want to buy your book?
We are, I hope, all divers, now convinced of the more than problematic situation of sharks. The current diver is no longer content to dive to observe. He wants to understand what's going on underwater. He wants to practice intelligent, informative, interactive diving, as well as participate in the protection of these endangered animals. With this book, divers will be able to both better admire these animals in any situation and better understand them to better protect them. I founded Shark Education to share my knowledge and my passion for sharks. Thanks to "Understanding and Diving with Sharks", I want to pass on the knowledge acquired during my dives and my meetings with specialist marine biologists. I will have done my best to give a renewed image of sharks and want other divers to live the dazzling experience of safe and non-intrusive interactions with an animal so elegant, so fragile despite its power ... and never for free aggressive!!!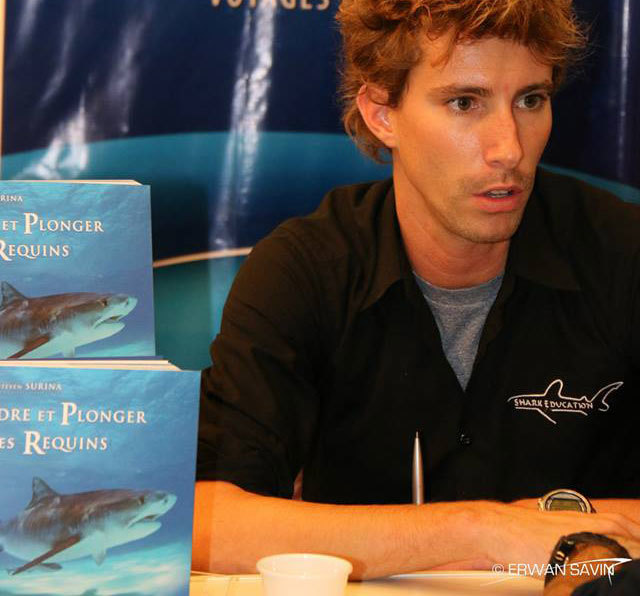 What does your book have more than the articles already published in Scuba-people's Mag?
The Scuba-people articles were certainly already complete. The videos of Mag reports undoubtedly demonstrate the value of digital technology on paper. But my book allows divers to find all the information gathered at their fingertips and in even more detail since the book deals with more species of sharks.
Do you have other projects in progress?
Yes, I have several. I am writing a new paperback that will deal only with the interaction between humans and sharks, more detailed than the previous one. Otherwise, thanks to my travels and my shark seminars, I begin to have a significant video image bank in addition to working and meeting real passionate specialists and professionals in the field. In the long term, I would love to sign a story that still deals with human-shark interaction, but using 3D models and all the latest technologies. A real exhilarating challenge that I caress and which is slowly maturing for the moment ...
Where can I buy your book?
The book is distributed in all dive shops in France. It is also available on all online dive shops. It should appear next week in the ferries of Fnac. I also propose it during my Shark Education theme trips. You can contact me directly. Finally, it is available in Egypt in several diving clubs, www.alysesplongee.com et www.seafariint.com
Is it possible to live more than a written experience?
As part of Shark Education, I offer thematic trips in several regions of the world, at key times to meet the sharks sought after. For more info, you can contact me on>steven@sharkeducation.com<, on the website www.sharkeducation.com.
In conclusion, I hope that you will take as much pleasure to browse this book as I had to write it? Beautiful readings and good bubbles ...