Realm Pictures is proud to announce the release of "Underwater Realm" on December 25, 2012.
"This is the most exciting project of the last twenty years, a project that combines new technologies and brilliant ideas with deeply passionate directors", Elliot Grove, founder of the "Raindance" Film Festival.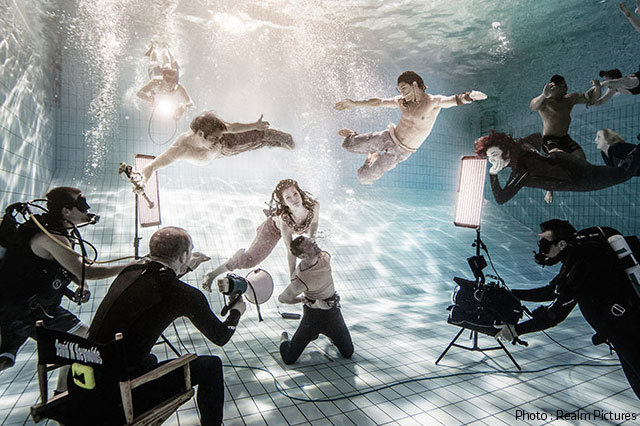 Thousands of years ago, the world's most advanced civilization sank into the abyss. "Underwater Realm" tells the story of five historic occasions when Humans managed to spot the survivors, who still live there today.
Created by a team made up entirely of volunteers, "Underwater Realm" is arguably the most ambitious independent film project ever.
For less than half of Peter Jackson's The Hobbit budget, the team managed to bring five different eras to life, taking care of underwater lighting and sound recording from start to finish. She built the life-size bridge of a Spanish galleon that actually pitched with all of its cannons. The whole team trained and worked with divers and freedivers to carry out this major project.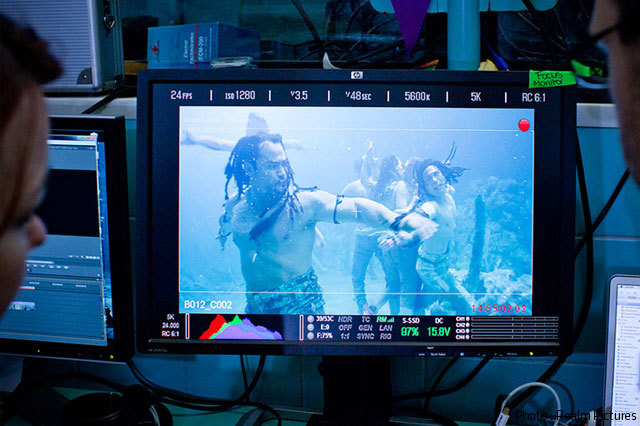 The film opens in 2012 with a newlywed couple snorkeling in Hawaii. Then, here we are in 1942, when the pilot of a Spitfire gets lost in the Mediterranean. We continue the epic in 1588 with a young sailor fighting to survive in the blood and smoke of the Invincible Armada. Then, in 1208, a young girl of the Middle Ages, suicidal, finds her salvation and reasons for hope under the waves. Here we are finally in 149 BC to discover this underwater civilization at its peak, a young girl from Atlantis trying to save a Roman soldier from drowning.
"We want to bring our audience into a world they've never really imagined before," says director David M Raynolds. "Two-thirds of our planet and many of our wonderful landscapes and many creatures live hidden in the sea. We ignore them too much, as well as the enormous impact our lifestyles and the pollution that follows are having. on the oceans. "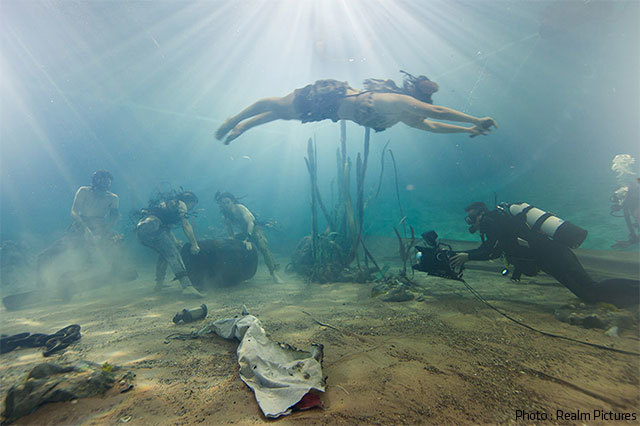 That doesn't mean filming underwater is easy. "Filming underwater has nothing to do with filming on land," explains Director of Operations Eve Hazelton. "Light and sound are totally different, communicating is difficult and every minute counts as the air keeps getting exhausted".
Each stage of production was made public thanks to a video blog weekly which was followed by thousands of fans all over the world. In December 2011, Realm Pictures launched an ambitious fundraising campaign hoping to raise $ 60.000 in four weeks. Bet not only held but which made it possible to raise the incredible sum of 101.611 dollars. Supporters include Chris Anderson, founder of TED, and Sylvia Earle, Times Magazine's first "Earth Heroine".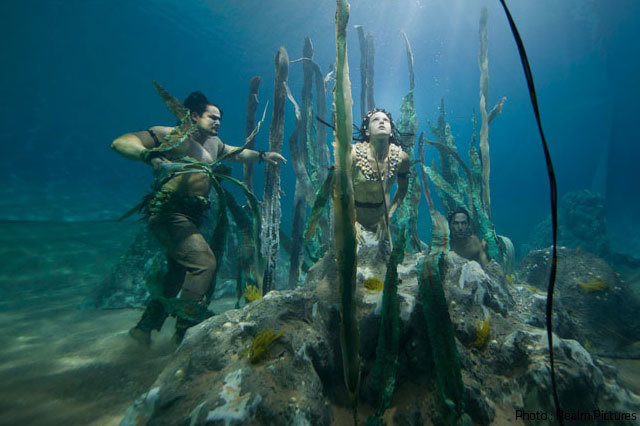 "Underwater Realm is directed by renowned independent filmmaker David M Raynolds, who filmed"Zomblies", Awarded with numerous prizes. To date, "Zomblies" has been seen by more than four million Internet users on You Tube and has brought together many influential fans, including Sir Richard Taylor, who heads WETA. Sir Richard memorably referred to the film as being "devilishly formidable, beautifully shot and keeping you going the whole way - holy Zomblies".
It is on December 25 that "The Underwater Kingdom" will be released worldwide on You Tube so that everyone can find out. From January 2013, a world tour is planned. It will stop in New Zealand, Los Angeles and New York.