The mood of Francis Le Guen
Because sometimes, do not mess around!
Music credits: Erwan & Eric Le Guen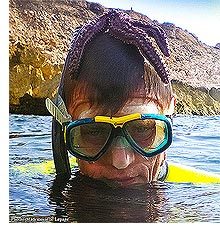 I am a diving instructor. I saw it all, I did it all. Cadaques! Niolon! Trebeurden! L'Estartit! And even the foreigner: Egypt! The Guadeloupe ! The Maldives ... It's not a level 2 or a level 3 that will teach me, see? So for baptisms, I like to tell you that I have my technique. No way to get pissed off by people who are going to dive for the first time, eh? We are not even sure that they will come back ...
Yes, at the club, baptisms are a bit of a pension. We cannot escape it, of course, but… We already spend our time walking ducks in less than 30 meters. So the baptisms… In short, there is never anyone who wants to devote themselves.
So my technique is simple. Already, no briefing: it panics them. The only thing I tell them is: "as soon as you see fish, you will forget that you are underwater". The rest, I manage ...
No need to try to explain anything to them: they are waterproof! What is needed is to quickly submerge them, walk them around, and collect the money. Finally, the money ... I worked with structures that offered them, baptisms, in addition. Hello motivation!
Already, they must be equipped. Comedy of the fitting of the gear: nothing goes. But I manage ... XXL fins? It will be fine! Is the mask too big not waterproof? Don't worry, we'll teach you how to dump! Is the strap too tight? (the all red guy already has his eyes popping out of his head): you'll be dry! This is diving, my little guy! The jumpsuit two sizes above bullseye everywhere? No problem, the water is not that cold in Brittany. The fixation of the subcutaneous is broken? Leave, it's useless anyway! Reassured, the type leaves with a beaver tail which tosses his buttocks ...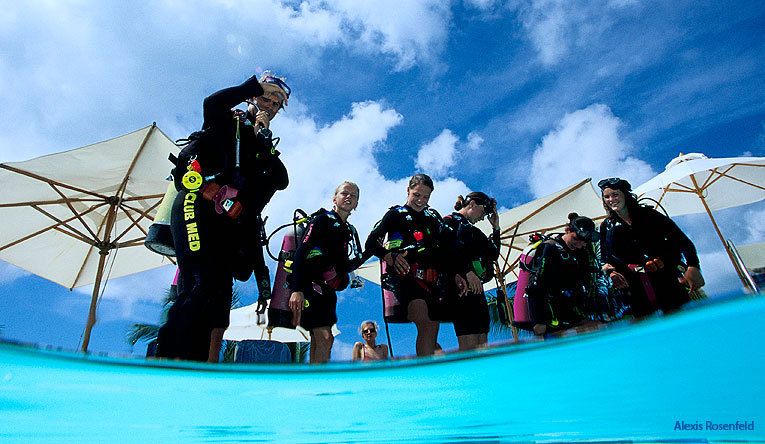 As for the stabs, they are always too big. Well yes, we mainly do adults diving! We're not going to invest in vests that would only be used for baptisms, right? So the bottom of the bottle comes to their knees… So what? For what they understand… Same for the pellets. We're not going to be shit about taking the seat belts apart every time. Besides, too much weight is always better than not enough. Sometimes, I still had a heavy hand and I found kids on the bottom, wriggling like cockroaches on their backs. Really funny.
But the real nightmare begins as soon as you get into the water. Mask full of water or full of mist, it's the same, they see nothing. We can tell them: basically, we settle all that basically… Nothing to do! They have to pedal in the swell like drowned people on borrowed time, drink half the sea, when they don't tear your whole mess out of you in a panic attack. The children? It's even worse. Besides, we lose a lot!
Baptisms are often done at sea, so as not to miss a rotation of divers who, for their part, pay full price. While they are underwater, we have plenty of time to do a few quick baptisms. Or, we take advantage of the exit to go get a mooring or something else (you know what it is!). So obviously, with the swell, after ten minutes, the future baptized fully equipped bathe in their vomit ...
You will believe me if you will but I saw one that was so green it tipped over as soon as it heard the engine rev drop. He thought we were on the site! Except that he landed on the floor of the Zodiac which was in pairs, two meters lower… The con!
The launch, there are not thirty-six solutions bon sang: jump right! It's still not rocket science. And well three quarters of the time, they take the taps in the neck! When they do not lose the mask or fins. So here I am forced to yell.
But in general, the slap of cold water calms them down. Already slain, they let themselves sink. For safety's sake, I purged their stab thoroughly anyway. Do you have some who don't even know how to palm, do you think so? They don't move their legs: they look like paralytics, you have to drag them!
And there, impossible to balance the ears, that's the problem ... Have you ever tried to explain Valsalva to someone who has never dived? Impossible. So, in the end, I let it go: people don't dare to say that things are wrong, anyway. They are completely "stones", squint, and come out bleeding with the contents of the sinuses in the aquarium of the mask. So there ! They are baptized.
A long time later, they keep like a trophy a large green snot hanging from the earlobe, or elsewhere. Disgusting, anyway… Really sexy… But, busy treating their rifle ear infections, they won't be back anytime soon: it's hard, diving… Good riddance!
What are these beginners stupid, I swear! Aaaah, I would have stories to tell… And again, I'm doing well. I have Parisian colleagues who bump baptisms in bleach, can you imagine? At the bottom of the pool, counting the balls of hair and plaster ...
There are still some good sides. Sometimes we spot a cannon. Alone or with her boyfriend, I don't care, I'm not jealous. So, authoritatively, I take the bitch by the hand and I ball her up casually under the pretext of adjusting her equipment. We're having a great ride. And the guy follows as best he can.
That day, the cuckold was on his honeymoon! We never saw them again ...