A few weeks ago, we mentioned in these pages the practically unlimited possibilities that modeling now offers, to recreate in 3D your favorite site. Philippe Carrez, from Suboceana, is now giving you the advice you need to start the adventure, which can become a particularly motivating joint project within a club: initially, it is the collection of data that is essential. important.
EVERYTHING IS POSSIBLE
It is now possible for a diver or a club to organize themselves to collect the data which will allow them to create the 3D model of their favorite sites: tourism promotion, simulation, training, games, monitoring of ecosystems, showing those who do not dive, make them want to… And then, why not, bring the entire dive site into the municipal swimming pool for a virtual but wet dive! Everything is possible… But above all, it is a project to be carried out in a group and which can give a good objective to the spring and summer dives…
Example of the Digital Ocean project as part of Futur en Seine in Paris:
FEDERATE AROUND A COMMON PROJECT
For those who have read the first article "virtual diving", you will have seen a band of enigumènes measuring coral potatoes in Egypt for a European project… Seen from the outside, it may seem futile, seen from the inside , it was passionate ! Also, back in North Brittany at home (in Erquy) around a drink with divers rather far from the "Geek" or "Nerd" profile, I launched the idea of ​​modeling in 3D one of our favorite pebbles. … 2… 3… 4… many found the idea funny in this pre-season and bought into it. Suddenly, beyond my expectations, 3D has become a minor element of the project.
EVERYONE CAN FIND HER PLACE
What is interesting is that everyone, without having any computer skills, can participate in the project: some will take pictures, others will measure, or pilot the boats, still others will sort the photos, identify the species, draw, research the history of the site (local anecdotes, geology, why the name…). In fact, the goal is to create the most complete file possible on the chosen spot. Each time you dive, you are diving "useful" by bringing the info to the surface. To show you that everyone can find their place in a project like this, here is a link to the diagram of possible activities, developed after only two meetings at the club!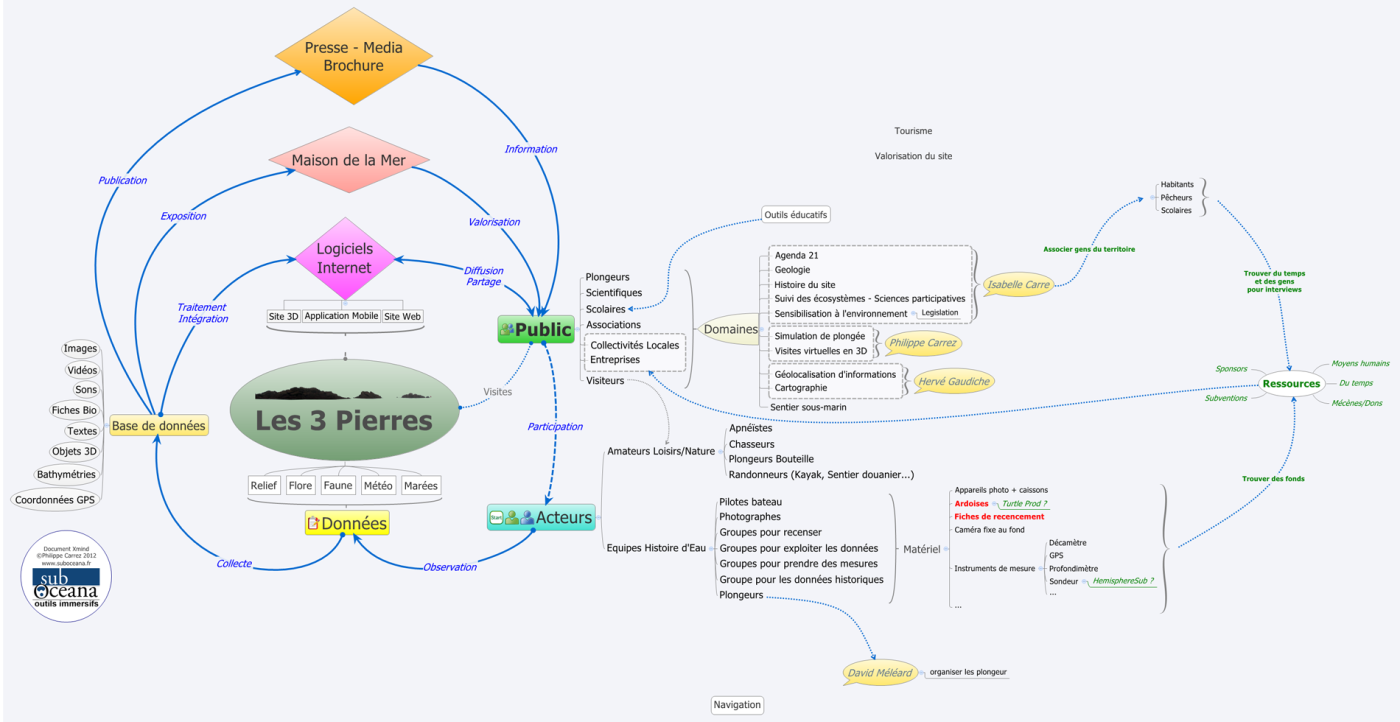 BASIC EQUIPMENT
The first shopping list has been drawn up, we need basic equipment: depth gauges, nautical charts, GPS to locate the key points on the surface, decameter (tape if possible and in plastic and not too resistant to be able to tear it if you you get entangled in it: it would be silly to find yourself tied to your favorite pebbles), slates to take notes underwater, cameras, a few brochures on fauna and flora, time and people… Cherry on the cake if you have problems. human resources in the club: list the "locals" to involve them in the project (associations around the sea, navigation, heritage, model club that could help you take aerial photos ...) and create a complete file on your diving spot. The first dives will be devoted to defining the key points of the spot (GPS, depth).
COLLECT BEFORE MODELING
So, to create the 3D model that will be on our website, we are going to start from basic and simple things (as in Egypt): freehand drawings, diagrams… The idea is to find a methodology that can be used by any group of divers. For the final "computerization" phase, we are going to create a portal on the WEB, which will allow you to have the 3D database free of charge on condition that the documents are clean and usable. On this 3D model, we can place geotagged photos, texts, sounds, etc ... The principle is for the moment to put everything on paper, the computer support will be necessary only in the last stages, and only for the part. 3d.
But think about the project as a whole!
We have planned to do a making-of of the actions, an exhibition of underwater photographs, etc… etc… Anything that can involve communication and that can raise awareness!
SHARE OUR EXPERIENCES
If you are interested, contact us ... We can open a group here on Scuba-People and organize ourselves ... If you have ideas, skills, resources: SHARE! We will then open an online platform to present everyone's projects ... The idea is even to set up a competition, in which the big winner will have his complete 3D dive site made (with swimming fish, flora, hotspots, images, integrated videos)… To be continued?
Text:
Philippe Carrez