Trimix, Trimix normoxic, Triox, Trimix hypoxic, Helicrox ... help! I do not know you, but I do not understand anything ... In addition, as soon as I think trimix, I immediately have in mind the image of a bearded carved like a mountain lying on his back 3, 4, 5 ... blocks ... just thinking about it, my knees are shaking and I think I like diving in the air for its simplicity of implementation and for its "lightness". And yet, more and more divers and even divers are getting into it. So I went to meet our cousins ​​who are blowing helium story to try to see more clearly.
WHAT IS THE TRIMIX?
As its name suggests the TRIMIX is the combination of 3 gases. These 3 gases are oxygen, nitrogen and helium. The objective of this mixture is to have the most suitable combination of oxygen and nitrogen for the depth you want to reach. This is the principle of equivalent depth, in the same spirit as diving at altitude.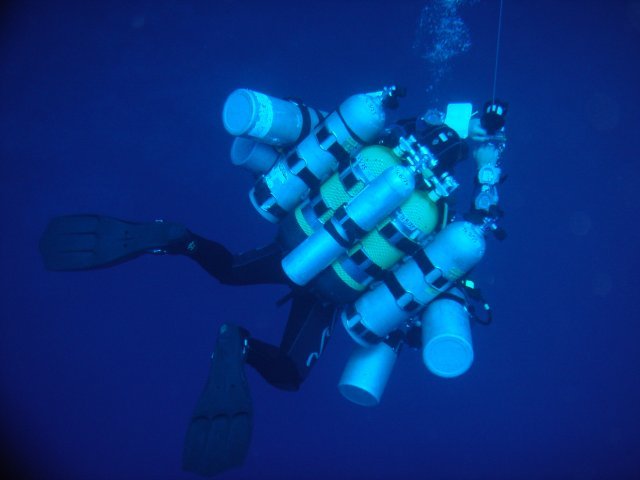 INTERESTS OF THE TRIMIX
Three physiological parameters limit the depth of a dive: PpO2 for hyperoxia, PpN2 for narcosis, and gas viscosity for shortness of breath. The air we breathe is made up of 20,9% oxygen, 79,1% nitrogen and 0,033% carbon dioxide, plus some traces of rare gases. The partial pressures of each of these gases change as a function of depth and reach toxicity thresholds more or less quickly. By changing the percentages of these gases, a lower toxicity threshold can be obtained. So, as you know, oxygen is toxic from a pressure of 1,6 atm, reached at -60 m. To go deeper, it is therefore necessary to reduce the percentage of oxygen present in the breathed mixture. However, the decrease in the percentage of oxygen imposes an increase in the percentage of nitrogen, and therefore a greater risk of nitrogen narcosis, unless a third gas is used: helium.
HELIUM?
The French astronomer Jules JANSSEN noticed on August 18, 1868 an unknown ray in the solar atmosphere: it is that of helium. The name "helium" (from the Greek helios: Sun) was proposed shortly after. It is the second most present element in the universe after hydrogen (25% helium for 73% hydrogen). It is largely extracted from natural gas. In 2005, about 160 million m3 of helium were extracted from natural gas, or drawn from reserves, for about 83% in the United States, 11% in Algeria and the rest mainly in Russia and Poland.
Odorless, colorless, tasteless, helium is undetectable without instruments. It is very light since it is 7 times less dense than the air. It is also almost non-narcotic and offers the added benefit of being non-flammable. It is also very slightly soluble (4 times less than nitrogen in fats). On the other hand, pure, it is asphyxiant, is very diffusible (2.65 times more than the nitrogen) and offers a thermal conductivity 6 times higher than the air, which creates a cooling much faster.
The speed of propagation of the sound is also modified since the sound circulates at 960m / sec in helium against 330 m / sec in the air. Creating the famous "Donald Duck" effect that raises the resonant frequency of the vocal chords in the helium-filled pharynx.
TRIMIX AND ESSOUFLEMENT
At the first signs of shortness of breath, the instruction is always to go up a few meters. The density of gases decreases with pressure. The air is 7 times denser at a depth of 60 meters than on the surface. It requires an effort on our lungs which were not "intended" for the work that such a density represents. The slightest effort will cause the diver to be short of breath. With a molecular weight of 4 versus 32 for oxygen and 28 for nitrogen, helium will make the Trimix mixture much easier to breathe.
TRIMIX AND NARCOSE
By adding helium (He) to the mixture, the quantity of nitrogen (N2) is proportionally reduced, since helium does not cause drunkenness, it will be possible to dive deeper and thus to push back the effects of nitrogen narcosis.
TRIMIX AND TOXICITY O2
Oxygen in too much quantity is toxic, the quantity is given by the Po2 (partial pressure of O2) and the Po2 increases with depth. In diving we generally admit a max. of 2bar (or even 1.6bar) which respectively gives the air a limit of 1.4m (66m with 56). In reality it depends on many factors and especially on the duration of exposure. By adding helium to the breathing mixture, the% oxygen is also reduced, which allows you to dive deeper without risking hyperoxia (too much O1.4). A mixture containing 2% O18 will have a depth limit of 2m at 78bar or 1.6m at 67bar.
TRIMIX AND DECOMPRESSION
The problem is that the helium significantly lengthens the decompression to get around this problem, the diver will use Nitrox / O2 mixtures for his decoration.
VIRGINIE: A TRIMIX "LOISIR" DIVING DIVER
Virginie is 34 years old and has been diving since 2003. Passionate about wrecks and "deep", decompression nitrox is needed quickly, she does her Nitrox Confirmed in 2006. Knowing that she feels the effects of narcosis quickly (from 35m ), she is interested in the dives that her comrades of the Trimix "team" of Dream Bubbles in Bédarrides (84). Training within the club is organized, and so in 2011 she finished her elementary school. She is the first diver in the department to have been trained in Elementary Trimix. "My hardware configuration has hardly changed, a 1L block for the bottom and a 15L nitrox decoration, this is what we can call a" leisure trimix ". I am not particularly looking to go further, what is magic with the TRIMIX is to no longer "suffer" this narcosis, to rediscover deep wrecks (6-50m). I take advantage of what I see, and above all I remember it! because before, in the air, I was rather in a fog, I had vague memories of what I had explored, now, with a little helium, I see the details clearly, and I am more serene … "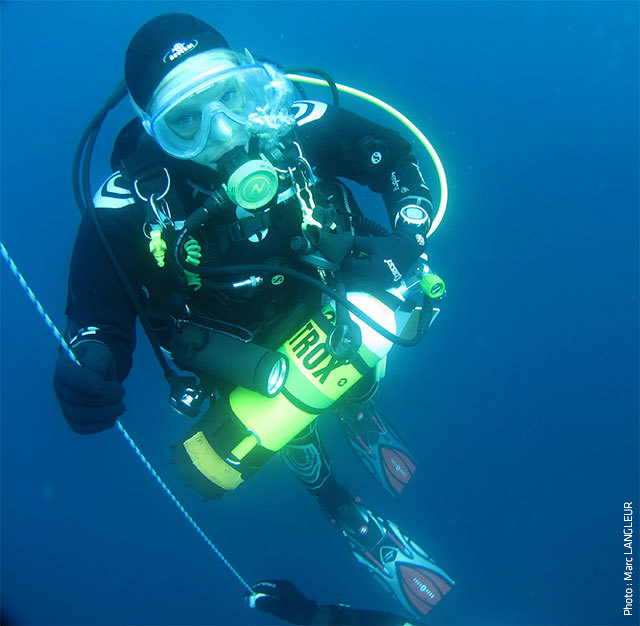 TRIMIX LIGHT vs TRIMIX HEAVY
- The TRIMIX LIGHT (TRIMIX NORMOXIQUE) takes place most of the time with a block 15 liters containing mixture TRIMIX as well as a block of deco of 7 liters composed of a NITROX. The dive is between 40 and 60 meters. The breathing mixture consists of helium and nitrogen, as well as oxygen, between 18% and 21%. It is surface breathable and used for diving between 40 and 70 m. Your dive computer is suitable for this practice.
- The TRIMIX HEAVY (HYPOXIC TRIMIX) is aimed at a diver who wishes to descend beyond 70 meters. The material configuration is much more complex ... Bi-bottles and a string of decorative blocks are then necessary. In this case, the breathing mixture contains helium and nitrogen as well as an oxygen content of less than 18%. Breathable on the surface and used for dives below 70 m. You must have a TRIMIX computer.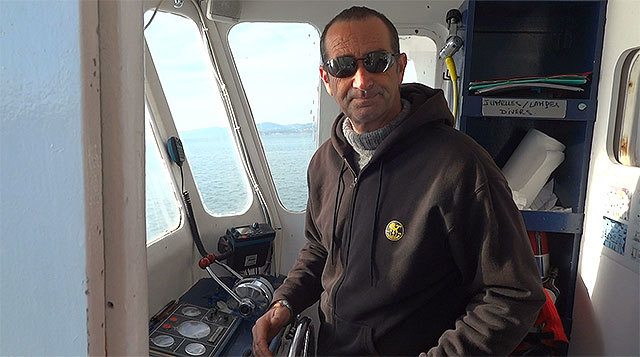 THE ADVICE OF A TRAINER TRIMIX: DIDIER MARTINEZ
The center of Didier, theADVENTURE UNDERWATER, is located on the port of Saint Raphael. It is equipped with a TRIMIX inflation station and offers tandem trainings with Evelyne VERDIER. According to him, the TRIMIX suffers from a positioning error: "Whenever we present images, we always show divers TRIMIX HYPOXIQUE also called TRIMIX HEAVY. Certainly, they make this practice media but it remains the prerogative of a small community of committed divers who go to the discovery of unexplored depths. This deep adventurer image fascinates but keeps the "traditional" diver away. Few divers are familiar with the TRIMIX formations and in particular that of the TRIMIX ELEMENTAIRE which allows any level 3 being NITROX CONFIRME to dive up to 70 meters deep safely.
WHAT ARE WE WAITING FOR ?
I must admit that in writing this article, I discovered that the TRIMIX is not just for the adventurous few looking for great depths. But that this technique allows everyone to consider deep space dives while indisputably increasing the safety of divers, YOUR safety. So I ask my question again: "what are we waiting for to trim?".
FROM 13 TO 15 MAY MAKE TRADE NORMOXIC WORKSHOP TOGETHER
Didier and Evelyne offer from April to November to train you in this technique and many others ... The TRIMIX NORMOXIQUE training - open circuit - takes place over 3 days:
- Day 1 : morning theory, afternoon diving (Air and Nx 50 / exercises), planning,
- Day 2 : 2 trimix diving 21 / 35, 55m and 40m, planning,
- Day 3 : trimix dive 18 / 45, 65m, written theory exam.
The cost of the course is 450 €, to which you will have to add 180 € of gas and around 30 € per certification card, depending on the chapel (s) you want (TDI, FFESSM, FSGT…).
CALENDAR OF OPEN TRIMIX INTERNSHIPS
- April 15 to 17,
- May 13 to 15 -> SCUBA PEOPLE STAGE,
- June 10 to 12,
- July 22 to 24,
- August 26 to 28,
- September 23 to 25,
- October 7 to 9,
- November 18 to 20.
More: www.aventuresousmarine.fr / Contact Didier: CLICK HERE