The European Union decided on Monday to end all the exemptions which still allowed, on certain European vessels, to cut the fins of sharks on board fishing vessels and then throw back into the sea the animals still alive. The European agriculture ministers, meeting in Brussels, approved a proposal from the European Commission which called for the end of the exemptions. The European Parliament has yet to give its consent to finalize this agreement.
BEFORE THIS AGREEMENT
The EU had banned 2003 finning in its 1185 / 2003 (EC) Regulation, but flaws were undermining its effectiveness and making it a bad example for other countries and for international policies. Indeed, the EU's ban on finning was among the most flexible in the world. Specifically, while the regulation generally prohibited the removal of shark fins on board fishing vessels, Article 4 allowed derogations through "special fishing permits" granted by Member States.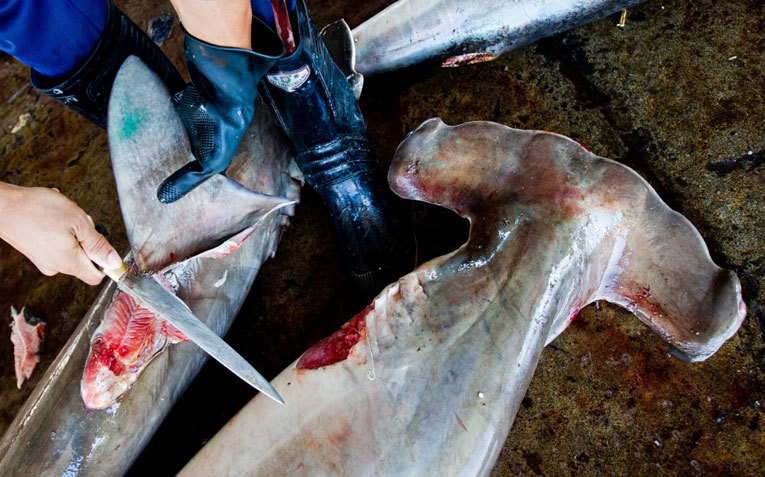 Fishermen on board authorized vessels could remove shark fins if they kept the carcass. A limit on the ratio of weight between fins and carcasses is then used to determine whether the fins and carcasses so landed are in consistent proportions. The EU fin-carcass weight ratio is set at 5% of the total weight of the shark. It is impossible to measure this limit accurately since the shark is no longer whole during these inspections, but is "prepared" (ie after its fins have been removed and stored separately and his head and viscera have generally been thrown into the sea).
In addition, this ratio is about twice the weight ratios used in Canada and in several other countries (5% of the "prepared" weight of a shark). In addition, fishermen holding "special fishing permits" are allowed to land fins and carcasses at different times in different ports. These special permits were supposed to be exceptions but became the rule: Spain and Portugal issue them to most of their pelagic shark fishing vessels.