"SUDAN… the virginal Red Sea… SUDAN… the Adventure with a BIG "A"… SUDAN… it is the Egypt of yesteryear… Anyway, as long as you haven't done SUDAN, you can't understand, small…"What diver has never had this tirade? As far as we are concerned, this has been going on for twenty years. But we must admit that the offer has increased in recent years and that it could well become "THE" medium-haul "fashion" destination of the moment. So we went to soak our fins in these Sudanese waters aboard the NO STRESS, just to realize for ourselves the qualities of the dives. Judge for yourselves ...
Images made over a season by Steven Surina
FLYDUBAI: THE END OF BLACK-LISTE COMPANIES
Recently, the Dubai - Port Sudan section has been provided by the company Flydubai. This is the low-cost subsidiary ofETIHAD, the company of the United Arab Emirates… This reassures about the security requirements of this airline which no longer has to prove its professionalism.
Once you arrive at the international terminal in Dubai, you will need to take a shuttle bus to the low-cost terminal. Do not hesitate to ask, or even to ask for your way several times… For us, it was incredible. Once finally arrived, the atmosphere is most exotic. Characteristic faces, headgear and unusual costumes guaranteed. It is already the adventure.
A good dose of zen attitude will be necessary to be able to settle in your "seat" ... Once your breath is taken back, you will lift your nose and you will realize that three quarters of the plane is full of Europeans, mostly Italians , Germans, Russians ... and to believe their looks, they are not on this flight to go play a table tennis competition ... their T-shirts, their watches and their plastic gladiator sandals leave no doubt: this are divers ...
SITUATION IN SUDAN
No pretense between us, Sudan does not enjoy a reputation of the best in terms of security and it must be recognized that some areas of this country do not seem to be the most welcoming. If you go to the Ministry of Foreign Affairs, it is noted: "In 2012, Sudanese joined rebel fighters in northern Mali, and a terrorist training camp was dismantled by Sudanese authorities in Dinder Natural Park. Although the Sudanese government is trying to stop terrorist groups from acting, terrorist elements exist and threaten to attack Westerners, including in Khartoum. It is therefore necessary to be extremely vigilant ". As for us, however, we did not see the shadow of a weapon during our entire stay, not even at the airport. And the people of Port Sudan were certainly reserved, but charming every time we actually met them. Concretely, when you come for a diving cruise in Sudan, 99% of the time is spent aboard a ship lost in the middle of nowhere.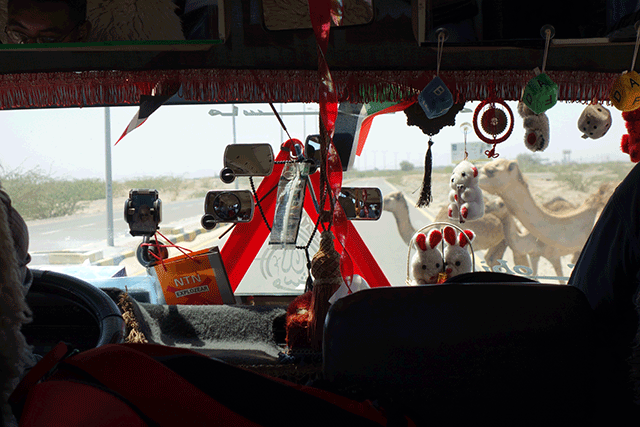 ARRIVAL IN PORT SUDAN
Chico, Jérôme's agent, from NO STRESS, is waiting for us at the airport and takes care of us: of our visas and of showing us the mini-bus that will take us to the boat. On arrival, surprise: a good dozen diving cruise boats are lined up. All are waiting for their diving clients. There is an electric atmosphere on the quay, all the tourists arriving at the same time by the same plane and all the boats being refueled at the same time.
CRUISE DIVES IN SUDAN
The vast majority of boats cross over an area of ​​about 80 kilometers and offer its passengers the most famous sites in Sudan: the wreck of theUmbria, Sanganeb, Shaab Rumi / Precontinent and Shab Suedi, whose names are in green on the map below. We can put forward many explanations for this, but the main one remains the difficulty in finding diesel. NO STRESS on the other hand overcomes this problem because he sails 95% of his time under sail. Not a sound except that of the halyards and the wind, not to mention the greatly increased stability of the vessel: what happiness!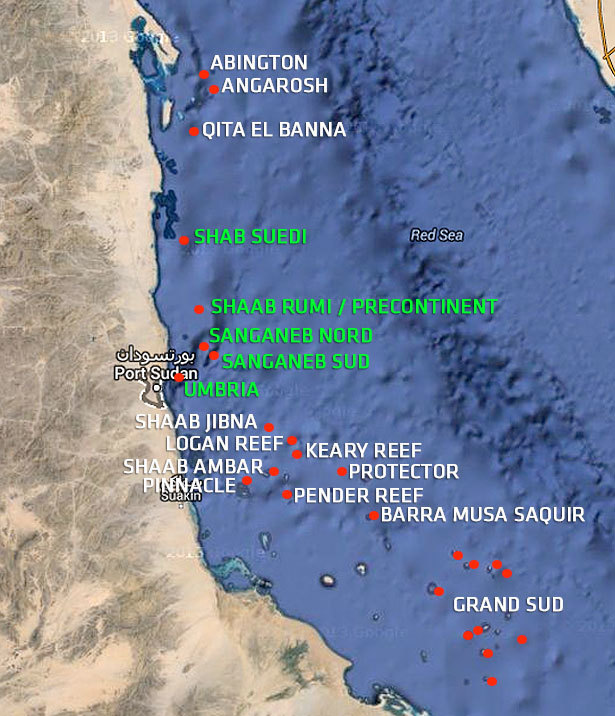 NO STRESS: THE BOAT
With a length of 18 meters, this AMEL ketch is designed for long journeys far from the beaten track: energy / water autonomy / long range tender. No Stress is a fast, stable and elegant sailboat. Very bright, her contemporary interior can accommodate up to eight travelers in four double cabins twin cabins. Its expansive platform, covered areas, deck mattresses and hammocks ensure relaxation for all its guests. We particularly appreciated the excellent wine cellar and the aluminum annex which allows you to enter serenely in all conditions. We presented it to you a few months ago in the article: DIVING SUDAN WITH SAIL.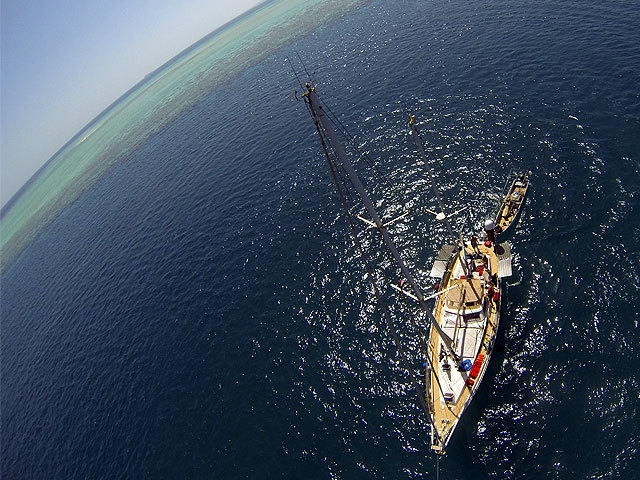 THE NO STRESS CREW
Jérôme, owner and skipper of the ship, has been sailing the Red Sea for 3 years but he fell into the sail when he was very young accompanying his father. He's obsessed with grip. If he's not at the helm, he's in front of his computer, downloading the latest weather grips. While cruising, he is the type to come and tell you that there is a weather window of a few hours that would allow you to go south… which was not at all on the program. Change of plans, and here you are already turning 180 °, heading south! This is NO STRESS: always ready to try to make the most of the best of every moment of life.
Steven SURINA, who collaborates with Le Mag, is in charge of all the diving part. MF1, PADI instructor, this "kid" has been dipping his fins in the region for more than 10 years ...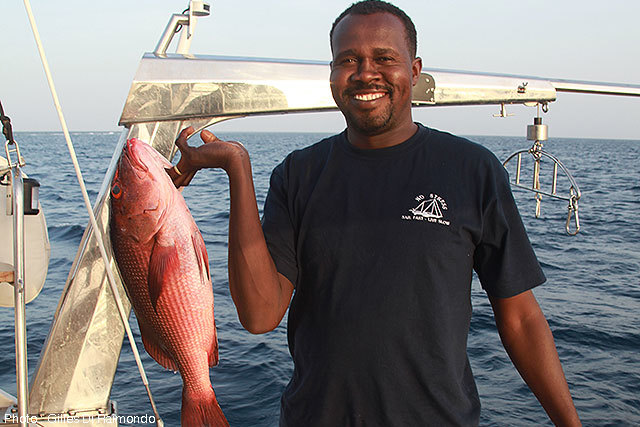 "And the last but not the least": Abdallah YAGAOP, the 3rd crew member. Depending on the hour, he is a cook, dinghy pilot, fisherman… that's the boat's smile. Sudanese, he has a great experience of diving cruises in his country and European tastes. Small morning pancakes, barracuda sashimi… this guy is simply extraordinary!
WHEN TO GO
The season begins in October and ends in June. Nevertheless, Jérôme chose to sail there from February to May in order to ensure the best possible visibility. The water temperature fluctuates from 24 ° in February to 32 ° in October.
CONDITIONS
To qualify this diving cruise trip would be too reductive. Indeed, it is more like adventure. We stayed on board for two weeks, which gave us access to areas that were very little, if any, used at all. Sailing is magic. Henry de Monfreid is expected to come out of a booth. Hours without crossing a boat ... dozens of dives without crossing a diver ... it's simply MA-GI-QUE! But beware! This experience is nevertheless physical! Even if the boat is very comfortable, from time to time you will have to be maneuvered and there may be hollows which make getting on the tender… rather complicated. In other words, if you are not in great shape, this boat is not for you.
DIVES
The wreck of the Imbria sunk on June 10, 1940 on Wunsgate Reef just outside Port Sudan is just incredible. The vestiges of Précontinent II are to be done once for the sentimental side… The major interest of Sudan, compared to its Egyptian neighbor, is undoubtedly "the big one". The two most famous places are Sanganeb and Shaab Rumi which have become legendary among divers. Hammerhead sharks in schools, longimanus, silky ... schools of humpback parrots, carrangues, barracudas ... it's an experience to do absolutely and if you have the opportunity, we strongly advise you to stay there for two weeks to discover these blank spaces.
THE CIRCUITS
One week South Sudan (including several virgin sites), or traditional sites (Umbria, Shaab Rumi, Sanganeb, Shaab Suedi) possibility one way from Mohamed Kol to Port Sudan via Merlo, Abington, Angarosh.
Two weeks: South Sudan + 3 sites Sudan Port .. and the rays sites (Mesharifa) and sharks (Merlo, Abington ..) of North Sudan.
Two to three weeks: possibility of one-way cruise from Suakin to Marsa Alam: South Sudan little explored, then Port Sudan (classics: Umbria, Shaab Rumi, Sanganeb), Uncrowded North Sudan: rays (Mesharifa) and sharks (Merlo, Abington ..) then Rocky Island and Zabargad in southern Egypt.
NO STRESS is certainly one of the few ships to offer 2 or 3 weeks in Sudan.
€ 1680 the first week - € 1 the second excluding visas and air travel
And if the adventure tempts you, hurry! Indeed, NO STRESS will make its last season in Sudan in 2014 before leaving to discover new spots in Burma, Thailand and Malaysia. But this is another story that we will be happy to tell you in a while.