We continue our Polynesian "dive trip" with today the discovery of Fakarava more precisely, North Fakarava. Fakarava is one of the seven atolls classified as biosphere reserves by UNESCO and has recently been recognized worldwide for scuba diving which constitutes the main economic vector of the island. Indeed, it has been a few years now that the name of Fakarava regularly returns to the ears of divers. Go! Follow us, we'll take you to discover it.
FAKARAVA
This atoll of 60 km in length and 21 km maximum width is located 450 km northeast of Tahiti. The land area is 16 km2 and the lagoon is 1 121 km2 accessible by two passes:
- Garuae (in the north), the largest pass in French Polynesia. 0,85 mile wide (1600m)
- Tumakohua, also called Tetamanu (in the south).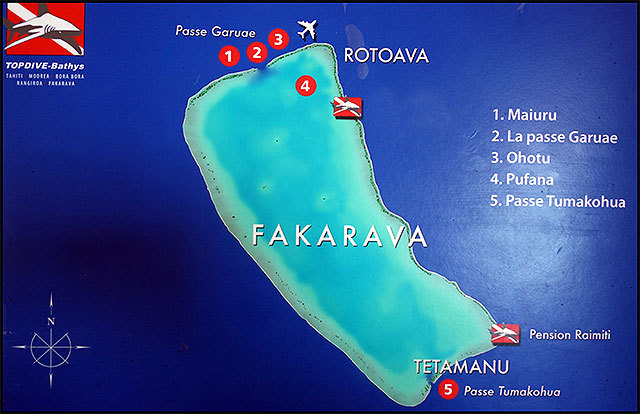 Biosphere reserve classified at UNESCO
The aquatic and terrestrial fauna and flora of Fakarava are remarkable. They have rare, endemic and protected species, so much so that the atoll has become a biosphere reserve classified by UNESCO. One of the objectives is to reconcile preservation of natural resources and human development (research, monitoring, training, education) to maintain these unique ecosystems in the world.
BEST OF FAKARAVA
           Video made on 2 days and 4 dives

DIVING IN FAKARAVA
In the north, the dives are all done in the Garuae pass. This being one hour away from navigation, it is always 2 consecutive dives that are offered. The diving not to be missed is undoubtedly ALI BABA. However, a good one. level 2 is recommended because it is a real technical dive which relegates the Tiputa pass to a kindergarten even if the depth is 30 meters maximum. There are 3 dive centers on the northern part of the atoll.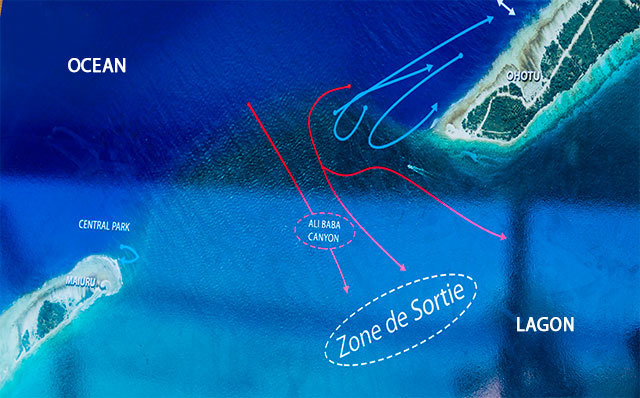 Two of them welcomed us, we are delighted to be able to present them to you. And, faithful to our "policy", we let them speak.
DIVE SPIRIT FAKARAVA
For more information: http://www.divespirit.com/
TOP DIVE - NORTH FAKARAVA
The pensions of North Fakarava
There was a hotel… it is closed and between us, we prefer pensions! We were able to stay in 2 of them that we present to you below:
TOKERAU VILLAGE
Created in 2003, this charming pension located by the lagoon, is located 7 kilometers from the main village of Rotoava. 4 comfortable bungalows can accommodate 3 people each. This is without a doubt the best table we have ever had to dine on on the atoll. And Gahina, who manages the establishment is a love of kindness.
More: http://tokerauvillage.com/
RELAY MARAMA
Located ocean side on the main motu, in the center of the village, this pension is more of a "bed and breakfast". Jacques, a long-exiled metropolitan, welcomes you in a friendly and relaxed atmosphere. 8 bungalows can be rented in the cheapest pension on the atoll.
More: http://www.relais-marama.com/
FAKARAVA NORD vs FAKARAVA SOUTH
It seems important to us to take stock of "Faka" north and "Faka" south. Indeed, the 2 are distant from 3 hours of round trip navigation which sometimes creates complicated situations with some divers who think they can stay in the north and dive south easily.