WHEN WHITE SHARKS LEAVE TO APPRECIATE
The scene is surreal: on his canoe, a fisherman draws from a bag filled with shrimp and feeds a magnificent whale shark by hand! Crystal clear water, absolute calm, we find ourselves somewhere in a parallel world!
HAND NOURISHED
The fishermen of Tan-Awan in the town of Oslob, at the far south of the island of Cebu in the Philippines, are putting into practice the motto that a living shark earns more than a dead shark! At a time when on other nearby islands some continue to mutilate whale sharks to sell their fins at a high price, as we can see at the end of the video, they have taken the exact opposite position. They decided to feed them, tame them, and settle them in their little bay. "At first," explains a young fisherman, "there was only one, and we started to feed him, then there were two, then three. And the fishermen since then spend hours, at night, by the light of their kerosene lamps, to capture tens of kilos of prawns which they keep preciously in the ice, to redistribute them the next day to their proteges.
"WE NEED LIVE WHALE SHARKS"
I can already hear the indignant cries of those who will believe that the feeding of animals by humans is a problem. But our concerns of well-to-do with well-stocked refrigerators should not make us forget those of villagers who must above all meet their immediate needs: and the path chosen by these fishermen is by far the best possible. Preservation of species can only work if people manage to bond with animals in a different way, and that is the case in Oslob. "We need the whale sharks alive," says the young Filipino fisherman. At home, we will never see more shark slaughtered.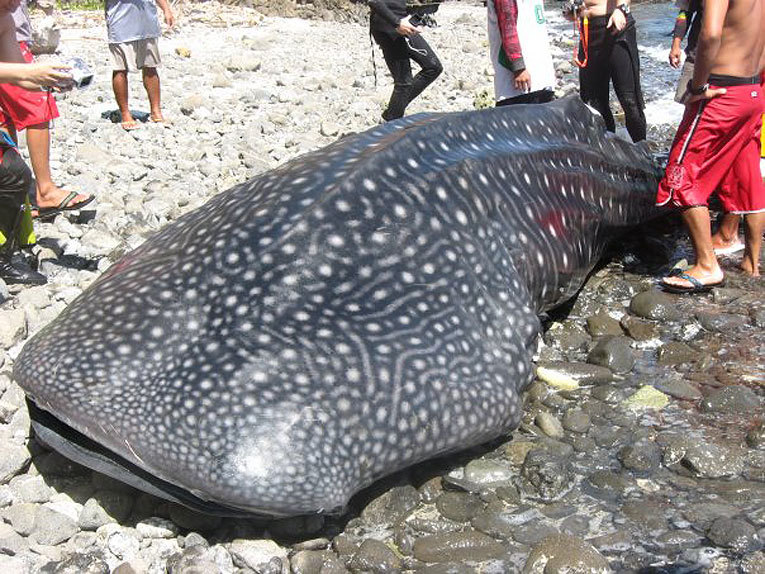 TO END THE "TOFU SHARK"
Remember that the fins of whale sharks, particularly popular in certain Asian markets, such as China or Taiwan, are still negotiated at several hundred euros per kilo. Despite its status as a protected species, despite the proliferation of protection sanctuaries around the world, the name of "tofu shark" that is given to it in Taiwan, apparently in reference to the taste and consistency of its flesh, says a lot about the situation.
A TOURISM STILL LIMITED
For the moment, tourism on the spot remains relatively limited, and if one can already go to meet the whale sharks in PMT, the frequentation of the site is minimal. It may be necessary later to learn how to manage the tourist influx that may generate the presence of tamed giants. Perhaps based on the example of another Filipino site, Donsol, where over-crowding eventually discouraged the many whale sharks that congregated in the area from November to May. But if steps are taken from the start to not get there, it could be a great example of successful eco-tourism.