"Sipadan ..". what diver has never heard of that name? Magic ? It seems good since those who say it wear a broad, blissful smile… Commander Cousteau himself said of this spot: "I saw other places like Sipadan… but 45 years ago. It is an inviolate work of art… ". You can easily imagine my response when Eric Le Coedic, boss ofH2O Travel, offered me to go there to report.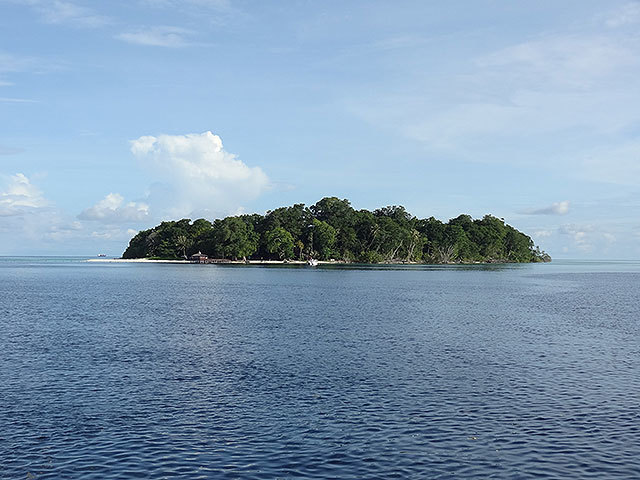 SIPADAN: A NATURAL RESERVE
This island is the emerged summit of an underwater mountain whose drop offs plunge to 700 meters deep. Being relatively far from everything, it has been protected, in particular from the ravages of dynamite fishing ... More than 3000 species of fish and 100 species of corals have been recorded there. Since 2005, hotels located on the island have been closed and moved to the neighboring islands of Mabul (12 km) and Kapalai (10 km). In 2008, the Malaysian authorities, for the sake of preserving the site, restricted the daily reception capacity of Sipadan to 120 divers and snorkelers. As much to say to you that it is not necessary to be mistaken to have the chance to dip your fins in it.
DIVING IN SIPADAN
The density of the fauna of Sipadan is exceptional there: nudibranchs, shrimps, crabs, moray eels, ghost-pipe fish, toad fish, leaf fish, shrimp… tropical fish by the hundreds. But also, many pelagics that come up from the depths ... you are sure to see a school of barracudas supposed to be one of the largest in the world, just like a school made up of hundreds of jacks, dozens of humpback parrots, tuna , white tip and black tip sharks (and sometimes hammers) ...
SIPADAN: SANCTUARY FOR TURTLES
Green (Chelonia Mydas) or nested (Eretmochelys Imbricata), dozens of turtles live around the island. This attraction is undoubtedly fueled by the fact that all divers must have left the site at 16 30 hours, leaving deserted beaches that constitute an ideal nesting place between April and September. Beyond the beautiful phrases, this is definitely the place in the world where I was given to see the largest number of turtles in my life as a diver. Accustomed to sharing the underwater world with the man, they are very scared and it is not surprising to cross dozens during a dive.
DIVE SITES IN SIPADAN
They are among 12:
Barracuda Point, Coral Gardens, Whitetip Avenue, Mid Reef, Turtle Patch, Staghorn Crest, South Point, Lobster Lair, West Ridge, Hanging Gardens, The Drop Off, Turtle Cave.
If I had to retain only one, it would be without hesitation BARRACUDA POINT. The situation of this spot favors the creation of currents and therefore the presence of pelagic. The dive starts along the falling in search of the barracudas bench in the blue. The currents make you drift peacefully towards the south to finish on CORAL GARDEN. Second, DROP OFF is also a must spot where some have had the chance to cross hammers.
Sipadan is really an "easy" destination and therefore open to all 2 levels. As a rule, the current is not very strong and the depths practiced are of the order of 25 meters. The dives take place without decompression and a safety stop is carried out.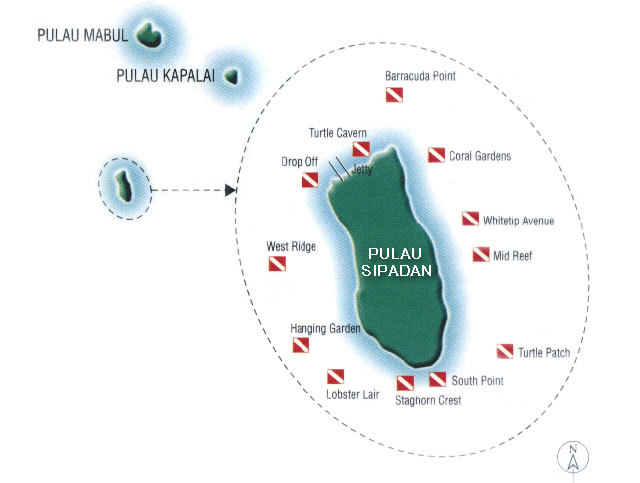 TURTLE CELLAR: TURTLE CEMETERY
You will certainly be offered to take a dive at TURTLE CAVE. This immersion allows an incursion into a series of caves and intestines in order to discover… the skeletons of turtles and a dolphin. It will cost you around 70 euros to dive with an "experienced" guide. However, note that none of the pre-requisites necessary for this type of foray are in place ... not even a breadcrumb trail !!! Your return to the surface rests entirely on the shoulders of your guide… Two divers died there in 1997, the network of galleries being vast and very complicated.
NIGHT DIVES IN MABUL
To 16h30 every day, the boat leaves the waters of Sipadan and returns to anchor at Mabul. Before dinner, you will be offered to dive on PARADISE 1. At first a little surprised to always make the same spot, it turned out of an exceptional richness, that all the photographers and videographers will adore.
CELEBES EXPLORER
Tom, Jerry and Cristina are in charge of diving. When Cristina is on board it is she who manages the boat. The whole crew is friendly and rather available.
Okay so… how to say… the boat is old. And even if the situation is not catastrophic, the standards which are practiced there can be perplexing. If it's raining, don't be surprised to get drops on your head. Each cabin nevertheless has a private shower and toilet. The cabins are quite spacious, but the traces at the back of my wardrobe left no doubt that I was sharing it with a stowaway. The food is plentiful but very average.
DIVING IN SIPADAN: A CHANCE THAT PREPARES
I'm lucky to have soaked my fins in just about every sea in the world but it was a long time since I had had so much fun immersing myself 5 times a day. The place is really exceptional and the accommodation conditions take second place as the underwater encounters are exceptional.
Due to the current legislation, the authorities have issued quotas of divers to the diving centers. Depending on different criteria, such a center has an authorization for 10 divers per day and its neighbor 15… Immediate observation, if you go to a hotel which accommodates 70 people including 30 divers… there is a good chance that you will only dive. every other day ... if all goes well ... It is strongly recommended to plan your trip between April and November. Indeed, from December to March, you will be in full rainy season ...
THE WORD OF H2O
The Sipadan Marine Park is one of our favorite destinations that we know perfectly well to dip our fins regularly and we wanted to offer our passionate divers the guarantee of diving on this site whose access is very limited from a Resort.
Since 2010, we offer each year several dates exclusively reserved for H2o Travel on board the Celebes Explorer.
Divers appreciate the guarantee of diving 5 days on the marine park, the presence of our guide especially for the translation of the briefings as well as the attractive price of these boats negotiated and engaged long in advance by us.
We also offer Nature and Ethnic Dating land extensions, which we have personally tested and chosen for their authenticity.
Each of our trips is an opportunity to bring back a memory, a memorable anecdote to share with future participants of these cruises.
NEXT DEPARTURES FROM 2455 €
Of the 6 15 2013 April
From 4 to 13 May 2013
From 18 to 27 May 2013
from 10 to 19 August 2013
du 19 28 octobre au 2013
of the 26 4 2013 November
Special dedication to Annie, Bruno, Elisabeth, Gilles, Hervé, Jean-Louis, Jean-Luc, Laurent, Marc, Marcelle, Marie-Laure, Nicole, Philippe, Pierre, Valérie… buddies of these wonderful dives.
Find on the next Le Mag the rest of this trip with the report on the extension Nature on the KINABATANGAN river on the island of Borneo.