Rangiroa… it suffices to pronounce this word in front of divers so that their eyes light up and the questions fuse… We therefore continue with pleasure our Polynesian journey to ask ourselves on this mythical coral tongue. Avatoru, Tiputa, a hotel… already seen… The objective of this report is to present this spot to you from a different angle to offer you something that had never been done… We therefore contacted all the structures on site in their offering to come and spend 1 day with them. Out of 7 centers, 5 responded positively. And while we were there, we also suggested that pensions and hotels do the same ...
Rangiroa
Rangiroa, "immense sky" or "vast sky" in paumotu, is an atoll in the Tuamotu archipelago in French Polynesia. This atoll is located about 350 km north-east of Tahiti. Daily air connections serve it from Papeete.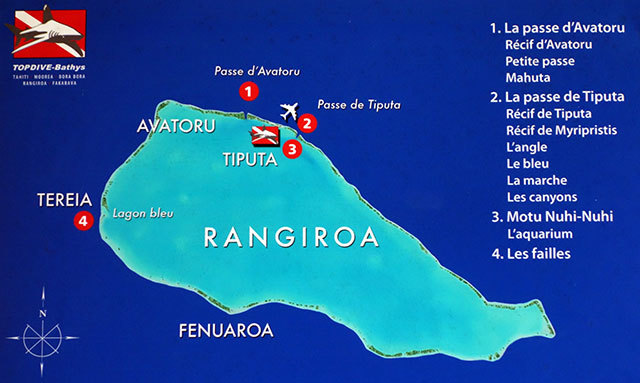 It is the second largest atoll in the world by the area of ​​its lagoon, a veritable inland sea. It is made up of 240 motu separated by more than 100 ho'a (small channels) which form its coral reef, a little less than 300 meters wide but which stretches over 200 kilometers. In its maximum dimensions, the lagoon is 80 km long and 32 km wide, the maximum depth being only 35 meters and its surface area of ​​1 km².
Two passes ensure Rangiroa renews the waters of the lagoon. They are called Avatoru, where the port, the village and the airport are. The second is called Tiputa, named after the second village, based on the other side of the pass.
Diving in Rangiroa
The dives take place in the passes and according to the "tides". Indeed, by running home. the lagoon fills up and about 6 hours later, it empties during the "outgoing" current and so on… Following the current, therefore, either you are sucked inside the lagoon, or you are expelled towards the sea. Here, the term "current" takes on an extent rarely encountered. A hydrological study conducted in 1980 measured speeds exceeding one meter per second in the Avatoru pass.
                            Video made on 5 days and 10 dives

Gray reef sharks, silky sharks, white tip reef sharks, black tip sharks, great hammerhead sharks, tiger sharks, manta rays, leopard rays, tursiops dolphins, napoleons, dogtooth tuna, disheveled trevally, parrots, coachmen, butterflies, clownfish, Javanese moray eels, barracudas, turtles… the bestiary present on the spot, ranked among the best in the world for meeting sharks, is impressive! But if the diversity is important, the density is enormous. It's a place where even monitors never quite know what they're going to see. Every day is different and full of surprises.
The 2 passes are interesting and all the centers offer them. Tiputa is all the same more diving and there are therefore more… divers than in Avatoru.
In Polynesia, for safety reasons, it is forbidden to practice feeding within 1 mile of a pass. For amateurs, most structures offer to make a "cage" to bait the sharks.
Rangiroa "Failles" dive
It's the Arlésienne from Rangiroa… I've heard about it for 25 years and never, oh never, have I managed to dive it… yet all the centers offer it… but each time, the weather is capricious, not enough world, boat "broken down" ...
Now a center spontaneously offers us this outing! Obviously, we jumped at the chance and went diving at Les Failles with Marco, from AKA Plongée, who organizes it regularly.
                            Video made over 1 day and 2 dives

It takes 1 hour 30 minutes on the ocean side to reach the area. We will therefore do 2 dives on site with a hearty lunch during the surface interval.
The dives are done along a drop off interspersed with faults and rocky overhangs covered with corals, including the fragile orange and purple branches of stylaster. And that is the surprise of this dive… there is indeed coral in Polynesia! And to be there, there is! I had never seen so many.
These are dives that are carried out over about forty meters and therefore require a minimum level 2. If you have the possibility to do it, we recommend it without any hesitation.
——————————————————————————————————————————
Each structure presented cultivates its own particularities, its vision of diving, its idea of ​​service ... The heads of centers all lent themselves to the game of the interview and the images speak for themselves, you just have to look at them for yourself make your opinion according to your tastes. The order of presentation is simply ... alphabetical order.
——————————————————————————————————————————
Dive centers
All centers have a shuttle that picks you up where you live and brings you back once the dive has been completed.
6 passengers
More: http://www.the6passengers.com/
Paradive
Ray Manta Club
More: http://www.raiemantaclub.com/
TOP Dive
YAKA Diving
More: http://www.yakaplongeerangiroa.com/
Accommodations
Hotel Maïtai
The only hotel we stayed in on Rangiroa. It is clearly positioned at the top of the range even if some guesthouses charge identical prices. The rooms are comfortable and well maintained. The modest size swimming pool adds a rather pleasant "cliché" touch. The restaurant deserves a little less tables in order to feel at ease. The wifi is chargeable.
More: http://www.rangiroa.hotelmaitai.com/
Pension Bounty
Muriel and Alain welcome you to this small pension made up of 4 studios. They are all equipped with a kitchenette, if you want to cook. The set is very well maintained and the bedding is excellent. You can also dine in a pleasant way around a common table. If so, it happens at 19 p.m. sharp. You will have to walk about fifty meters to reach one of the most beautiful beaches on the atoll. The wifi is free.
More: http://www.pension-bounty.com/
Raira Lagoon
Jean Fred, originally from Cannes and a former diving instructor, welcomes you to this small family hotel made up of 10 farés with terrace located in the middle of a large garden by the lagoon. The rooms are spacious and well maintained. The cuisine is delicious, especially the sashimi. Paid wifi.
More: http://www.raira-lagon.pf/
Relais Joséphine
Denise, the owner of the premises has been living in Polynesia for many years. She has chosen to set up her high-end guesthouse, made up of 7 colonial-style bungalows, in front of the Tiputa pass, the spectacle there is just sublime. In terms of cuisine, it is certainly one of the best tables in the atoll. Paid wifi.
More: http://www.relais-josephine-rangiroa.com/
As indicated before, this presentation is not exhaustive. We have chosen to present exclusively the diving and accommodation partners who have played the game and whom we thank.