I'm going to be honest with you, when Eric Le Coedic (boss of H2O Voyage) told me: "you are going to Sipadan, you cannot not do the extension to Kinabatangan River…" my first reaction was to answer him: "Kina… what ??? Never heard of it…".
On scuba-people.com, we talk about diving, diving and diving. We have nevertheless decided to deviate from this policy because this extension is so extraordinary. The idea is to leave at the end of your diving cruise in Sipadan for 4 additional days to discover the Borneo jungle.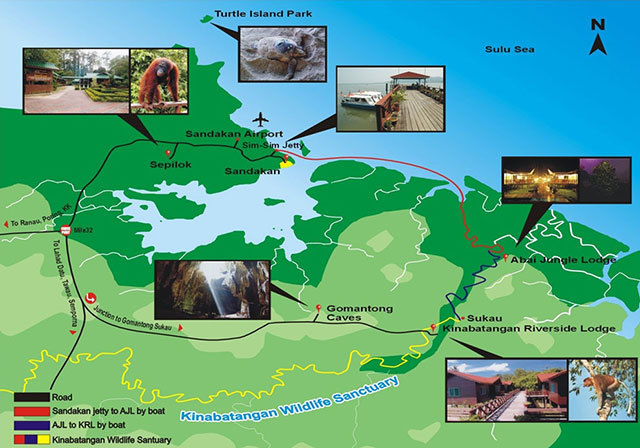 KINABATANGAN RIVER
Upon arrival at Sandakan Airport, your guide will pick you up. Ours was called Rémy and turned out to be just excellent. After 20 minutes on the bus, you arrive at the departure base where you can notably leave your diving equipment. You then board a covered speedboat to reach your first lodge after two hours: the ABAI JUNGLE LODGE.
ABAI JUNGLE LODGE & Kinabatangan Riverside Lodge Sukau
These two lodges are quite similar and belong to the same company. Company which has taken the party to develop an eco-tourism activity so that local populations also benefit from our visit. There is also the "tree planting" project which has made it possible to replant more than 10.000 of them.
The ABAI JUNGLE LODGE is my favorite. It is surrounded by walkways that allow you to meet animals and insects both day and night. It is also on the platforms of the ABAI JUNGLE LODGE that we have twice had the chance to admire 2 orangutans. It must be said that the female called "ROSE" is very often in the trees around the lodge.
EASY MEETINGS
This excursion is clearly open to everyone. Indeed, the only physical effort that will be required is to board the boat in order to travel the Kinabatangan river and its multiple arms. There is even a little "enchanted river" in Disney style… It's simple, the animals have schedules during which they move in order to get closer to the water. You just have to respect the schedules and be there to discover the immense biodiversity of the Borneo jungle. You will see on the video a very small part of this fauna.
For image makers and more particularly videographers, plan a tripod (which I did not have… and it shows) in order to limit as much as possible the permanent back and forth effect due to the narrowness of the boats.
THE PYGMED ELEPHANTS OR ELEPHANTS OF BORNEO
The Borneo elephant (Elephas maximus borneensis), also called the pygmy elephant of Borneo, is a subspecies of the Asian elephant and lives in the north of Borneo (East of Sabah and far North of Kalimantan).
The origin of Borneo elephants is controversial. According to two competing hypotheses, they are either indigenous or introduced and descended from elephants imported from the XNUMXth to the XNUMXth century.
The Borneo elephant is also remarkably docile and passive, another reason why some scientists believe it was from a national collection of domesticated elephants.
Elephant populations are disappearing as Borneo's deforestation disrupts their migration routes, depletes their food sources and destroys their habitat. The possibility that these elephants are native to Borneo gives their conservation a high priority and provides biologists with important clues on how to manage them.
In August 2007, it was reported that there are probably no more than 1 pygmy elephants in Sabah, after a two-year study conducted by the World Wildlife Fund.
THE ORANG-OUTANS OF BORNEO IN PARTICULAR
There are 2 species of oranutans, the Sumatran oranutan (Pongo abelii) and the one that interests us here, that of Borneo (Pongo pygmaeus). The meeting is not guaranteed unless you go to Sepilok Orangutan Rehabilitation Center. This one is not planned on the expansion we made and the idea of ​​seeing these animals in semi-captivity meant nothing to us.
But we were therefore lucky to meet a female on the 1st day and a female and a male on the second. And I must admit that these moments were the highlight of the spectacle offered by the Borneo jungle. Indeed, Pongo pygmaeus is on the red list of theIUCN (International Union for the Conservation of Nature), in the category in danger. In 2011, the estimated population decline of these orangutans is clearly above the 50% in the last 60 years.
FOR INFORMATION :
The average size of orangutans is from 1,10 to 1,40 m for 40 to 80 kg and can live from 30 to 40 years.
Gestation lasts 245 days. Young orangutans travel clinging to their mother's back or belly for more than two years. Births are spaced, with an interval of about eight years on average.
Orangutans are among the most arboreal of the great apes. They spend most of their time in trees, looking for food. The animal feeds most of the time on fruits, young shoots, bark, small vertebrates, eggs of birds and insects. This is why Anne Russon, who studies great ape intelligence at York University, was surprised to observe a new activity in orangutans once living in captivity and released in Borneo: fishing. Each night, they make a new nest perched between 12 and 18 meters above the ground.
A WORD FROM H2O VOYAGE
We propose these Nature and Ethnic Dating terrestrial extensions, which we have personally tested and chosen for their authenticity.
Each of our trips is an opportunity to bring back a memory, a memorable anecdote to share with the participants of these Sipadan cruises.
Extension from 750 €
                       How to talk about this region of the world and ignore the drama that is playing out there ... "Green, the film with 22 awards from Patrick Rouxel is unavoidable: the story unfolds like Koh Lanta on the Borneo side , an island in the south-east of Asia shared by Malaysia, Indonesia and the Sultanate of Brunei. There, we shave with all our hands, for us in a certain way… Indonesia in particular holds the sad record for the highest deforestation rate in the world. It loses about 2 million hectares of forest per year. And instead of this dense, wild and living jungle in which the howls of the gibbons resounded, after the the bawling of chainsaws, it is a perfect plant geometry and a sorry silence that settles on hectares of land ... "Read more and see the film in its entirety on the excellent site of Mademoiselle Caroline Lepage: www.merseaplanete.com