Remember, we presented last year a new concept proposed by Aquarius: the mini safari, 4 days on land, and 3 days at sea. After the Great South, Eric Belloin now offers "Wrecks and Ras Mohamed", North. And you can even combine both!
RELY ON TOTAL FLEXIBILITY
This is the main purpose of these mini-safaris, and the North formula works on the same principle: no longer have to choose between cruising and staying on land, can easily go with a non-diving spouse who can participate in the mini-safari Cruise (PMT loan and possibility to swim with the dolphins) or choose to stay at the hotel, taste if you wish to the charms of North and South by combining the two without remaining an eternity on the spot.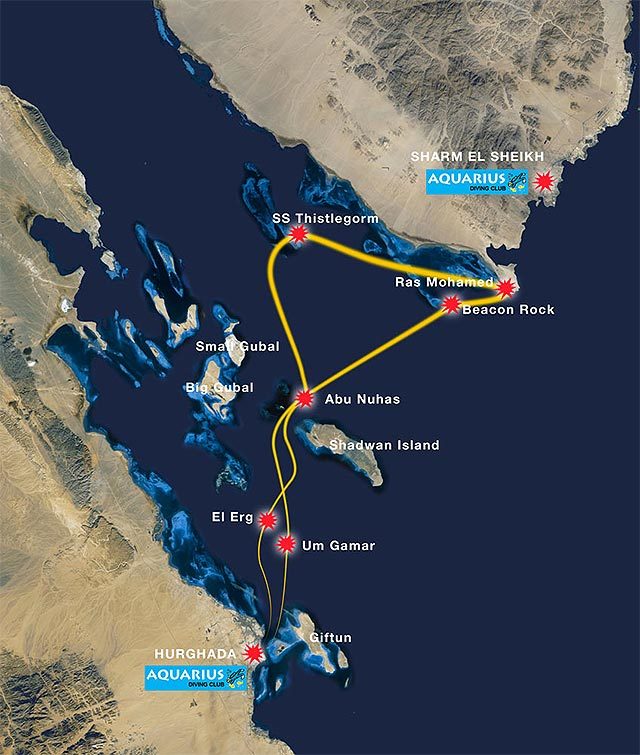 A BASIC ITINERARY FROM HURGHADA
JOUR 1 : Saturday. Arrival at Hurghada airport - transfer directly to the boat located in the Marina of the Marriott 5 * (Hurghada center), if arrival on board is after 17 p.m., installation in the cabins, dinner and overnight at the marina . For those arriving before 17:XNUMX p.m., they can leave their belongings at the Marriott's AQUARIUS dive center.
JOUR 2 : Sunday. Departure from the boat as soon as possible for a journey of more than 170 km in 3 days, very early morning rehab dive on El Erg then dive on the wrecks of Abu Nuhas. (If favorable weather, additional dive) Strait crossing, night dive at Beacon Rock (Shoab Mahmoud) and overnight.
JOUR 3 : On Monday. Very early in the morning departure for Ras Mohamed and 2ème and 3ème dive on Thistlegorm (Wreck) Night in Small Gubal.
JOUR 4 : Tuesday. 2 dives on the wrecks of Abu Nahas (Carnatic, Giannis D, Chrisoula, Kimon M) then last dive on Um Gamar back to Hurghada towards 14h. Transfer to the residence Héliopolis installation and night.
5 and 6 DAYS : Wednesday and Thursday. Overnight in Heliopolis residence and outing to the day (8h30 back between 14h30 and 16h 2 dives back to the residence.
JOUR 7 : Friday. According to the departure time for Hurghada Airport - free day, shopping or lazing around, or, with supplement, possibility of a day of diving, quad or catamaran.
JOUR 8 : Saturday. Transfer to the airport.
The itinerary is not contractual: the sites visited will be - Shaab El Erg (Dolphin house) - Thistlegorm - Abu Nahas and Ras Mohamed depending on weather conditions.
Variation: Days of Saturday, Sunday and Monday ashore, with boarding on Tuesday after 17 h and departure of the cruise on Wednesday morning with return on Friday afternoon.
13 minimum dives
The basic stay plans 9 dives during the cruise and 2 days with 2 dives departing for the day, ie a total of 13 dives. Departures are guaranteed with a minimum of 4 divers. Divers are asked to be self-sufficient and possess AOWD PADI or 2 Level, or to have 50 Certified Diving at Sea with an 1 or OWD Padi Level. For self-supervised groups, the 1 levels are under the supervision of the supervisor.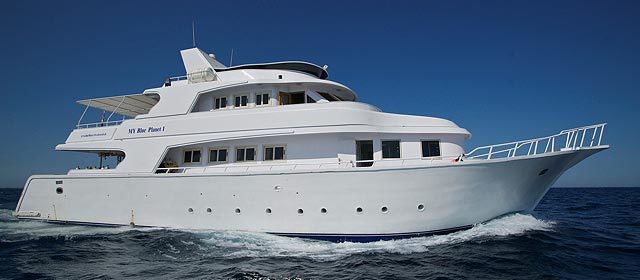 PRICES :
The price is 775 € diver price (without air) for the mini southern safari (non diver 700 €).
The rate for the mini safari north is 650 € non-diving diver price 550 €.
Mini safari Alone (without transfer) 415 € (south) and 375 € (north)
Possibility of pairing 2 mini safari = 940 €
Contact: AQUARIUS
Discover the HAMATA mini-safari