When Pierre Frolla, you know the quadruple freediving world champion, asked us to come and do a report about the youth courses of the Blue School in Monaco, we jumped at the opportunity. At the same time, at scuba-people.com, we have chosen to test what we present to you in Le Mag… so difficult to tell you about internships created for over 8 years old… hold on, Pierre understood the situation well and he is very playful. It was therefore not alone but accompanied by Max (10 years old) and Athena (15 years old), our house testers, that we arrived last Monday in August in the principality.
The blue school: ideally located
It is on Larvotto beach that this local child set up his school. Although his favorite field is freediving, Pierre and his team also offer scuba diving both in exploits and in school. The center consists of a room intended to accommodate the public with a classroom and also a technical room with changing rooms and showers. Note that the Blue School is an Aqua Lung partner center.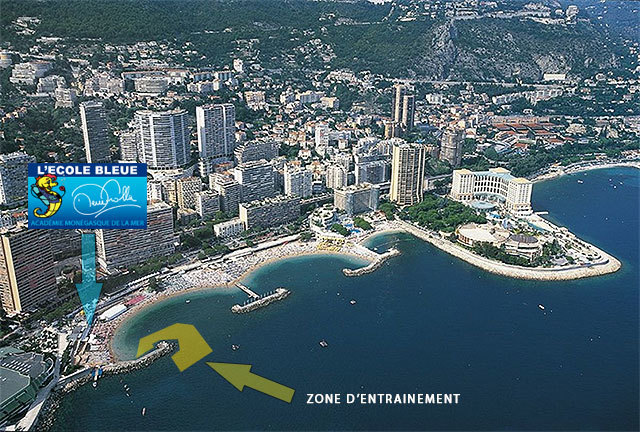 The second "Kiss Kool" effect of the Ecole Bleue is the terrace-deck on the beach at its disposal. It's really a little corner of paradise where it is good to listen to the briefings and have a drink… but I digress, let's come back to our young divers.
Once the children are dropped off at 8:30 am, all of the activities take place in the beach cove, no cars, no roads to cross, your dear darlings are in total safety.
YOUTH INTERNSHIPS
The first thing that strikes you is that apart from the supervisors, there are no adults… and this is a choice made by Pierre. Indeed, he thinks that mixing "small and large" is not a good thing. So throughout the summer, in the morning on weekdays, there are only young people. No adult activity is offered.
FEEDBACK: ATHENA 15 YEARS
"The morning is divided into 4 different workshops:
-> a twenty-minute dive;
-> a workshop "pirates in distress"To learn how to bring a diver back to shore in the event of a problem;
-> a workshop to learn to dive in PMT from a boat;
-> a jumping workshop from the dike to learn to dive from the edge and have fun.
A rotation allows participation in all the workshops. In addition, the last 2 days of the course, a snorkeling hike is offered for a first approach with freediving (descent to 6 and 9m).
This course allows you to touch everything (diving, apnea, jumps, PMT, etc.) and also to meet other young people sharing the same passion. I liked it so much that the planned test day turned into a week… I highly recommend this course !!! It was a total blast and for sure, I'll do it again! "
AND ON FRIDAY IT'S THE KRAKEN HUNTING
L'École Bleue is a school for raising awareness of flora and fauna, as well as environmental protection. The young people make a pact with nature and the monitors. They are committed to becoming eco-citizens. So we materialized the pollution by a character who is the "KraKen". It is a monster that represents all the bad deeds of people who pollute. We have to go and capture him on Friday morning, the last day of the course. In reality, it is an excuse for the children to put into practice everything they have learned from Monday to Thursday.
WITHOUT FORGETTING THE FRIDAY SNACK-BRUNCH
You might as well tell you right away, the team is very attached to certain traditions, including the Friday afternoon snack which concludes the course. Parents are involved. Everyone must bring food and drink and individual portions are not welcome, as are ready-made dishes ... so plan a cooking course on Thursday afternoon 😉
At the Blue School, there are very young instructors ...
Children often asked us: "Can we stay and help?" And we realized that something had to be done for them because a 14-year-old who has passed his level 1 is a bit stuck. He can progress in diving but he can no longer pass a diploma. They were often very disappointed. That's why we created this free training through which they learn a lot.
They must have obtained the bronze, silver and gold dolphins (different stages of learning, editor's note) as well as their level 1, from 14 years old. They then enter a training course to be assistant monitors. It takes place over three weeks during which they are under the cover of a "young instructor" and learn to supervise children of their age, then younger than them, during surface disciplines. What we call surface workshops are snorkeling, boat workshop, jumps, pirates in distress and snorkeling. Once the three weeks of internship are over, they officially become "young monitors".
"The power of this school is to give real responsibility to young people…"
A big thank you for their welcome to the Ecole Bleue team and more particularly to Franky Fresh, Meïnch, Chucky la Poupée, Sentenza, Dorcel, Ezra and… Rocc'eau of course !!!
READ MORE
- 2-day courses from April 1 to June 30, count 120 €.
- Youth courses of 5 days from July 1 until the end of the beautiful days count 250 €.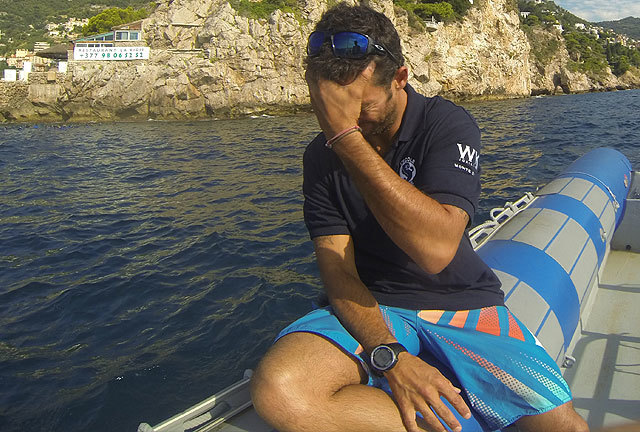 Meet Pierre FROLLA at the 2014 Diving Salon: stand B 48
But also on the net: www.pierrefrolla.com