Coco's is one of those few diving destinations that will make any diver fantasize. Imagine! Far from it all, an extraordinary fauna with the scalloped hammerhead shark as a star, few places available and a price which, let's be honest, is up to the rest. For me, it had been at least fifteen years that I cherished the sweet hope of going to soak my fins there. So when Nature Diving offered to do a report there, I packed my bags without even checking my schedule!
Coco's Island or Cocos Island
Cocos Island, Isla del Coco in Spanish, is a Costa Rican island located 550 kilometers southwest of the country's western coast, in the Pacific Ocean. It is attached to the province of Puntarenas. The island is known to have welcomed the pirates who hid there the treasures looted from the Spaniards.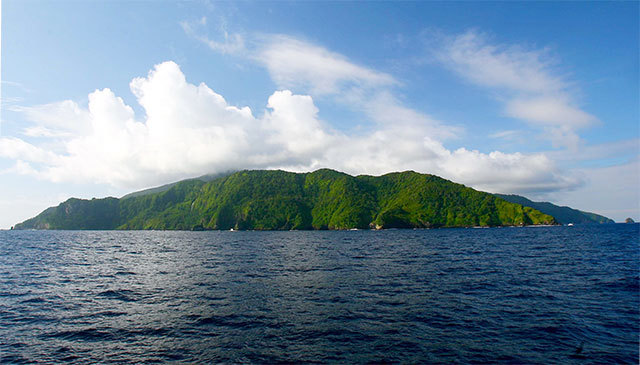 With an area of ​​23,85 km² and a perimeter of approximately 23,3 km, it is 7,49 km long and 4,61 km wide. It is located at the first point of contact with the north-equatorial counter-current. On the western part, you can see Cerro Iglesias, the highest point of the island, at 634 m. Coco's Island is also the only island in the eastern tropical Pacific lined with tropical rainforest.
Coco's Island or hammerhead shark paradise
About fifteen dives are recorded in total. Depending on the weather conditions, you will have to adapt. During our stay, seven out of six rainy days… so we were only able to immerse ourselves in the yellow dots on the map below.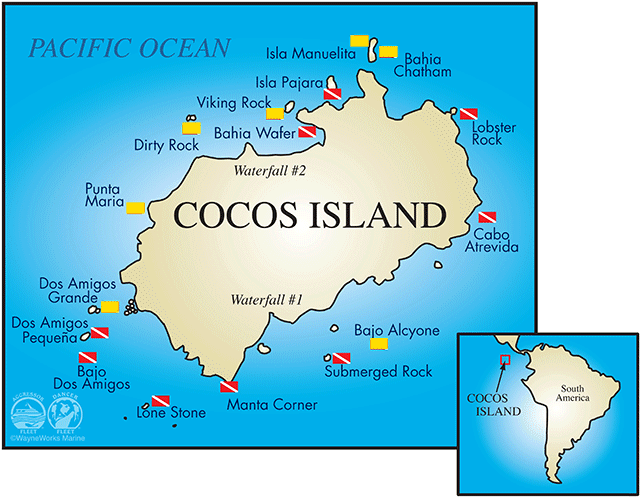 Coco's Island dive log
| | | |
| --- | --- | --- |
| 1 - Chatam Bay | 2 - Manuellita | 3 - Manuellita |
| 4 - Punta Maria | 5 - Dirty Rock | 6 - Dirty Rock |
| 7 - Dirty Rock | 8 - Manuellita | 9 - Viking Rock |
| 10 - Chatam Bay (Night) | 11 - Alcyione | 12 - Alcyone |
| 13 - Viking Rock | 14 - Manuellita (night) | 15 - Dos Amigos |
| 16 - Dirty Rock | 17 - Manuellita | 18 - Manuellita (night) |
| 19 - Alcyone | 20 -Manuellita | 21 - Dirty Rock |
| 22 - Alcyone | 23 - Manuellita | |
But like everywhere in the world, some of these dives are essential, others less. The local hit parade is without a doubt Dirty Rock, Manuellita et Alcyone. It is indeed on these spots where the meetings with the shark hammer scallop are the most breathtaking.
Come on! Put on your mask! We will present them to you:
DIRTY ROCK
It takes about fifteen minutes by zodiac to get to Dirty Rock. Arriving at this site, only this rock appears and frankly I couldn't help but think that if the underside looked like the above… it wasn't going to be the dive of the century…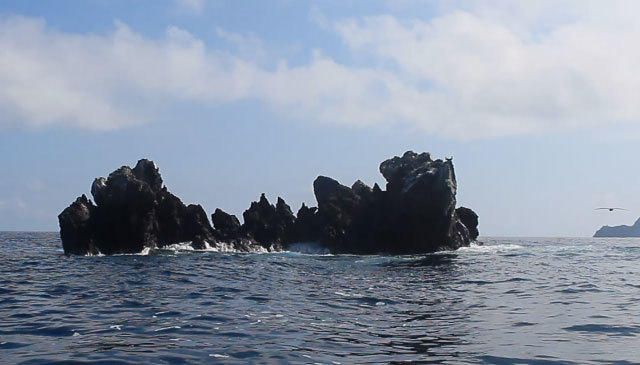 Yes, but now, barely ten meters, we discover a density of fish rarely seen so far. It's everywhere! So much so that when the first hammerhead sharks appear, we want to push the jacks and other real herds rather than schools of fish.
In fact, the hammers go back up to be de-wormed by the Black-nosed Butterflyfish - Johnrandallia nigrirostris - that we see on the video.
I hear some of you from here thinking that it's easy to make a video showing a lot of things when you've done five dives on the same site? Well those will find below a sequence which was neither cut nor edited, just to show you what can be seen in four short minutes on this incredible site.
Last nod to Dirty Rock, this bench of hammers which appeared as if by magic, while I was making my bearings in the blue… What happiness, even if… even closer… it could have been even better?
I was surprised by the presence of a very marked thermocline in Coco's Island. On the surface, the water temperature is 28 ° but as soon as you get below this thermocline, it drops to 22 ° ... Thermally impossible to miss and visually it is the same. In addition, she moves throughout the day. It can be 25 or 30 meters in the morning and end up at 40 on the same site in the afternoon. To bring back beautiful pictures, it is more interesting to be above because below, the water is greenish.
The thermocline in pictures
Manuellita
Coco's Island also owes its fame to this spot. In fact, Manuellita is located around a rock and you can dive west side at Manuellita Deep and east side at Manuellita Garden. Depending on the current, it is also possible to do both dives at the same time. Truly extraordinary dives and just like on Dirty Rock, the fauna is of a fantastic wealth. Note that a female tiger shark seems to have taken up residence there.
It takes less than ten minutes to reach the site and it is perhaps for this reason that it is the dive that we made the most often. Eight times in total!
Alycyone
This is the third dive of this winning trio. Here, no rocks to identify the site. Everything takes place underwater and the rangers have wet a buoy to find the place. Each time, the current was quite strong and the descent was made along the anchorage. Once you get to the bottom, it's a bit like a platform where you land. Always a lot of hammers. It is also one of the places where many photographers have been able to make the mythical image of Coco's, that of the bench above the photographer.
This dive is located more than twenty minutes from the Wind Dancer. Maybe that's why we only dived there three times, after tough negotiations ...
Night dive
No need for a macro lens. At night, Coco's Island becomes the Kingdom of the Coral Shark - Triaenodon obesus -
They understand that the light from our headlights is a precious asset. They therefore navigate from one diver to another hoping to meet a prey ...
Rest assured, they don't eat anything and everything and what's more, they see almost nothing, even with our headlights. Most of the time, it is the big jacks that have sharp eyesight that hit the nail on the head ...
An extraordinary atmosphere there again! Never had I seen so many white tips. A unique spectacle!
The Wind Dancer
In a first life, the Wind Dancer was armed for trade, then modified into a cruise ship. Made of steel, it measures 35 meters long and 9 wide. It can accommodate twenty-two passengers and nine crew members. Hard to give it an age, but although it is not new it is well maintained.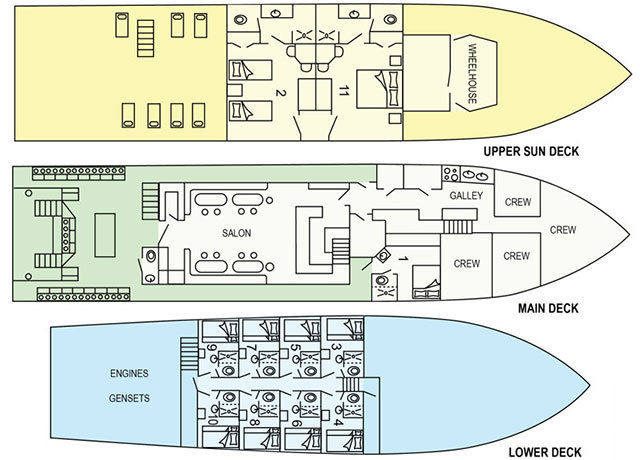 It offers two "owner's Suite" cabins, one "master" and eight "Deluxe" cabins. Honestly, the "Deluxe" cabins are only luxurious in name. Indeed, they are cramped and although the lower bed is of comfortable dimensions, the base of the upper one is located less than 30 centimeters from your face.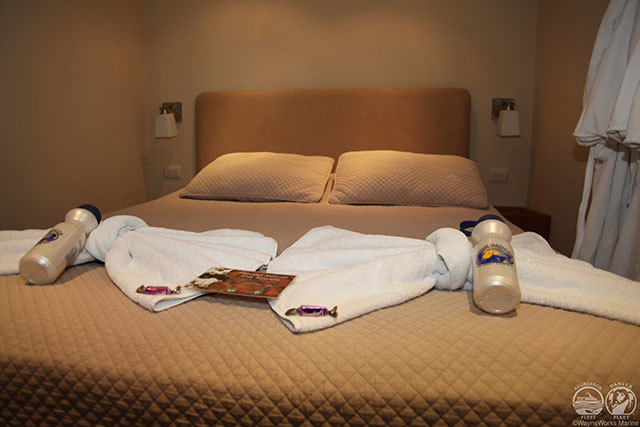 Master Stateroom
If you are traveling as a couple, go for the "Master", it is a little more expensive but it is definitely worth it.
Every day, three dives follow one another, at 9, 11 and 15 p.m. Every other day, a night dive is added to the program, around 18 p.m. Each diver is assigned a place to store their equipment. From the first dive, stab and regulator remain on board the tenders. Just remember to wind up your fins.
After each dive, a snack is offered, consisting of fruits and small sandwiches, plus a hot chocolate after all the night dives.
On board, divemasters take turns, but when the boat is full, eleven divers share a guide. Depending on the affinities, nothing prevents diving without a guide. Remember, however, that it is forbidden to descend beyond 35 meters in the National Park.
The food is varied and very well prepared. The chef is on the go… Beef fillet, turkey, fish, hamburger, pizza, barbecue, all well presented and in quantity. As a general rule, lunch is self-service while in the evening, the service is done at the table. All soft drinks, beers, espressos and wine are included in the price of the cruise.
The crew is discreet, maybe even too much? It wouldn't have been unpleasant if he had dinner with the divers from time to time to teach them more about the area, but apparently we don't mix staff and customers… Too bad.
How to get there
You will need to land in San José, the capital of Costa Rica and spend the night there before the Wind Dancer mini bus picks you up the next day around 13pm. It then takes a good hour and a half to reach Puntarenas, the starting point of the cruise.
Once on the boat, the easiest is done. We will now have to reach Coco's Island which is located 370 miles away, a little less than 600 kilometers… On the way out we took forty-two hours, three more on the return… Remember to load a good bunch of videos on your computer ...
With whom?
Nature Diving invites you to discover the incredible richness of the seabed of Cocos Island on a diving cruise aboard WIND DANCER or OKEANOS AGGRESSOR yachts.

11 days / 10 nights aboard, 7 days full of diving in Cocos and amazing encounters.
This essential trip dreamed by any diver and diver is 5600 euros per person including
- return flights Europe - San José
- one night in a double room with breakfast in San José
- airport transfer - hotel - Puntarenas (embarkation port) and return
- 11 day / 10 night cruise in a double cabin to share
Added to this price is 490 USD in Marine Park taxes, 30 USD in DAN evacuation plan insurance, and 28 USD in San José exit tax… plus tips.
GOOD NEWS on certain dates reductions of 1150 euros per person (1280 USD) are proposed on these cruises, consult them:
San Jose
The day after arrival, nothing to do for the whole morning. So I jumped in a taxi, just to discover the capital, San José. The must-sees are in the center and close to each other. The Central Market and the National Theater are to be seen and, if you have time, you can also visit the National Museum which offers many pre-Columbian collections, a pretty butterfly garden and a view of the city that make that I do not regret my walk.