Bali, "the island of the gods", exudes magnetic charm and beauty. It is one of the smallest islands of the Indonesian archipelago, but remains by far the most sought after by tourists and especially by divers who go there by the thousands.
BALI: CULTURE, TRADITION AND… TOURISM…
This little paradise brings together all the essentials for a successful vacation. Beautiful beaches, even if you cannot find white sand or bathe everywhere, extraordinary volcanic landforms covered with forests, hills with rice fields whose curves make the light dance, as well as an omnipresent culture and always authentic. The Balinese also captivate with their sweetness and surprising kindness, as well as their love of beauty and their unique way of uniting art and life.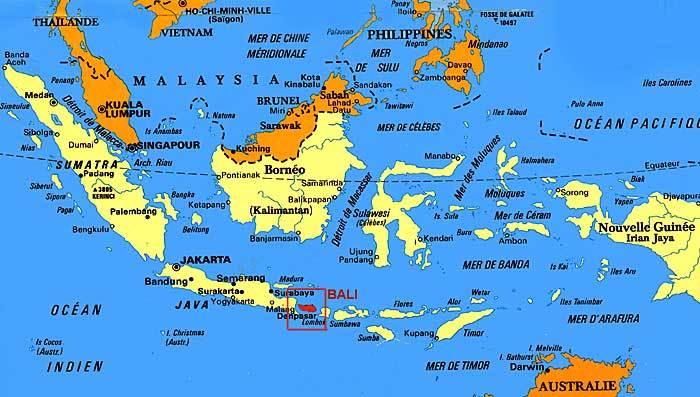 Whether they live in the heart of tourist areas or in isolated hamlets, the Balinese have lost neither their calm nor their customs. What a pleasure to see them sacrifice to the daily ritual of offerings that can be found in front of each shop, on the bridges, at the edge of the rice fields or on the altars that adorn the gardens. Perhaps it is this constant presence of the divine that makes the Balinese so affable and allows them to survive the tourist boom without completely selling their soul ... while still having something to sell to tourists!
SAFARI BALI BY ABYSSWORLD
During the 13 days and 12 nights of this safari, transport is done in two minibuses for land trips. This allows you to really cover all the essential spots while leaving room for discovery, such as the first 4-day stage in Pemuteran and its still relatively confidential dives.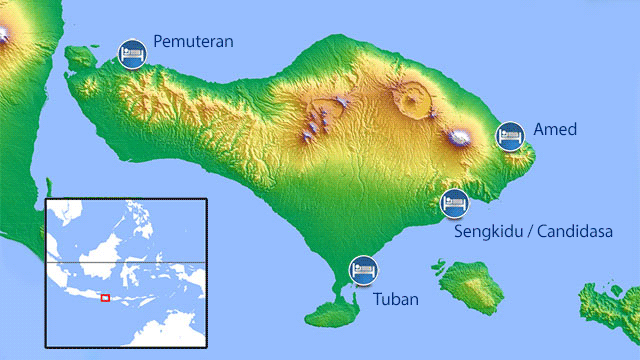 Claudine DAIGNEAULT, quebecoise, and Dan STILWELL,American, are in charge of the organization of the Safari. They met in Indonesia thanks to their passion for diving in 2009. They have crisscrossed the waters of all Southeast Asia, Thailand, Vietnam, Cambodia, Malaysia, Indonesia, as well as those of Australia and the Fiji Islands.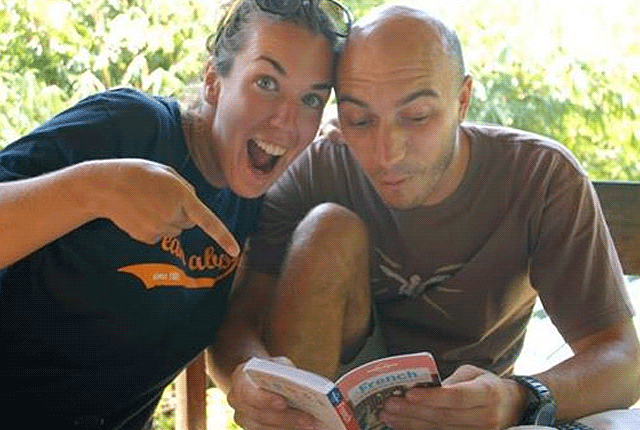 They are passionate about the bio-diversity that exists in Balinese waters and the cultural richness of Indonesia. Both PADI Master Scuba Trainer, they have also taught in Canada and the Caribbean, on different diving cruise ships.
THE MARKISA
Director of Abyssworld, Christophe Paul chose to build this boat on site to offer a Bali safari different from others. It offers the undeniable advantage of fast and comfortable trips to the diving spots, while keeping all the equipment available on board. And that is a big plus! Indeed, once deposited on board, you will no longer tranship your equipment, although it generally has to be brought back to the rooms every evening to transport it again every morning to the dive sites.
Markisa, "passion fruit" in Balinese, is a "pinisi" made of ironwood and teak 20 meters long and 4.5 m wide. It is equipped with 2 compressors, one of which has a diaphragm which delivers Nitrox.
In addition to being beautiful, it is super comfortable. The only downside is that the stability is quite precarious and it tends to rock quite a bit ...
THE BEST OF DIVING
Difficult to choose from the best images taken during the 22 dives carried out ... Magnificent reefs, black sand teeming with rare fauna, drop-offs, frogfish, ghost fish, leaf fish, nudibranchs, pygmy seahorses, coachmen, snappers, jacks, barracudas, batfish… the place is worth the trip and really deserves not to be fixed on one and the same area, hence the real advantage of a safari.
                                           Images made during 22 dives on 12 days                                           

A DIVING OF NIGHT
So there, we almost touch the divine. One of the night dives (see video below) particularly impressed me, as it was so difficult to shoot a sequence, regularly interrupted by divers warning the rest of the group of a new discovery, at any time. It didn't stop ...
                                           Images made during a single night dive                                         

THE KINGDOM OF THE PIGMEE HYPPOCAMP
They were almost ubiquitous: during at least one in two dives. Thousands, even if there are not everywhere all the same… and without the trained eye of "Pygmy", our specialized guide, we would often have passed by them without seeing them… And many times , it took us a few minutes to spot the hunted animal ...
With a maximum size of 2 centimeters, the pygmy hippocampus is one of the smallest known seahorse species. TheHippocampus bargibanti in its often pink livery and theHippocampus denise, yellow, presented themselves to our eyes. A prehensile tail allows them to cling to the surrounding substrate or to their partner during matings. They move quickly by oscillations of their dorsal fin.
FOCUS ON SOME DIVES
- TEMPLE WALL: A UNIQUE ATMOSPHERE
Let's be clear, this totally artificial spot was created from scratch. It is part of a project supported by all the local diving centers and piloted by Biorock which is trying to re-establish coral.
You will swim in an immersed temple crossing as you wish, statues of Boudha, the goddess Ganesha and many others. Diving to do, as the atmosphere is supernatural.
- MANTA POINT: THE MEETING OF BIROSTRIS
45 minutes by speedboat from Sanur, the spectacle is stunning. A wild coast bordered by limestone cliffs, coves, caves and arcades sculpted by the powerful waves of the Indian Ocean.
It is at the foot of these cliffs, in two bays, that the manta rays come to be de-wormed by wrasses and other wreaths. These "cleaning stations" offer a unique opportunity to meet the rays, often visible from the surface.
However, it is a well-known and recognized site so don't imagine being alone underwater ...
- THE LIBERTY WRECK: BETWEEN BOSSES & CORKS
The USAT Liberty was a 120 meter long cargo freighter. It was torpedoed in 1942 by a Japanese submarine. The boat, which did not sink immediately, was towed from Lombok to Tulamben where it ended up running aground.
It is the "mythical" wreck of Bali. It is between 5 and 35 meters deep. Since the launch is from the beach, it is very popular with both experienced divers and beginners. Locals agree that in the low season there are around 300 divers per day and these numbers easily double during the high season ...
Our opinion: be in the water at 5:45 am to enjoy it almost exclusively or don't do it… it's an underwater Luna Park… Moreover, by immersing yourself very early, you will have the joy to surprise the humpback parrots that still sleep there. They will leave the wreck at 6am with great blows of their fins to escape the tumult.
AND THE MOLA MOLA IN ALL CA?
The best time to meet this giant, which can reach 3 meters in wingspan, is the dry season, from June to November, when cold water currents bring plankton from the depths to the surface. But it is from August to October that you will have the best chance to meet them. Indeed, this fish of great depths (500 m) takes advantage, as we have just said, of seasonal currents to rise to the surface.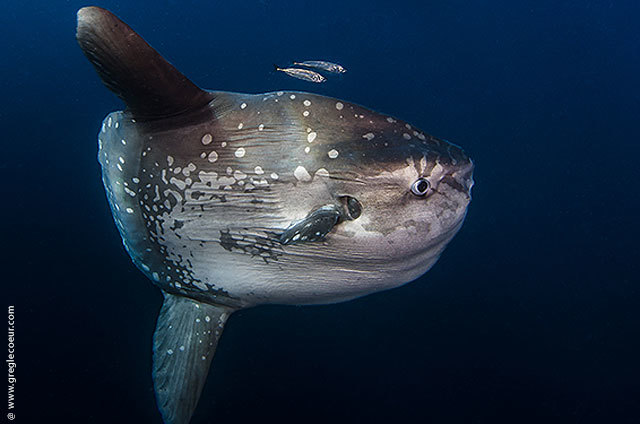 Nusa Penida and Nusa Lembongan are some of the best places for underwater walks. Crystal Bay is one of the best dive sites for moonfish that come up to get rid of their parasites by damselflies and other cleaner wrasses. Some people think that they go up in this way to warm up, to "recharge themselves thermally", before plunging back into the deeper cold water.
CLAUDINE, THE "GO" OF SAFARI BALI
Who better than Claudine to introduce you to Bali and the safari she has been taking care of for 2 years? Let's give him the floor ...
For those who read us regularly, you know that the language of wood and the fallacious praises are not in our habits and it is very sincerely that we wish to insist on the availability and the permanent listening of this Quebec which seeks unceasingly to satisfy all divers. There is of course an established program, but she does not hesitate to modify it on demand, in order to satisfy everyone. A real à la carte stay. It is very pleasant and we thank him for it.
HOTELS & ACTIVITIES
One of the major interests of Bali is to be able to indulge in diving while discovering the cultural aspect of the island. Visits to temples, a pearl farm, hot water baths, rice fields, markets… not to mention a good number of typical restaurants, these are active vacations that will be offered to you, without ever being imposed on you.
The 4 hotels selected are what could be described as charming hotels, far removed from the big international chains. Well located, they all have a swimming pool, which is not a luxury in a country where humidity can sometimes be high. Part of the meals are served there and the food is generally of good quality. For information, Bali is in Asia… and rice is part of the classic diet. You will therefore have them almost daily. Hello, if you are allergic to it, it is better to go diving in Bavaria ...
ASTON TUBAN INN
The hotel has 76 superbly appointed rooms, all featuring showers, internet access, balconies / terraces and free wifi. The hotel offers an excellent range of leisure facilities, including massages, garden, children's pool, outdoor pool, spa ...
Built in 2006, Aston Inn Tuban Hotel is an excellent choice for travelers. From there, they can easily shine in all the interesting corners of this big city.
TAMAN SARI BALI
This hotel is located in the middle of a tropical plantation on the well-preserved northwest coast of Bali. All the pavilions, built with natural materials, are surrounded by a plantation punctuated by lily ponds. The rooms are comfortable.
The north-west of Bali, still underdeveloped, is full of temples and coconut groves.
HIDDEN PARADISE COTTAGES
Hidden Paradise Cottages offers fully equipped bungalows with free Wi-Fi, surrounded by tropical gardens, a short walk from Amed's only sandy beach. It features an outdoor swimming pool, massage services and free private parking.
Bungalows at Hidden Paradise feature teak furnishings, a private balcony and stunning views of the surrounding greenery. They are equipped with a fridge, hairdryer and seating area. The spacious bathroom can accommodate a bath with shower over.
THE NIRWANA RESORT & SPA
Nirwana Resort and Spa offers 4-star accommodation in a tropical setting. It has an outdoor swimming pool overlooking the ocean. The reception is open 24 hours a day and a bar-restaurant is located on the beach. In addition, free Wi-Fi is available.
Well appointed, the well villas are decorated in a modern Balinese style. They include cable TV and a DVD player. They also have a private balcony offering panoramic views of the ocean or the surrounding landscapes. Each private bathroom has a bath or shower.
IN CONCLUSION
The circuit is as varied as the dives and the boat is a definite advantage. The crew is really attentive to the divers while remaining discreet. The dives are extremely rich without being committed. A "young" level 2 will have no problem.
Even if we divers are a bit monomaniac, it is still very pleasant to be able to discover, with the seabed, the very rich life of this exceptionally diverse island and its inhabitants.
TO DO WITHOUT HESITATION !!!
READ MORE


SAFARI BALI ABYSSWORLD
Thanks to Thomas for the footage he shared with us 😉