The underwater director René Heuzey proposes to accompany you to Mauritius from 27 March to 6 April, with optional shooting stage, to meet sperm whales and giant moray eels.
SOUTH WITH THE CACHALOTS
The stay begins with four days in PMT to meet the sperm whales! the launching will take place in groups of 2 or 3 people maximum depending on the behavior of the animals. For people who are part of the video course, there will be only one trainee per group. In this way, the shooting conditions will be optimized and the trainees will not be hampered by other swimmers. A sound system makes it possible to listen to the sperm whales underwater and to locate them more easily. Michel Vély, president of the Megaptéra association, will join one of the outings to share all his experience. Video trainees will watch their rushes every evening with René Heuzey, who will also provide a theoretical course on underwater shooting.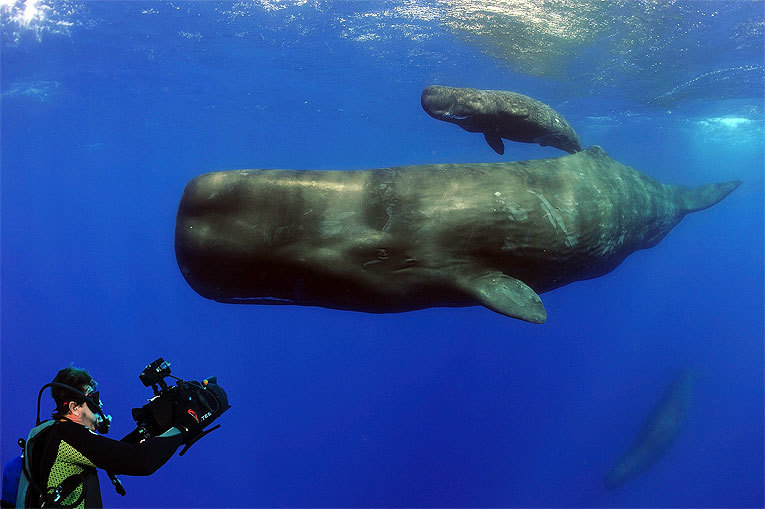 NORTH WITH MURENES AND BALISTS
You will then spend 5 nights in the north of the island, and dive from Trou aux Biches in the center of Hugues Vitry. On the program, 2 dives daily to discover giant moray eels, triggerfish, stone fish and all the fauna of the reef, but also the wreck of the Stella Maru, on funds that do not exceed twenty meters deep.
René Heuzey plans to reverse the program if necessary to better adapt to the presence of sperm whales. The base rate is € 3093 per person in a double room. For any further information, contact René Heuzey.