A paradise at the gates of Europe
The archipelago of Canaries is located in the middle of the Atlantic Ocean. It is a Spanish ultra-peripheral autonomous community located 100 km west of Morocco. This archipelago which nevertheless belongs to Europe, is part of the African continental plate.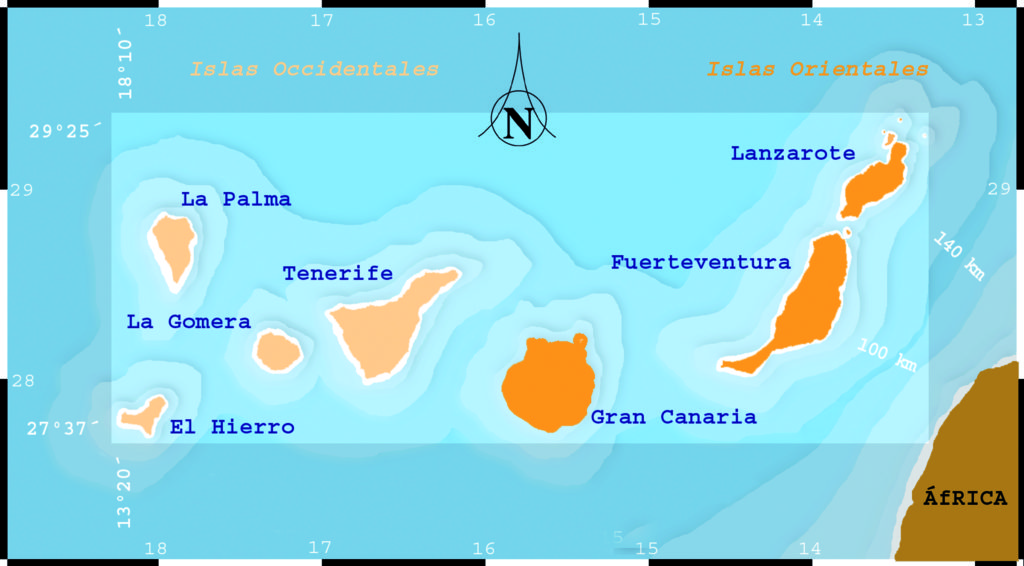 Comprised of seven main islands and several islets, the Canary Islands attract many people throughout Europe, both for its proximity and ease of access, as for its temperate climate throughout the year. This mild and pleasant climate is not only conducive for divers seeking thrills or poetry, but it also has a wide range of underwater flora and fauna. It is in particular on its pelagic fauna that we make a focus, represented by 30 species of cetaceans, which can be as surprising as the whales, sperm whales, pilot whales or big dolphin.
But there is also a rich flora and fauna that we invite you to discover: black coral, gorgonians, several species of rays and moray eels, turtles, grouper… If you have never visited this part of the world, you might be surprised.
Greg Lecoeur and Kevin Sempeh under the watchful eye Sergio Hanquet were invited by Blue Explorers and Arona Son Atlántico to showcase these animals, but also the seabed of the region. If it is not a commercial practice to be able to immerse oneself in cetaceans, it is possible in special cases to obtain authorizations to be able to film or photograph these mammals. In addition, all the photos and films concerning these articles were realized with the permit of the Ministry of the Environment (MAPAMA).
Blue Explorers 2 structures to welcome you:
Blue Explorers is based on two locations in the archipelago: Gran Canaria, not far from a small fishing village called El Taurito. The center is well equipped and can offer you various diving excursions, but also several activities. An important point to know, is that all dive sites are within 10 minutes of navigation. Their second center is located on Tenerife, in the small picturesque village of Abades. With about twenty known dive sites, which vary between 6m and 60m; there is something for everyone, since you can also find wrecks and small caves.
Greg Lecoeur, international photographer of great talent.
No introduction Greg Lecoeur, a very talented photographer, who has accumulated numerous prestigious awards for several years. Greg was able to stand out, thanks to his creativity and his passion from other French photographers, by propelling himself into a career and international notoriety. During the summer of 2018, he organized an exhibition in Nice on the Promenade des Anglais entitled "Un Souffle en Méditerranée". For some months now he has become official photographer for the National Geographic, a prestigious title. He is also one of the honorary members of Behind The Mask (BTM), and participated in their filming on Orcas in Norway.
He has just gone to Antarctica in the biggest secrecy on a new project with Florian Fischer of BTM and Guillaume Nery, apnea champion. We can not wait to find out more about this project.
Kevin Sempé the rebirth of Cinémarine.
Kevin Sempé is a videographer. In 2018, becomes director of Cinémarine. This French audiovisual production company specialized in the underwater image is historical, being responsible for the underwater images of film like the Big Blue of Luc Besson. Kevin is also the owner of his own Foxroad Productions production company. Cinemarine with Kévin has had a makeover and many fiction and documentaries for French television have been shot in 2018, including wrecks in Canada and Scots, and also a fiction with Laetitia Casta for Arte. This year, several documentaries are in production.
Sergio, Greg and Kevin are all ambassadors for Aqualung. As such, during their stay in the Canaries, Kevin shot a commercial for Aqualung.
Sergio Hanquet the maestro of the Canary Islands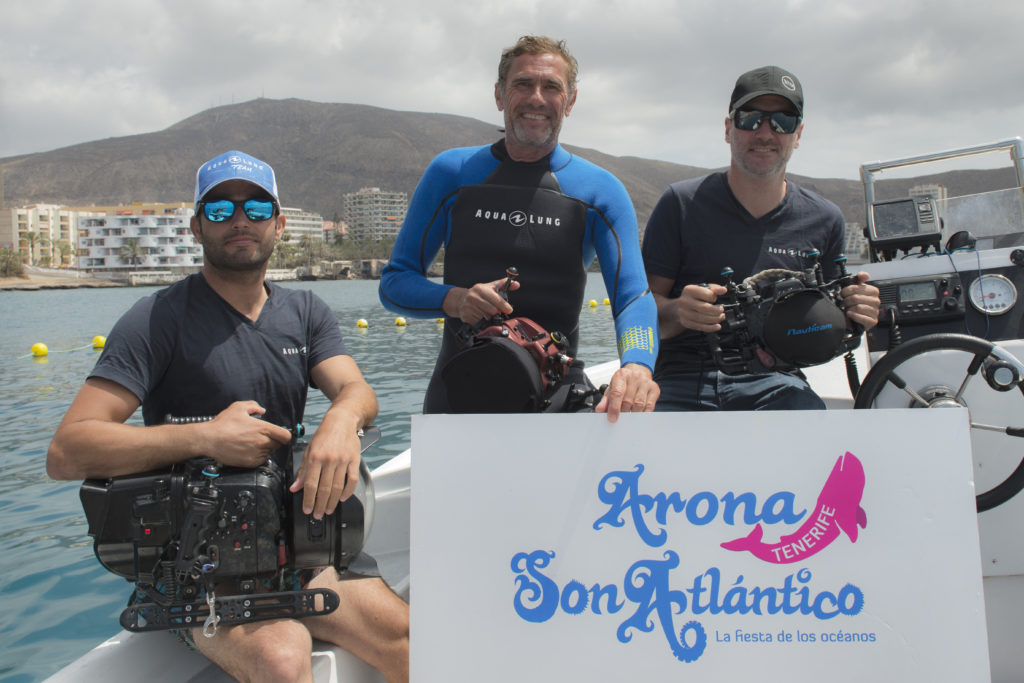 It would be unfair to talk about Greg and Kévin without mentioning Sergio, especially since he is the principal investigator of their arrival. This emblematic character of the marine world in the Canary Islands, deserves to be more recognized in France. Sergio Hanquet is a Spanish resident, who has moved a little away from Belgium, his country of birth. It is based in Tenerife from 1986. Passionate about the sea and diving from his island, he is very interested in the many cetaceans that live or move to his latitudes. Between 1997 and 1998 through photos of cetaceans and the Canary Islands
he won in Spain a dozen awards at various photography competitions, he saw his passion thoroughly.
From 1997, he organized his first photo exhibition highlighting cetaceans, where he participated and organized many prestigious exhibitions to this day. If Sergio has a certain artistic talent in photography, so does his narrative talent. He has participated in a large number of articles for various newspapers and magazines on the Canaries and cetaceans, his first loves but also in many countries. Sergio has always been interested in the conservation of cetaceans and also collaborates in many scientific researches. All this led him to write numerous books on the Canaries and on the many species of marine mammals. He is also interested in his works on invertebrates, or in a guide on diving in the Canaries (Bucear en Canarias). You will understand, his work is colossal and it would take some time to list them all.
Arona Sound Atlantico is a festival in the Canary Islands that celebrates the oceans.
For the 2018 edition, Greg Lecoeur and Kevin Sempé were the guests to do the report that illustrates this article and showcase this destination. Such an event could not exist without involving Sergio, he takes part in various participatory workshops as for apnea, but also contributes to the many images that are exposed there. The festival is not only there to promote the place, because it also exists to raise awareness about certain environmental causes, such as the danger that plastic represents for cetaceans.
Sergio during a phone call tells us that he is happy to note that the population of certain cetaceans is increasing, but he is worried above all of the tourist exploitation, the Whale Watching is operated for about sixty boats and that could disturb our friends. He would like the authorities to increase the monitoring of this practice. But says that despite this all, small downside, do not hesitate to come and discover this archipelago for its nature which is ultimately very rich. Indeed, this seaside destination is better known for its festive and summer side than for its animal treasures, a well-kept secret.
Photo of Greg Lecoeur and Sergio Hanquet
Video of Kevin Sempé
Writing Christophe Chellapermal "Bam bam"