If there are some reports that make you more fantasize than others, flying off to dive in Antarctica is one of them. Imagine… going to the other side of the planet, entering and immersing yourself in an almost virgin territory, being confronted with extreme temperatures, meeting animals different from those one usually meets in sunny latitudes… c is exhilarating!
So it was last March that Abyssworld launched a group of ten people, bound for Antarctica. Departure from Europe, then a first stopover of a few hours in Buenos Aires, Argentina, before reaching Ushuaia… The adventure finally begins! The cruise lasts twelve days.
Alban Michon as Monsieur Loyal
And as Abyssworld does things well, our "tour leader" is Mister Alban Michon's himself, an outstanding guide who gives us the benefit of his extensive knowledge of ice diving.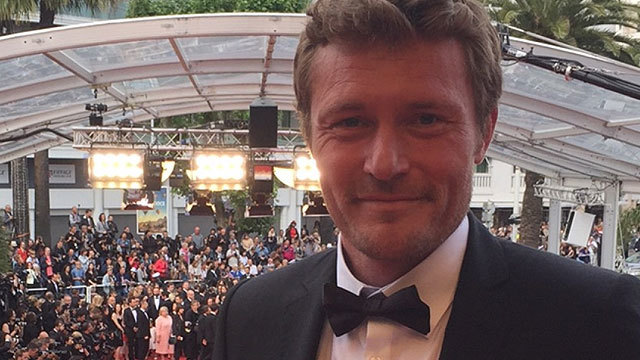 Passionate about both the polar regions and scuba diving, Alban Michon is a French adventurer and explorer who took part in exceptional expeditions. In 2010, he dives at the geographic North Pole. In 2012, he traveled 1000 km in sea kayaking along the Greenlandic coast and immersed himself under icebergs.
Alban Michon has always had a taste for adventure. At eleven, he discovered scuba diving. He was just over XNUMX when he started the seasons in Corsica and Porquerolles as an instructor. At twenty-three, he bought theTignes scuba diving school, in Savoie, in France, then the underground diving center of Vasques du Quercy in the Lot, still in France. Alban quickly became a reference in ice diving and underwater diving.
Ushuaia: we embark!
When we arrived, the wind was blowing very hard. An icy cold envelops us as soon as we leave the airport… That's it, we are there! Comfortable rooms await us in one of the many hotels in the southernmost city in the world. And the next day, we finally discover our ship.
Ushuaia enjoys a subpolar oceanic climate comparable to that of Reykjavik in Iceland. The seasons are not very marked with temperatures which remain around 0 ° C whatever the time of year. Thus the average temperature of the coldest month is 1,3 ° C and that of the hottest month of 9,6 ° C.
Ushuaia Bonus
When we discover a good address, we share it. Indeed, if you are looking for a pleasant place to meet locals ... head to the Dublin Pub, in the city center.
The place is crowded with people, on Saturdays anyway, and contrasts with the image we had in mind of a calm and peaceful Ushuaia. Beautiful people drinking glasses and partying… we jumped at the chance… some more than others…
Ortelius Ship
Built in 1989 in Poland, this icebreaker flies the Dutch flag and proudly displays measurements that we rarely see on more classic diving cruises: 4575 tons, 91 meters long, 18 high, 50 crew members for 116 passengers distributed in 53 cabins ...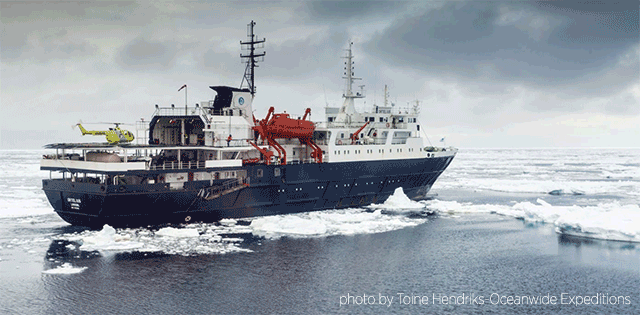 Honestly, I had imagined the opposite, but the size of the ship and the number of passengers were never an issue. It is very big but it is quickly forgotten completely.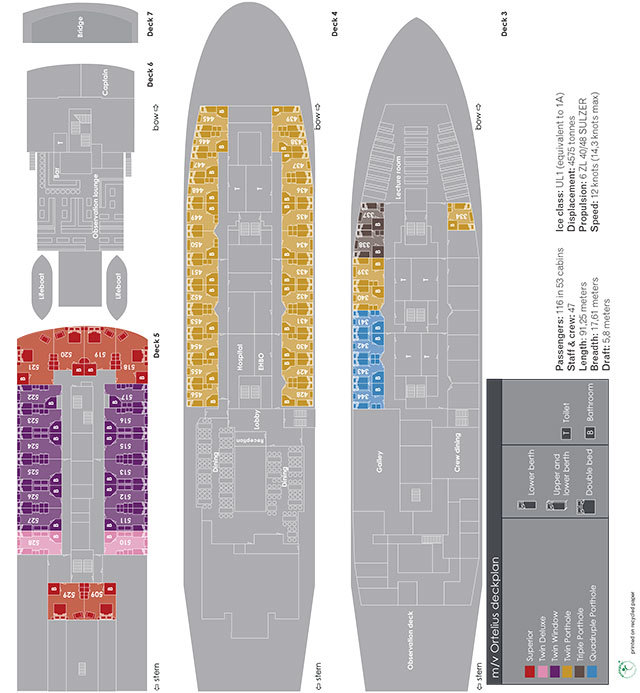 It will nevertheless be necessary to span seven bridges to go around the ship. Many nationalities mingle on board, where the official language is English. Another surprising thing was the average age. Indeed, many young people in their thirties are among us ... another surprise, because of the cost of the trip ...
The food
It is varied and very good. Depending on the time of day, it can be served as a buffet or at the table. There are always three main dishes: meat, fish or vegetarian.
The wine list is not huge but there are good bottles for 15 to 30 euros.
The bar is located on the sixth bridge. In addition to the conferences that take place there, this place of life so enjoyable offers a breathtaking view around.
The cabins
Quadruple, double, twin, double, economy, luxury… the offer is varied.
Drake Passage
It is one of the maritime areas that experiences the worst weather conditions! Moreover, barely on board, the crew reminds you repeatedly that for a small fee, we will find the doctor in the infirmary and he will put patches against seasickness. Very quickly, everything the world on board, including the staff members, wear this little magic circle behind their ears.
On the way there and on the way back, we didn't have too many complaints. Indeed, the hollows were only ... six to seven meters. During 48 hours that the crossing lasts, the best place is still your bed.
Le Drake Pass, also called Drake Strait, is a large inlet which separates the southern end of theAmerique du Sud andAntarctic, between the Cape Horn en Tierra del Fuego and the islands South Shetland en Antarctic. It connects theSouthern Ocean, the south-east ofPacific Ocean and the southwest of theAtlantic Ocean known as the Scotia Sea.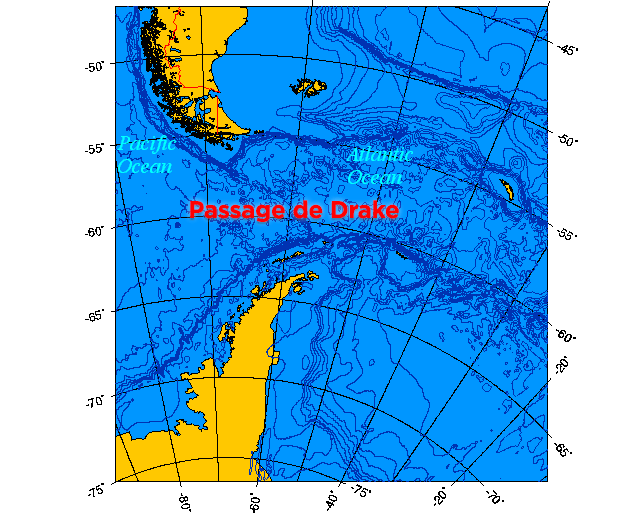 It does happen, however, that we may be confronted with hollows of more than twenty meters… hang on your seat belts!
The itinerary
The cruise takes place over twelve days. As you have understood, two days to spend the "Drake" and two days for the return, which therefore makes eight days to spend on the Antarctic Peninsula.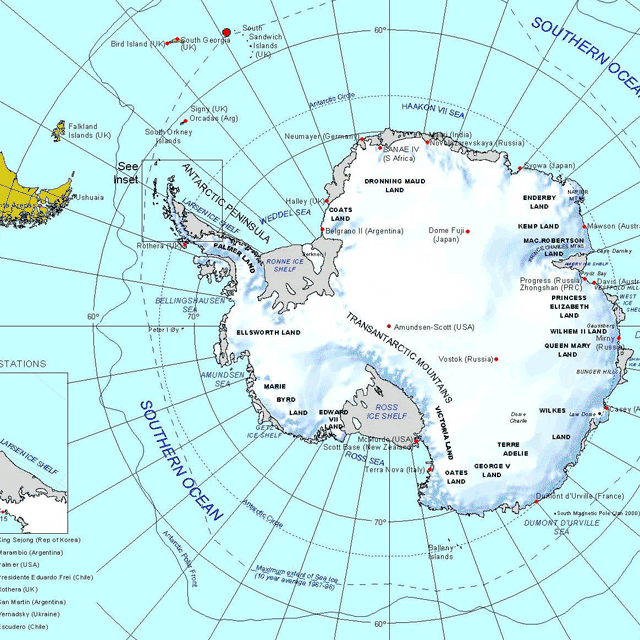 When it comes to weather, few places change so quickly. There are days when the sun is shining and the wind barely can be felt, but everything can change in a fraction of a second. We had earth temperatures of + 10 ° to -10 °, sun, snow… here everything is always possible.
Dive aboard the Ortelius
Only twenty-four passengers can choose to dive. During our cruise, there were just under twenty divers who signed up. Compressors, zodiacs, three instructors, blocks and weights… everything is there. Finally, when I say everything it's everything except the personal material. Dry suit, regulators, fins… you will have to take everything with you and not rely on spare parts on board.
Depending on the weather, it is possible to do one or two dives per day, one in the morning and a second in the afternoon. Small surprise, however, here, the instructors are only sailors. Indeed, these define the diving spots, take you there and wait for you aboard one of the zodiacs. They explained to us that the weather being very changeable, they stay on board to beat the recall if necessary.
The reassuring presence of Alban who plunges him is undoubtedly a real plus.
"Classic" dives
The maximum depth is fixed at twenty meters. As for the temperature, it was -1 ° C. From the back swing, we realize immediately that it really freezes. The duration is forty-five minutes maximum but frankly, after twenty to twenty-five minutes, we are rather happy to go back.
We did the penultimate cruise of the season. Indeed, the ship starts in October and stops at the end of March. With temperatures hotter in March, visibility has never been fantastic… and my fantasies of crystal-clear water have been dashed. In general, the dives are carried out on a gentle slope where kelp, starfish and nudibranchs are omnipresent.
Diving under an iceberg
We also go to Antarctica to dive under icebergs but, again, the visibility was very poor ...
A great experience nonetheless even if, you understood it, I would have preferred clear water to bring you these few images 🙂
Diving with seals
In the end, we saw few animals underwater. We still managed to dive with the seals, although they were quite shy.
We had to get as close as possible to a colony to successfully shoot these images. A great experience nonetheless.
Whales in sight!
Throughout the cruise and almost at any time of the day and night, the sound of the boat can sound to warn you of the proximity of certain animals.
Humpback whales were legion. We also encountered pilot whales, Wedell seals, Kerguelen sea lions, South Sea elephants, fin whales, mink whales, sand dolphins ... and of course birds by the dozen such as, for example, howler albatross, royal, gray-headed… as well as giant petrels, of Hall, silver fulmars, Cape checkers, let's pray for the desolation… There are dozens and dozens.
More seals and sea lions
We have indeed met these animals throughout the cruise, crabeater seals, Wedell seals, sea ​​lions of Kerguelen, and also southern elephant seals
But also penguins that are present in large numbers with for example the gentoo penguin, Adélie, chinstrap penguin and the Magellan's penguin.
Penguins do not fly while penguins fly. In fact, the ancestor of penguins flew. It was the same ancestor as the ancestor of the albatross and petrel who are champions of the flight! Emperor Penguin measures 1m20 and its largest ancestor measured 1m80. But the penguin did not have any predators when it was on the ground or on the ice so its wings did not serve him anything to fly, so they turned little by little into fins. They can dive deeper and longer than penguins, they swim faster than they do. The Emperor Penguin's diving record is 400 m for a duration of 18 minutes.
Visit of scientific bases
We were able to visit three scientific bases, one Argentina, one English and one Russian. The people living on these bases spend an average of six months there. Difficult to find further and less populated ...
Rest assured, each base has its souvenir shop and the prices are up to the distance ... a sweatshirt of such a base will cost you 80 USD ... which makes the piece of fabric expensive, but hey, we are at the other side of the world, isn't it ?.
Permanent activities
On the boat, there are nearly ten guides of all kinds, to keep the passengers busy.
And when I say occupy, it's a real riot of activities of all kinds:
- Diving,
- Camping on the ice floe, with or without a tent ...
- Climbing and hiking,
- Kayaking,
- Photo workshop,
- Nordic skiing,
- ...
It never stops. There is also an ornithologist who will explain everything you ever want to know about birds.
Abyssworld
We asked Christophe Paul, the boss of Abyssworld to explain to us why they have chosen to include this unique destination in the catalog. Here are his explanations.
"The Abyssworld Expedition concept was born in 2001 during a somewhat crazy trip to one of the most remote regions: the Irian Jaya today called Papua Barat. We, Abyssworld guide and participants, have been captivated by bewitching landscapes, extraordinary dives and unlikely encounters with wonderful and / or eccentric people, at least in our eyes. This adventure marked us and gave us the taste to relive these moments out of time and the beaten track. Today, our Expeditions are rare events, one to four per year and per destination, bringing together exceptional and committed dives in mythical regions that are often difficult to access.
Antarctica is a natural part of these unique journeys, underwater as well as on the surface, here and there wildlife punctuates breathtaking ice landscapes. And it is always in this spirit of adventure that the Sardine Run expeditions in South Africa, the Galapagos, Siberia, Iceland on an itinerant safari and cruises in the extreme south of the Maldives are offered "
To find out more, click on the link below:

In conclusion, even if the dives were not as expected, this trip is incredible. The landscapes, the animals undoubtedly make it the trip of a lifetime.
Our thanks to Aqua Lung for its loan of special cold equipment which allowed us to face these extreme conditions.