We must admit it to you, since we had in hand the GOPRO, it is no longer a land or submarine movement that we carry out without it (s). This little gem of technology, the size of half a pack of cigarettes, has profoundly changed the world of images. Even production companies quickly integrated this "toy" into their outfit, proving if needed that this device is much more than that.
" WHAT'S THIS ? IT'S GOOD ? IS IT THE NEW GOPRO? DOES IT WORK BETTER? … "
Whenever we film with it, there is always someone asking us about it. We therefore wanted to do this article in order to determine what are the differences between the GOPRO HD 1 and the GOPRO HD 2 (marketed since October 2011). But also, take a look at the offers for HD on-board cameras that are available on the market.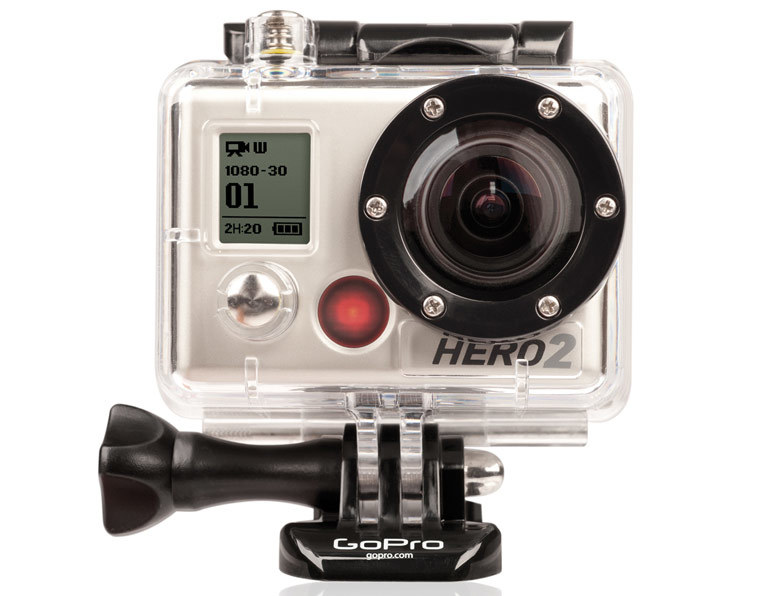 REMINDER: WATERPROOF TO 60 METERS DOES NOT MEAN CAPABLE OF FILMING UNDERWATER ...
As a preamble, we would like to insist, once again, on the fact that the original box, which is the same on the GOPRO 1 and the GOPRO 2, allows well to withstand a pressure of 60 meters but in no case to make sharp underwater images. In fact the explanation is quite simple, there is air between the lens of the camera and the lens of the original housing. There is only one solution to correct this defect: modify the original lens.
V1 vs V2: BUILDER DESCRIPTIONS

GOPRO 1GOPRO 2OpticalGlass "PRO" glass
Opening: f / 2,8
Fixed focus: 0,6m to infinity
Opening: f / 2,8
Fixed focus: 0,6m to infinity
Angle of view 170 ° WGA, 720p or 960p 170 ° including in 1080p Average field of view 127 ° in 1080p 127 ° in 1080pHD video resolution1080p: 1920 x 1080, 30 fps 1080p: 1920 x 1080, 30 fps 960p: 1280 x 960, 30 fps 960p: 1280 x 960, 60 fps + 30 fps 720p: 1280 x 720, 60 fps + 30 fps 720p: 1280 x 720, 60 fps + 30 fpsStandard resolutionsWVGA: 848 x 480, 60 fps WVGA: 848 x 480, 120 fps + 60 fps 1 / 2.5 ″ HD CMOS1 / 2.3A CMOS image sensor Light sensitivity 1.4 V lux-sec 0.84 V lux-sec Compression, recording .H264, mp4 format H264, mp4 format Exposure control Spot, center weighted Spot, center weighted White balance Automatic AutomaticPicture5MP11MP, 8MP, 5MPCustom capture modes, 3 photos, timelapse, autochronosimple, burst 10 photos, 3 photos, timelapse (supports 1 image / 0.5 sec), autochronoAudioMicrophone: integrated, mono Microphone: integrated, mono External stereo microphone input Mono, 48 khz, AAC compression, Auto Gain Control Mono, 48 khz, AAC compression, Auto Gain ControlWarehousingSDHC up to 32 GB SDHC up to 32 GB Time on SD321080p30: 4 h 211080p30: 4 h 720p60: 4 h 21720p60: 4 hBatteryRechargeable lithium-ion1100 mAh rechargeable lithium-ionboxWaterproof 60 metersWaterproof 60 meters
TESTS IN IMAGES:
REVIEW OF THE GOPRO HD2
At first glance, nothing distinguishes this second version from the first. The excellent news is also that the boxes are identical and that all the accessories purchased for an HD 1 are fully compatible ...