In the full digital age, today we have all kinds of aerial drones, some the size of an insect, others portable, sometimes larger. They are generally used to make films in theaters and maybe tomorrow they will be the ones delivering our mail. In recent years this industry has exploded. After having conquered the air, drones are now attacking the world of silence. A French start-up by the name of Notilo + launches his first baby, iBubble.
iBubble is not the first underwater drone, because for several decades they have been used by the oil industry or research. But these machines were extremely expensive which required heavy training and were not really practical for taking it on a trip. These little robots were always controlled from the surface, with a wired mode of operation. This was a huge handicap and it prevented us from bringing our robotic companion during our dives.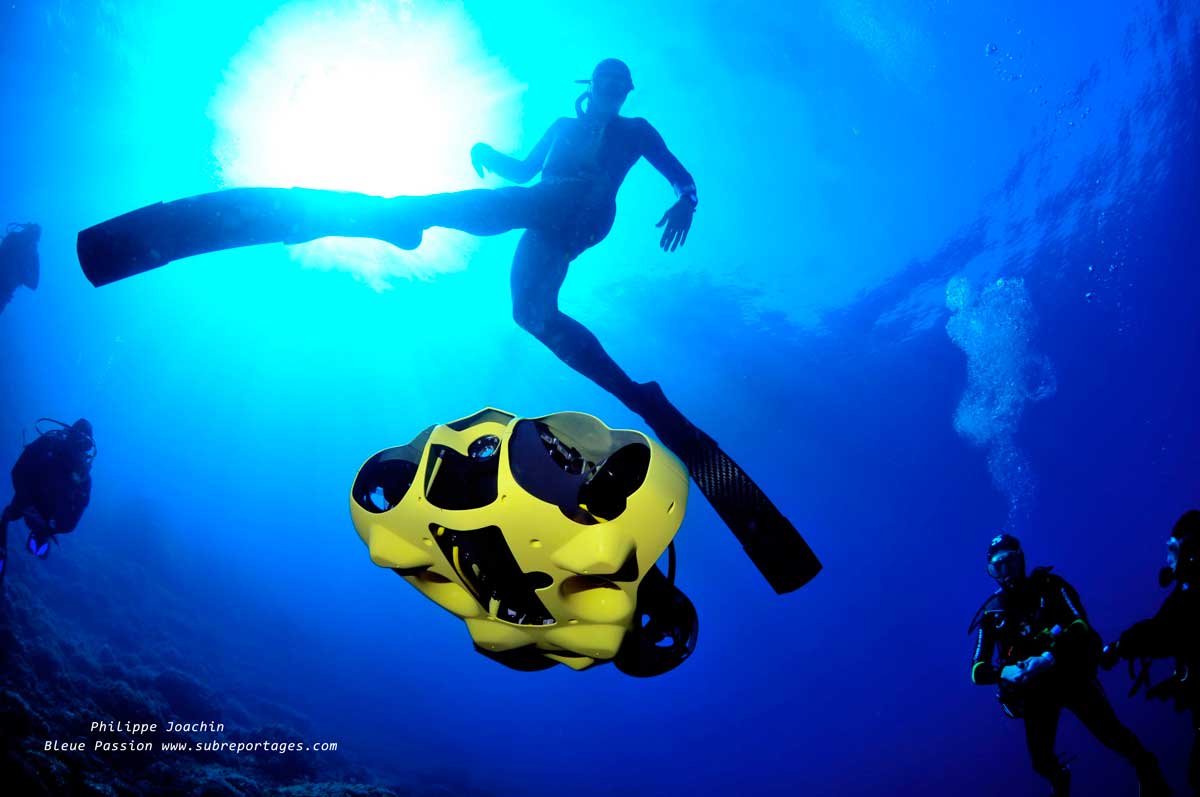 Indeed, iBubble propose this revolution: a drone able to follow you during your underwater adventures, which you can order during your dives. Wireless, your faithful friend will allow you to stay free.
This robot offers you the possibility of filming stable images without shaking, with sharp and quality images. The drone is stabilized by 7 very fast motors.
But then how to guide his drone? iBubble is equipped with a transmitter that fits in the palm of the hand, and that can be hooked to its equipment. This wireless tool allows you to choose different modes on the drone, so you can switch from one mode to another. follow me or the drone follows us. It may also be asked to follow a turtle or other animal during an update after the release of the product. It is also possible to put the drone in manual mode, it is then possible to take the drone in hand and to frame a subject manually. At present, there are ten different modes that guarantee completely new shots. There is however for amateurs a kit wire, which allows to control the drone from the surface.
The drone is equipped with a very powerful AI, not only it controls the drone and the 7 motors to guarantee total stabilization, but it also allows other feats. What if you are separated from your drone? Just like with a diver, the drone searches for the user for a minute, after which if it does not find it, it simply rises to the surface, as with a buddy. Equipped with sonar, the drone is also able to avoid obstacles and can therefore anticipate a coral potato or other obstacles.

We interviewed Alban Michon aboutiBubble who was able to test it as an ambassador. Here are these impressions:
"I was overwhelmed by this technological challenge, it is fluid, meets your needs and you don't need to worry about it. I was even blown away by the power of the motors, which is important in case of strong currents. I can't wait for the general public to find out "
The camera is not included with the drone, so we can equip the drone of various action cam such as a GoPro. However, do not forget to equip his camera with its waterproof case. It also offers the possibility of putting various color filters on the camera body and changing them as you dive.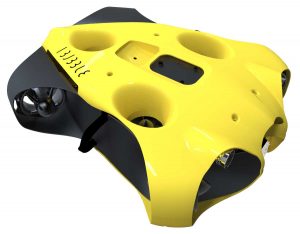 Despite all this technology, theiBubble has an autonomy of about an hour depending on use. Its battery is a "lithium ion" type battery, which means that the batteries must be carried in hand luggage. The drone is relatively easy to transport, the French start-up also provides two transport cases that can be used to travel iBubble, a rigid and solid but also a flexible transport bag. With a weight of 9 kg, it is relatively easy to put your companion in the hold and there is still room to take your diving equipment and personal belongings.
Notilo + has several renowned ambassadors, who test and praise the merits of iBubble but who have also participated in its development such as Guillaume Nery, Alban Michon, Didier Noirot and François Sarano see in this little technological gem, the future. Some might think it's a futuristic gadget with no future, but the same was said of aerial drones. Today almost nobody ever leaves without their drone, whose shots that these devices offer are really atypical and promising.
This drone is a technological feat and it's hard to imagine taking it apart, despite an excellent warranty on the engines. It would be possible to carry out maintenance or repairs in specialized centers approved by the start-up. It is also possible to download an application on your phone that allows you to make the latest updates.
This drone is not intended only for divers (since it can be upgraded to a wired version), it can also be used for research or to do inspections. For example, for the hull of a ship, the uses are multiple and iBubble is much more than a gadget, it is a learned tool.
Notilo + launches iBubble in September the drone is already in pre-order and on this occasion the start-up offers a launch price with a reduction of 700 euros. The drone would be in wireless versions, with 2 lights to illuminate the videos, a transmitter, a battery and a charger.
Most:
- A price reduction in limited offer to be entered.
- Completely free mobility without wires.
- An incomparable framing stability.
- A unique AI for an underwater drone
Check out the product sheet?