I must have my arms stretched out… I don't know if I am the only one, but the more the seasons go by and the more the information delivered by my dive computer is blurry… Some time ago, I had the opportunity to dive with the ICON HD NET READY from Mares which in terms of readability had let me think that this could be the answer my eyes were waiting for. I therefore contacted Aurélie, responsible for communication for France, and offered to test this computer. Neither one nor two, she sends me one in stride.
LOOKING FOR IDEAL DIVE COMPUTER
Available on the market since June 2011, Icon HD Net Ready was created by Mares to meet the expectations of consumers. The Italian manufacturer has conducted a study for experienced divers. The results were crystal clear:
"The ideal computer should provide easy-to-read, immediate, explicit, universal and unambiguous information."
GETTING STARTED
From the opening of the semi-rigid "box" in which the ICON HD Net Ready is delivered, we understand that this dive computer is not in miniaturization and that's good since it is indeed the object of this essay. Indeed, the beast measures nearly 9 cm wide by 8 high and weighs 341 grams. This one has four large push buttons very practical as well with bare hands as with gloves. These buttons allow you to access the menu and modify the settings when you are in surface mode. During the dive, they allow switching between displays, calling up the compass or maps, as well as showing additional information on the computer screen.
GENEROUS MEASUREMENTS, COLOR BONUS
To start the computer, just press any button and the screen displays the main menu. And it is once turned on that Icon HD Net Ready is revealed. Its 5,5 cm wide by 3,7 high screen is bright and proudly displays color via a high definition LCD. Which, in terms of readability, is an undeniable plus.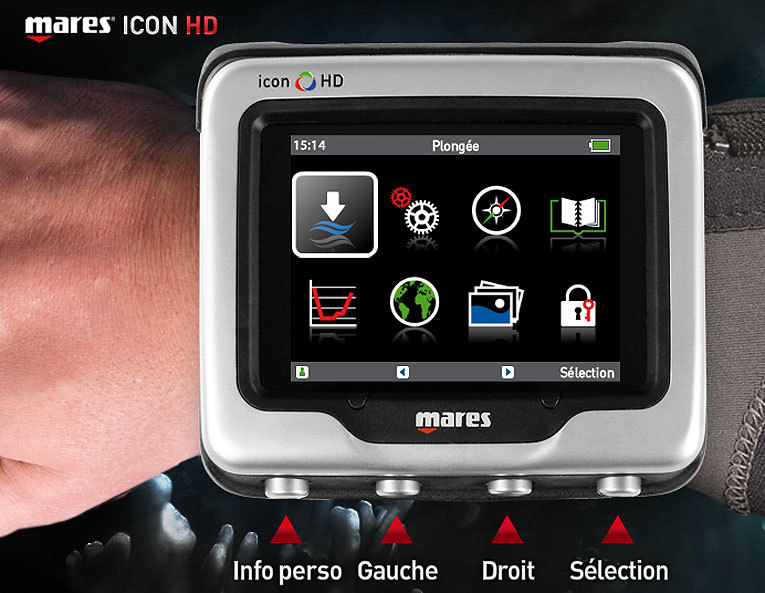 ALL THE CLASSIC FUNCTIONS BUT NOT THAT ...
- DIVING: puts Icon HD in pre-dive mode,
- SETTINGS : this is where you can adjust the Nitrox, choose your language and many other things,
- COMPASS : from this menu you can, for example, take a course that you will follow during the dive,
- DIVE BOOK : to review your dives in digital and graphic formats. Icon HD's memory can hold complete information for the last 100 hours of diving, with a sampling rate of 5 seconds,
- PLANNER : to prepare your next dive,
- CARDS : see all the maps downloaded to your Icon HD,
- PICTURES : see all the images uploaded to your Icon HD,
- LOCKING BUTTONS : locks the buttons so that the battery does not accidentally discharge during the trip.
WITH OR WITHOUT AIR MANAGEMENT
This computer is sold with a transmitter (around 1200 euros) or without (around 800 euros) but buying this computer and not using the air management would be a bit like buying a car without an engine… Indeed, with its transmitter, the 'Icon HD Net Ready displays block pressure, time remaining and current gas consumption.
The difference between the operating pressure and an empty block is divided into five ranges, defined as follows:
BLUE> 150 bars ≤ GREEN> 100 bars ≤ YELLOW> 75 bars ≤ ORANGE ≥ 50 bars <RED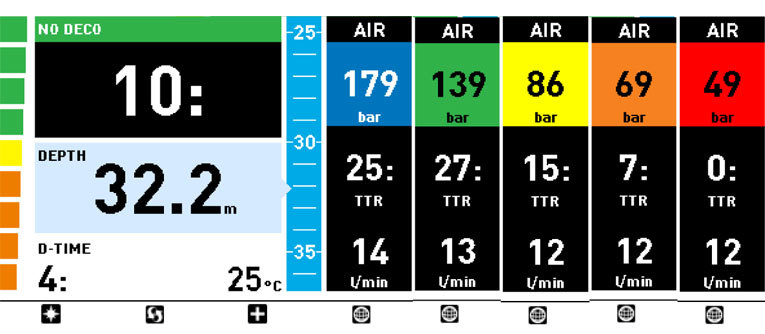 You can also use up to three different nitrox during the same dive.
IMMERSION WITH ICON HD NET READY
Immediately, its large screen and the white background on which come the different colors give a contrast and legibility unequaled until now. It's really pure happiness for the eyes! In addition, Mares has made the choice to display the essential indications in XXL format.
The Icon switches to calculation mode as soon as it is at a depth greater than 1 m 20.
In diving 2 modes are available to you:
- In EXTENDED mode the display presents all the information in the form of numbers, with a minimum of graphic assistance.
- In PROFILE mode the display shows the time remaining without decompression and the depth in digital format, in addition to a graphic representation of the dive profile, which is updated every 20 seconds.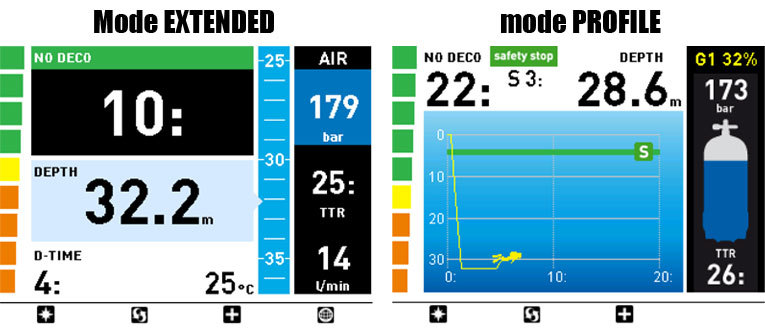 During the dive, you are free to alternate between the 2 modes.
In my opinion, the PROFILE mode is more of a marketing bonus than an essential asset but it is not unpleasant, when you are at the landing, to be able to visualize the curve of your dive.
THE INTEGRATED COMPASS
Icon HD has a tilt-corrected digital compass that can be used at almost any tilt. The compass can be displayed at any time during the dive as well as on the surface.
You can take a reference course. This is useful, for example if you are on a boat and there is a landmark on the (bitter) shore that you can use as an alignment to reach a specific point on the dive site. When you set a landmark, a dot appears to indicate the heading. Other symbols will also appear: 90-degree squares, 120-degree triangles, and two 180-degree parallel lines, which serve as a navigation aid for square, triangular, and round-trip routes.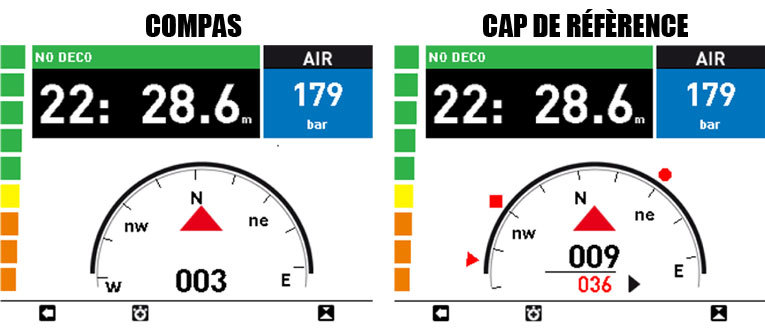 VISUALIZATION OF CARDS DURING THE DIVING
Having permanent access to the dive route you are doing is a pretty attractive idea.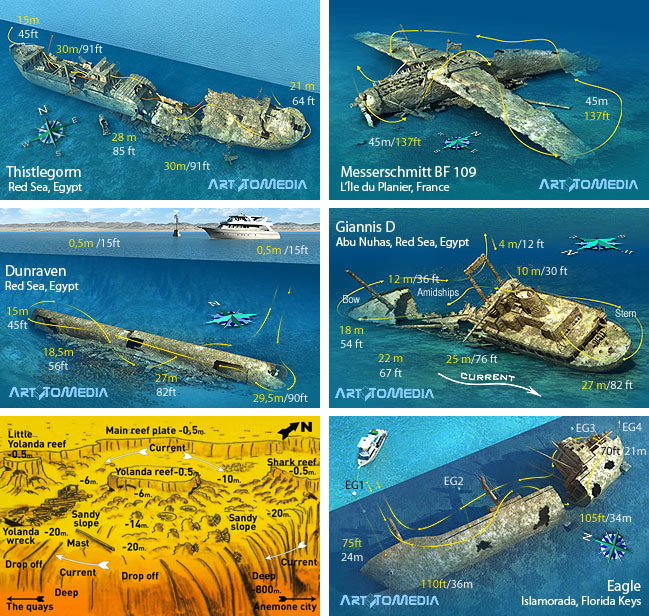 The database made available by the manufacturer is relatively small since it currently only comprises about 250 cards in all and for everything.
However, there is nothing stopping you from taking a picture of the beautiful dive sketch your monitor has just made on the whiteboard and importing it into your Icon HD Net Ready.
AT THE UP
If Icon HD sees an ascent rate of 10 m / min or more, the excessive ascent rate alarm is triggered: an audible alarm sounds, the left arrows turn red and the message SLOW DOWN! is displayed at the bottom of the screen. This persists until the ascent rate is reduced to 10 m / min or less.

THE BEARINGS
- A SAFETY stop is advised as soon as the diving depth exceeds 10 meters. It lasts three minutes, and is performed between depths of 6m and 3m, at the end of a dive, before returning to the surface. This level is NOT mandatory, but STRONGLY RECOMMENDED. It is always displayed in GREEN.
- DECOMPRESSION stops are created gradually as you stay in depth beyond the no-decompression time limit. DECOMPRESSION steps are MANDATORY and always displayed in ORANGE.
- DEEP stops are created when you approach the no-decompression time limit. You will have either one 2-minute stop or two 1-minute stops. DEPTH stops are NOT mandatory, and always displayed in BLUE.

IN MY OPINION
This computer is arguably the first of its kind. And the contribution of color is a real asset in terms of readability and therefore safety.
However, there is a flip side. Indeed, who says HD screen and colors also means high power consumption ... In order to respond to this handicap, Icon HD Net Ready is delivered with a system allowing it to be recharged both on the mains and via a USB port. This computer is more like a smartphone in terms of maintenance and therefore forces us to review our habits. After 50 dives carried out with this instrument, I had to recharge it every evening, as with my iPhone, otherwise I would mortgage the dives the next day… and this activity, I admit, is confusing.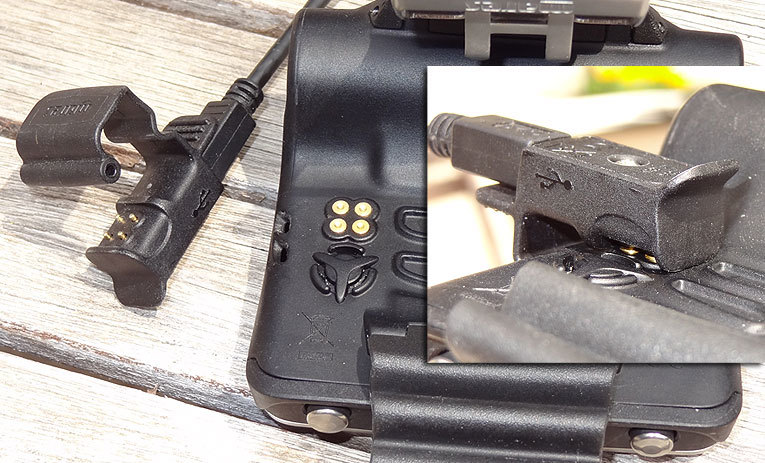 One of the many pleasures to publish "Le Mag" is to offer the manufacturers of diving equipment to send us this or that equipment to try it. Some play the game each time and we thank them, others refuse and it's their right. Just as it is ours to end up thinking that everything can not be tried?
Anyway, I just returned the Icon HD Net Ready to Mares and… between you and me, I would have kept it…
Text: Manuel Lewin