Text: Christopher Bartlett
So, photos in magazines and on the internet make you drool? Do you find that you do quite well in the dry, and that makes you want to go underwater? In the series of articles that will follow, I will try to help you find your way to join the siblings of photographers, without becoming the pain in the ass who annoys his friends by inflicting endless sessions of viewing blurry images. , completely blue-green, and overexposed! But first you need gear. And although we can now put our i-phone in a waterproof case, I am philosophically against any system that encourages people to bring their bigophone on a boat ...
FOUR CATEGORIES OF DEVICES
Basically, there are four categories of devices:
- full-frame sensor reflexes,
- reflex sensors with reduced size,
- small sensor mirrorless systems (roughly, like a reflex, but smaller and lighter),
- and compacts.
The former are rarely the target of beginners, there are only fans or pros who can afford to pay 2400 euros for a naked Nikon D800 type limp, plus the 3550 euros for the housing, not to mention the lenses, ports and domes needed.
Among the reflex with reduced sensor, the Nikon D7000 knows how to speak about it, but again it takes around 2800 euros minimum for the body, the box, and a window. For Canon supporters, there is the 650 D. "Don't worry darling, the car will last at least another year and there may be eco bonuses in 2014 ……". Side mirrorless system, the Olympus OM-D EM-5, for example, stands out thanks to its low-light performance, internal stabilization, and the choice of high-performance lenses. We could also mention the Sony NEX7. We are still in a high price range.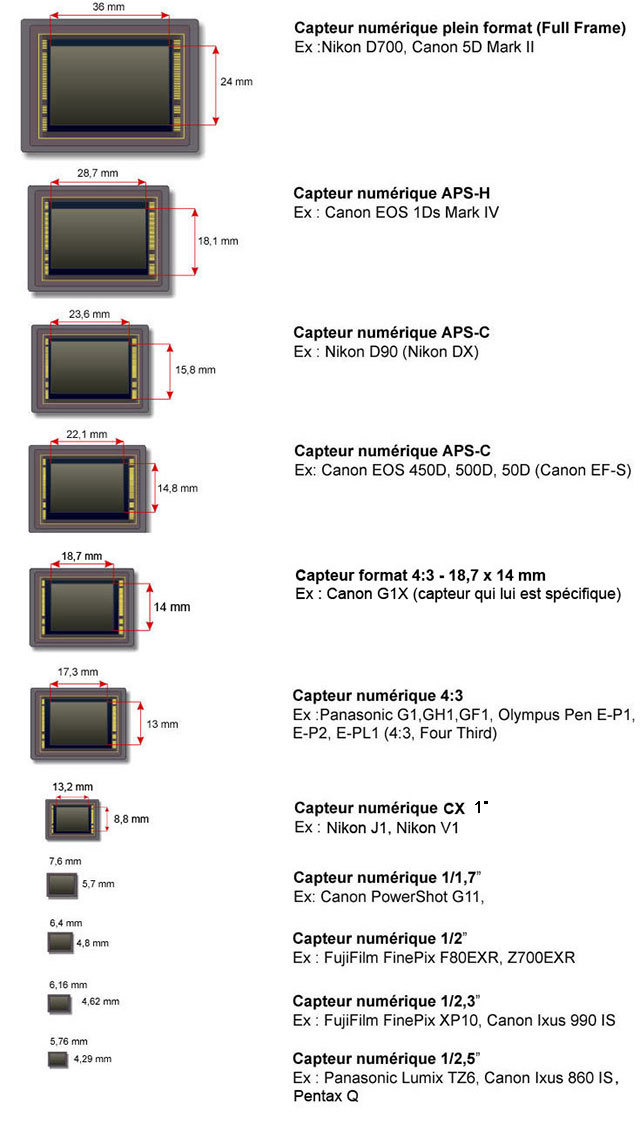 BEAUTIFUL IMAGES WITHOUT MELTING HER BLUE CARD
But the beginner today has a wide range of choices, and can get equipment capable of taking pictures of dreams, without melting his credit card. In November 2012, the prestigious competition HP Red Sea Photo Shootout, (all the images are taken in 3 days in Eilat, Red Sea) was won by a photographer using a Canon S100 compact, an Ikelite camera, a flash, and a lens! In addition to the $ 10,000 first prize, Amir Stern also won the Jury Prize, a credit of $ 5000 to be spent at Subal, a manufacturer of luxury cabinets.
FOUR COMPACTS TO START
In the compact range, the best performers are in my opinion the Canon S110 (the evolution of the S100), the G15, the Olympus XZ2 and the Sony RX100 which offers the largest sensor (1 ″) of this selection. They all have sensors of a satisfactory size and it is possible to "tweak" all the parameters as on a reflex.
You can find detailed tests everywhere on the internet, but here are some indications of the average price observed with boxes of different brands and sold in France: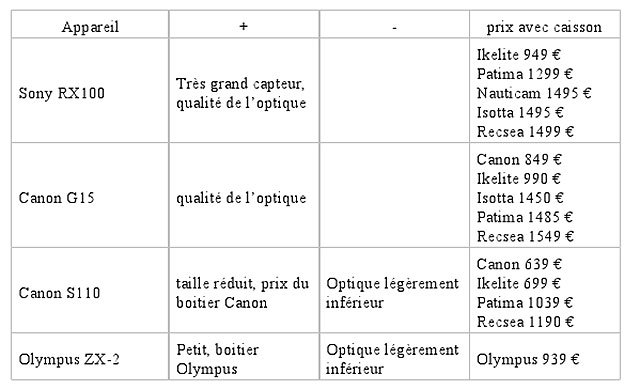 Well, you have your new device, theoretically sealed, you just have to continue this little spending therapy!
CHOOSE A FLASH
Although users of compacts with a transparent housing can use the camera's internal flash or white balance - which will be discussed in a future article - up to 15 to 20 meters deep to take pretty pictures, the using an external flash, or even two for a wide angle, opens up more possibilities.
The most popular manufacturers are Inon, Sea & Sea, and to a lesser extent Ikelite. For those who want to prioritize portability without sacrificing too much performance, Inon's S2000 and Sea & Sea's YS-01 and YS-02 perform very well. The S2000 is more compact but the manual power adjustment dial is really small and difficult, if not nearly impossible to handle with gloves on.
The YS-01 and YS-02 are slightly larger, but easier to use. Both Sea & Sea are cheaper and the YS-02 is also equipped with an illumination lamp.
In flashes that are a little more "masto", Inon offers the Z240 and D2000, and the Sea & Sea DS-01 has seen good sales since it was put on the market.
AND CONNECT ALL WITH A PLATINUM
So, do you think you're done? Almost. Also needed is a waterproof flashlight: handles and sometimes clamps. There are inexpensive systems, but they are not always the most practical to use. My preference is for aluminum arms and ball joints. Specialized stores offer "platinum, handle, arm, clamp and flash" packs at attractive prices.
I will explain to you very soon how to prepare all this before you take the plunge.
Until then, good shopping!