Born in Hamburg in 1970, Gregor törzs spent 16 years in Los Angeles, where he studied and worked in the film industry. First attracted by special effects, he then became director of photography. Back in Germany, his native country, he concentrated on photography and became an expert in printing techniques, particularly platinum printing. In his approach as a photographer, Gregor Törzs attaches great importance to natural light and the duration of exposure of his photographs. It is also this work which makes his images so special and which gives them their "supernatural" character.
To make "Ciel Lourd", a series made up of underwater photographs, Gregor Törzs makes a structure for his old favorite camera to make it waterproof. The hundreds of hours he spends underwater allow him to capture unique underwater moments. In 2014, he created and manufactured the first underwater camera in the world to have a very large format negative (24 × 36 cm). It is with this device that he realizes the Ultramarine series. The artist was also interested in macro photography, notably photographing insects and butterflies (Microtype series n ° 1). It is with this series, produced in 2010, that he made his first platinum prints, on handmade Japanese papers (such as razor thin gampi paper, of extreme finesse). Few laboratories in the world today master this technique.
You have a unique way, even pictorial, to photograph nature. What is your approach?
I think it's not something that has decided in advance or that can be planned. On the contrary, it is an act that is triggered in an organic way. We move naturally towards this path. It's intimately related to how you want to tell a story. It may seem strange, but I do not sit down and think about wanting a photo to look like a photo. I am convinced by this adage of design, which says that form comes from the function. I think it is very important at first to understand the emotion that one seeks to convey, the style then flows naturally. My goal is to transcribe this emotion. The main emotion, the one that I seek to share through my images, is of the order of remembrance, the one we remember, a beautiful memory, which would be filled with a form of nostalgia and melancholy that is part of the past. This is a very special feeling, because we are transposing ourselves into the past with the possible hope that the same thing will happen in the future. A memory is unique in that sense. We are in the moment, we are thinking of the past, and we are looking into the future. It is this emotion that I seek to transcribe visually in my photographs. I try, with all that is in my power, to communicate this feeling as accurately as possible, as well as what influences my decisions. This pictorial style is, in my opinion, what gives, in this sense, the best result.
Technically, how do you get that result?
I made my own equipment for my latest work, submarines. The device that I have been using for 4 years in underwater photography was designed by myself. We then made the prototype. It is a huge 24/36 cm analog device. In comparison, it is 100 times larger than current digital underwater cameras that take 24/36mm shots. The oversized dimensions of this camera mean that the job is only achievable if the shots are taken with very large negatives. Normally, in underwater photography, we use a "dome port" which allows to bring a certain beauty since we avoid the use of the 33% zoom. However, the inconvenience is that we create a virtual image in high definition with a very large depth of field which flattens the image and creates a kind of curvature. Personally, I don't like this characteristic which makes the whole image very precise (the foreground and the last plan will be perfectly sharp). I rather like a restricted depth of field. It is this preference that led me to build my own device. The choice of my subjects is also taken into account. I tend to photograph scenes, which I would describe as "silent" where there will not be moments of great excitement, such as, for example, the open mouth of a shark. This does not prevent my images from being produced with great complexity. Take the photo of corals, we will walk past it, saying to ourselves "It's an image of coral", then we will come back to it, attracted by a reasoning detail. There is, in fact, something more poetic, more emotional… An emotion that I myself feel when I dive and that I do not find in conventional underwater photography.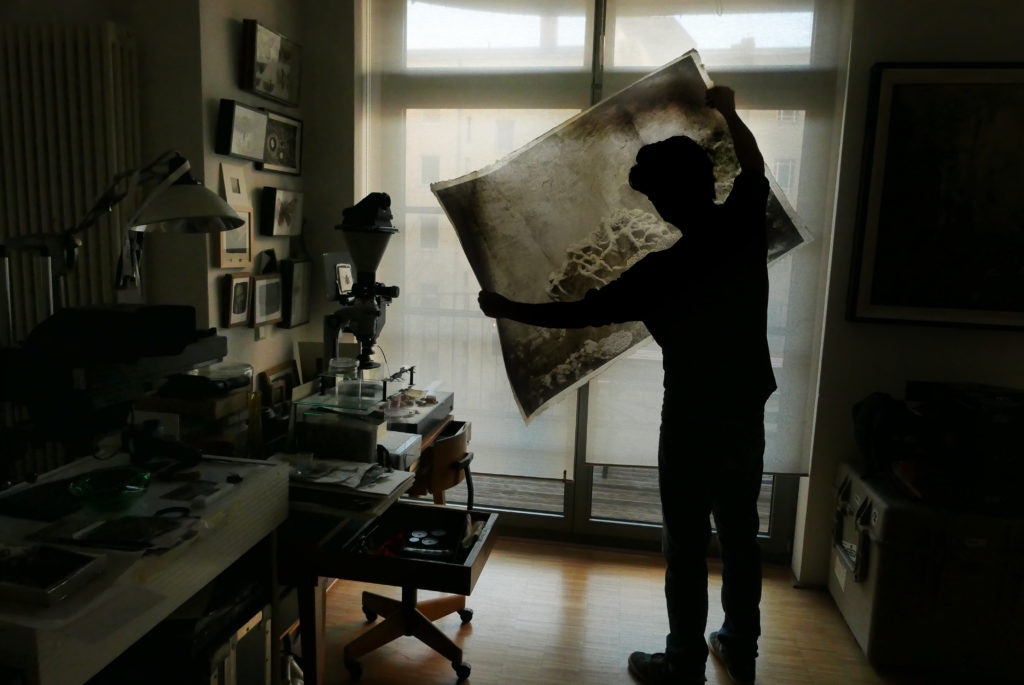 What type of lens do you use, and what materials did you use to make it?
The aircraft called Ultramarine was built from scratch. It is not a device protected in a waterproof case, it is the device itself which has been previously designed to be waterproof. The lens is not interchangeable, the Ultramarine camera was manufactured with a 155mm rodent stock lock format lens. Even with a wide shot, we get an image with a very small depth of field. We find this aesthetic in old photos from the turn of the last century. Thanks to the length of the lens and its very wide angle, a very short depth of field is obtained. The advantage of using very large negatives is the re-use of these negatives as they are when platinum printing. It is an exciting process, delivering a magnificent rendering by exploiting the oldest techniques for obtaining black and white prints. We use a liquid platinum solution that we brush on a paper. As it dries, this solution becomes photosensitive. The negative is then placed on the paper which is placed in a vacuum machine to compress the negative and the paper together. Thanks to UV light, contact printing is done. The large size of my negatives makes it possible to obtain large paper prints containing a lot of detail. For my underwater series, I chose to work exclusively in black and white. I did some color tests but the result did not suit the emotion that I wanted to show through my creations.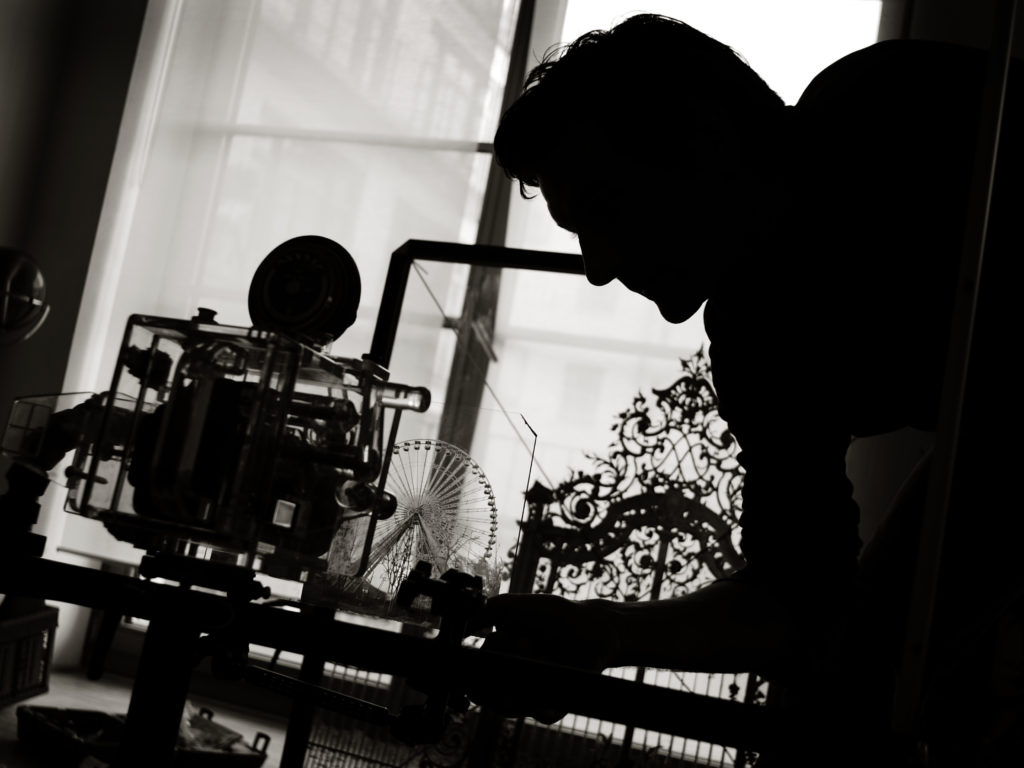 How many years have you been diving and how did you discover the world of diving?
I have been diving for 30 years. I started at eighteen, when I moved to Portaventura in the Caribbean. There, I took my diving diploma. I literally fell in love with this discipline. Evolving in weightlessness in the liquid element, "Mobilis in Mobile", no other environment offers such sensations. As I said earlier, I feel like I am living in a memory when I am submerged underwater. This causes me feelings that I could not find anywhere else on our planet. I think my photos express the sensations felt during my scuba diving trips much better than my words.
What is the main message you want to convey through your underwater photographs?
When I am submerged underwater, in the depths of the ocean, I let myself be won over by a unique emotion. The strange feeling of living or experiencing something that is in the order of memory, and which I find to be an incredibly beautiful and unique experience. This is what diving represents for me, remembering something inherently innate, anchored deep within ourselves. I search, through my images, the most faithful way to represent this feeling. When, for example, I photograph ancient corals, and I immortalize this moment, it is my way of expressing a moment of beauty and fleeting perfection.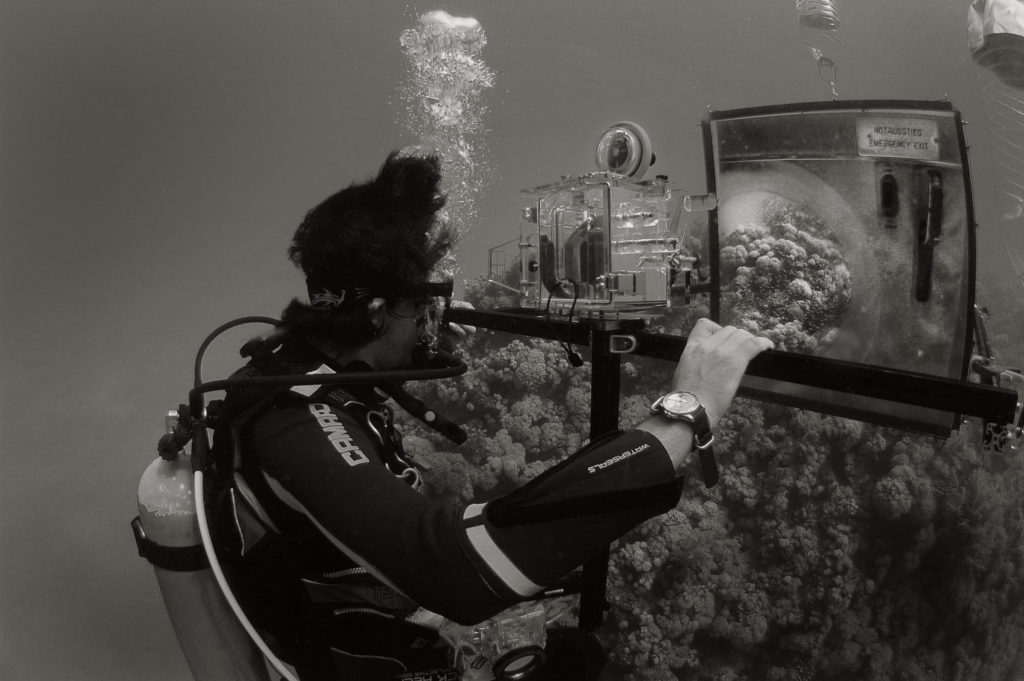 You had an exhibition in October, how did it go?
I attend many Art Fairs, including the exhibition Basel last June. I am very moved to know that people who are not afficionados of diving, may also be affected by my underwater photos. I only had good feedback from visitors.
Which photo or theme do you prefer in your work?
I do not really have a preference, but generally the first photograph I take moves me, because it symbolizes the dedication of all the work and efforts made during the project. It reinforces me that I made the right choice and went in the right direction.
What are your next projects ?
Generally I do not like to talk about my future projects when those are not yet initiated, but I can tell you that I continue to work on the subject of underwater photos and that I recently plunged into the Red Sea in November 2018 to continue this series with the Ultramarine.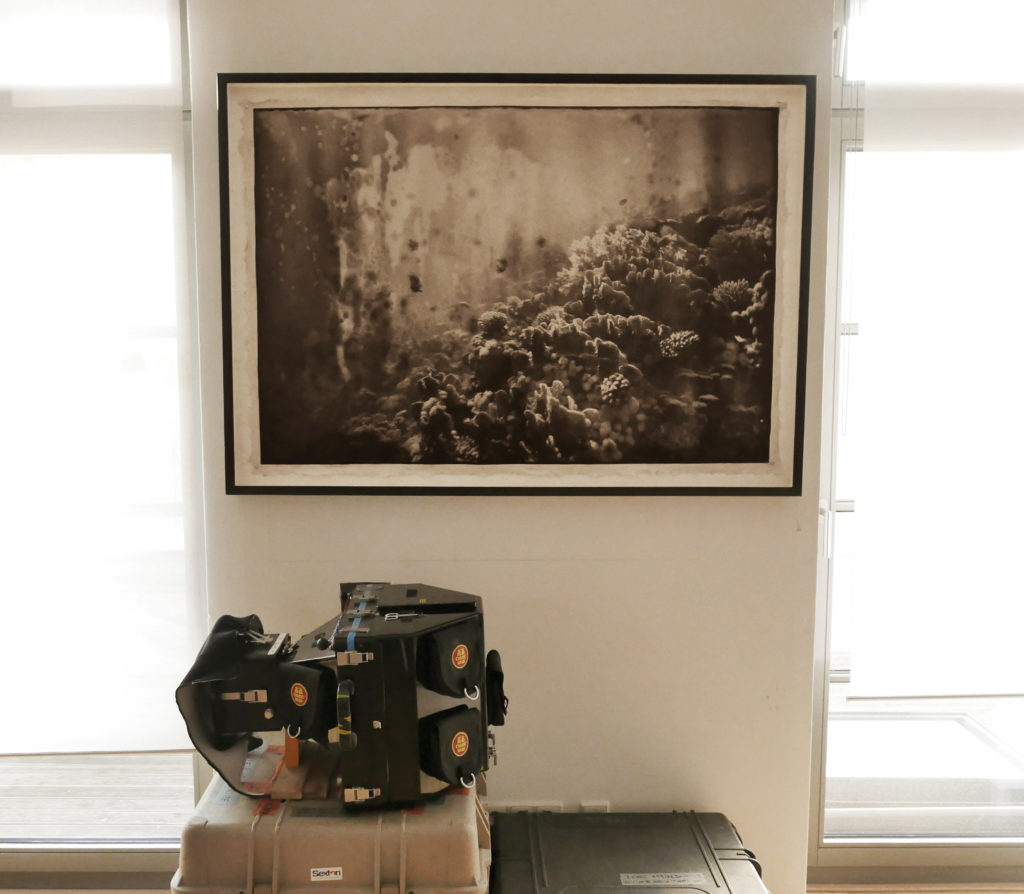 What are your favorite photographers?
There are two, first of all Sarah Moon. I greatly admire his work. His images are very touching. I appreciate his way of telling a story. She is a truly fantastic artist, who allows me to enter a parallel universe beyond her images. She manages to create unique shots while approaching her subjects in a journalistic way.
The second is Peter Beard, an artist absolutely authentic in his photography. I find an autobiographical quality, which invites us to enter his diary.
Aurélie Kula
www.gregor-toerzs.com/film
www.instagram.com/gregortoerzs/