In Le Mag n ° 64, we interviewed specialists in order to find out if the underwater image was a profession of the future. Laurent Ballesta was once again underwater when he returned his copy… we are pleased to publish it today.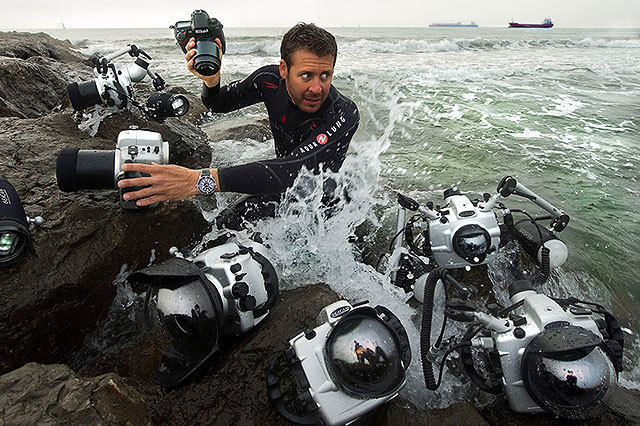 - Your first immersion?
Snorkeling, on the beaches of Carnon, near Montpellier, around 8 years old, torturing crabs. Bottled at 13, "off" Carnon Plage, 6 m deep, I saw a cuttlefish which before my eyes took on the appearance of a giant squid, and I daringly put together a rusty frying pan, a A major archaeological discovery, it seemed to me, dating from at least the 70s. I still have it, I think ...
- How many dives to your credit?
Around 5500 but with the advent of rebreather diving, today the number of hours of immersion is undoubtedly more significant than the number of dives. Today, during expeditions it is rare to make more than one dive per day, but the immersions can exceed 6 hours.
- Date on which your 1st image is published?
1997 in the Octopus magazine. Several species of fish never mentioned before in the Cerbère Banyuls nature reserve. I'm still waiting to get paid!
- Date on which you sell your 1st image?
In 2000, 10 pages in Paris Match with which I bought my first car.
- Rewards, prizes at festivals?
3 golden divers in the Portfolio category at the FMISM 2000, 2002, 2004. palme d'or beautiful book in 2005. As for underwater film, the documentaries that I co-signed never won 1st prize.
Photo of a Silver Diver in 2007, a bit boring, but it was a very bad year anyway!… Last year, I had the touching privilege of receiving the Hans Hass Award 2013, during the Boot Show in Dusseldorf for the work carried out around the coelacanth.
- Who are your clients?
Paris-Match, VSD, I'm interested, etc. National Geographic USA (only once so far but it counts!), Stern, View, Daily Mail, Geo.
Public institutions: Water Agency, Coastal Conservatory, Marine Protected Areas Agency,
Abroad: various marine parks, for awareness campaigns.
For some time now, orders for a complete job, photo / exhibition / book production around a specific theme: life in the port of Marseille, for example.
Recently, a few photo enthusiasts who want to acquire numbered and signed prints.
- Is the underwater image your main activity?
My main activity is "to go and see what is happening underwater" and to bring back illustrated testimonies, whether it be scientific expertise, a naturalistic or purely artistic approach. The photo is always present, it is my first means of expression. It does not say that it does not change one day.
- The 2 most "important" images for you?
It's not necessarily the two that I find the most beautiful, but they are the most important:
- The photo of the Andromeda goby :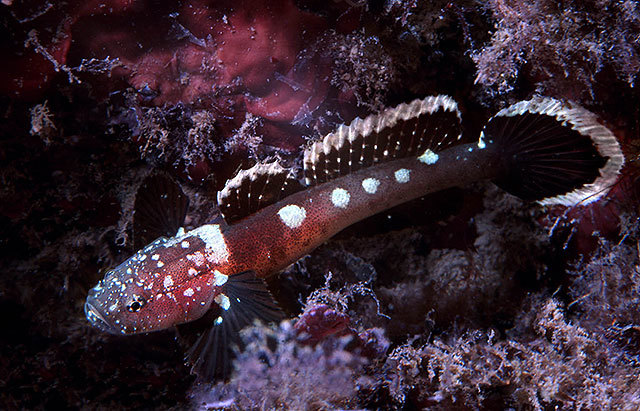 At the end of my university studies, it was the first time that I photographed an unknown living being, never illustrated before, never inventoried. Barely 3 cm long, but carrying immense hope: my passion could become a profession.
- The photo of the coelacanth diver meeting :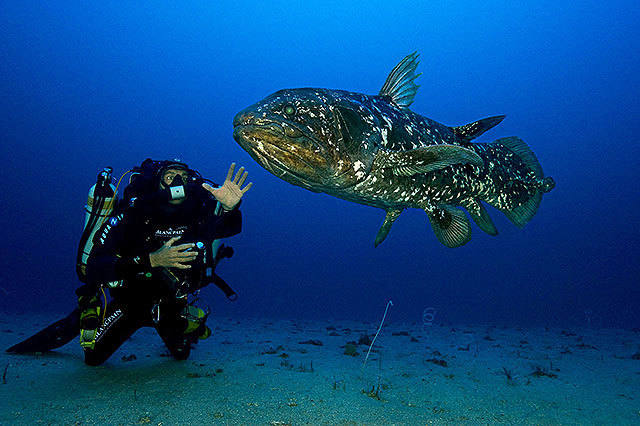 The photo that I most awaited, for itself of course, but also for what it represents: never had I gone so far in each of my three aspirations: diving, science, photography.
- What equipment do you work with? Budget?
I am lucky that Nikon and Seacam, but also Aqua Lung and ApDiving, fully support me, I benefit from their respective best equipment, which every year evolves and improves further.
- Is the activity different between your beginnings and today?
Underwater exploration as I understand it is young, just over half a century. So even if, apparently, the average age of divers is aging, the technique is still evolving very quickly. The diving suits progress, we dive longer and deeper, the cameras progress, we can reveal lights and behaviors that previously escaped us. Enough to have fun for a few more decades!
- Is video essential?
Indispensable, no. I continue to prefer the photo, for its "glimpse" side, because, when it is successful, it leaves more room for interpretation, for dreams. It's like that, I was trained as a scientist, but I have always preferred imagination to explanation. But I love telling great stories too much to do without video. So much the better that we can do both more easily today than yesterday.
- Any advice for young people who wish to embark on the adventure?
Indulge yourself and tell only the stories you sincerely believe
- Want to add something?
that I also thank my current sponsor, the watch manufacturer Blancpain, who supports my expeditions.
- Your website
www.andromede-ocean.com