Why try to reinvent the butter-cutting wire? It seemed more interesting to us to ask underwater image professionals to answer a few questions in order to provide us with their "insight" in terms of underwater photography.
PASCAL KOBEH
When, where and with what material did you start the underwater photo?
I started in the Maldives in 1994 with a Nikon F90, two lenses (105mm macro and a 28-70mm zoom), a Hugyfot housing and 2 Sea & Sea flashes (one big and one small).
What is your current material?
I have two Nikon D700s with a Seacam housing, 4 Seacam flashes (which date from the time of film photography and which I use manually) and a whole range of Nikon lenses ranging from 16mm fisheye to 105mm macro by the way by 14-24mm, 28-70mm, 20mm, 60mm macro.
Your most beautiful atmosphere?
It's a glue. Out of the tens of thousands of photos I have taken, it's hard to choose one! I'll put you one that I like, but honestly there are so many more! It is one of the most recent: swordfish that hunt. I talk about it a little later.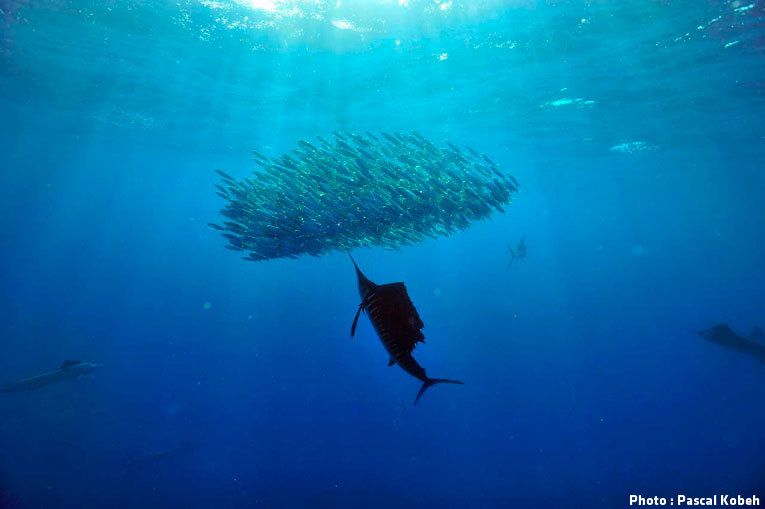 Your mood advice?
Difficult question. Be kind, sympathetic and patient with your model. We don't realize what we can ask of our companion (companion) when we are obsessed with the IMAGE we want to bring back. It is very easy to spoil the diving of others by simple selfishness. Otherwise, dive and dive again in the same place to have the right light, the right "atmosphere" precisely.
Your most beautiful macro?
Same answer as for the wide angle. Difficult to choose a "baby" among thousands. A very simple photo, a close-up of the head of a "Red Irish Lord" made in Alaska. Its colors are superb. The cold water reserves beautiful surprises, surprising colors.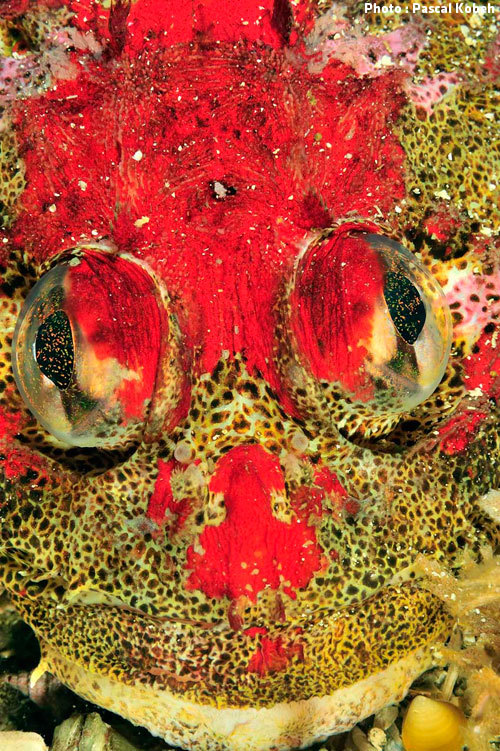 Your macro advice?
Patience, patience, patience. I can spend 1 hour, the whole dive, on a shrimp hole or soft coral. We jump for joy when we have the image or the action that we want. The downside is for the "buddy": he or she hasn't finished bothering. This is why it is better to dive alone in these cases. At least we don't fuck anyone.
If you had any advice for a beginner?
Hang on because it's not easy. These are also the same advice that I could send to a confirmed photographer. We're all looking for the miracle solution right now.
Your photo news?
I recently made sailfish in Mexico. I was delighted with what I saw and what I brought back. I'm going back there next year to bring back more beautiful pictures. It's one of the shows that has fascinated me the most lately.
Your website
PASCAL BARIL
When, where and with what material did you start the underwater photo?
I discovered scuba diving in the Mediterranean at the age of 13 on the Dramont site near Saint Raphaël and made my first underwater photographs a year later at Glénans in Brittany with a Nikonos III and a flash bulb. At the time, you had to change the flash bulb for each shot, which meant that you had to carry a bag full of flash bulbs on all dives ...
What is your current material?
Today I am equipped exclusively in digital photographic equipment, faithful to the Nikon brand since now almost 30 years.
I use Nikon D700, D300S or D7000 SLR cameras for Full HD video. The range of Nikon lenses from 10,5mm to 300mm. With a particular affection for the 12-24mm zoom, the 10,5mm lens and the 60mm macro for underwater photography ... Regarding the flashes, I use two Inon Z240 flashes, compact and powerful, they are very good tools for light and multiple flashes (SB105 Nikon) in Slave mode to create atmospheres ...
For waterproof boxes, I use the Aquatica brand.
Your most beautiful atmosphere?
My job as a photographer sometimes requires working underwater in an environment with complex lights, which requires a lot of technicality. For example, a few months ago I produced for a magazine, a report on the profession of shark healer in aquarium. Dives in the huge pool of the Marenostrum aquarium in Montpellier with about fifteen sharks, but very little light, a particularly dark atmosphere and a mixture of artificial light and daylight! In this specific case, the challenge was to restore the atmosphere while trying to "stage" the sharks… Or for a "shoot" of underwater fashion photos in a swimming pool with models.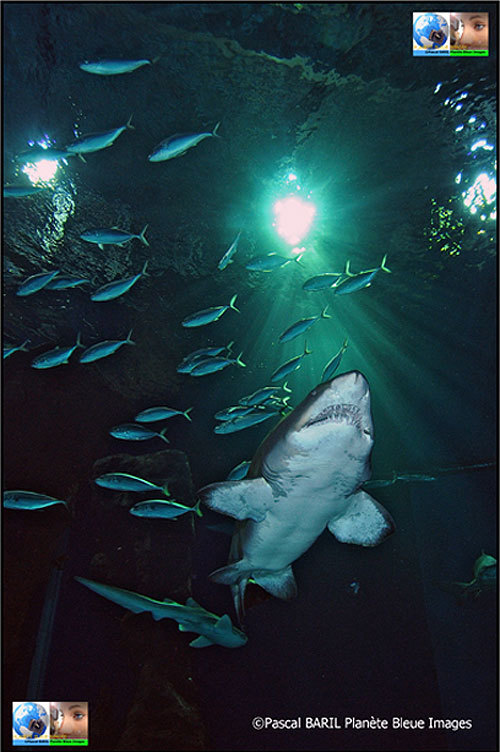 The challenge for this shot was to totally recreate an atmosphere using light and to forget the pool side! A particularly interesting commissioned job that gave me the opportunity to fully express my creativity by using 7 underwater flashes, a bit like in a studio ...
Your mood advice?
The shooting "Ambiance" at the wide angle is undoubtedly the great theme of underwater photography. The best way to restore the sensation of three-dimensional space of the underwater world.
A master technique of underwater photography for which the use of wide angle is mandatory.
The compacts seem a little out of competition in this category and the SLR camera will remain the best tool to restore the best underwater atmospheres with deep blues, against the day of a wreck or the use of an external flash to bring out the flamboyant colors of a coral reef ...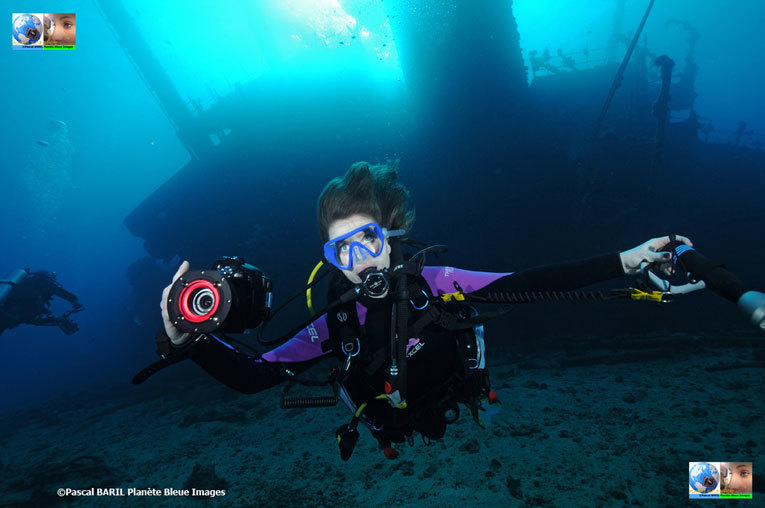 If you had any advice for a beginner?
To choose the right material: first determine the choice of the camera and box according to your desires, the number of dives performed each year, its "affinities" with the photo technique and especially its budget! Start with a simple but scalable system. Namely a compact or a bridge on which it will be possible to add an optical complement and an external flash ...
Buy: the guide I co-wrote with Phil Simha "Zoom on the Underwater Photo" at Pearson Editions (www.pearson.fr) And find valuable advice for beginners or photographers more "experts" ...
Your photo news?
A book in preparation to be published in November 2012 at MA Editions. And mainly respond to the different orders of reports of magazines with which I work ...
In a few weeks, underwater photographs and videos on one of the sites that I particularly like in the Mediterranean: The Medes Islands reserve in Spain!
Your website
http://pascal.baril-pbimages.over-blog.com/
FRANCIS LE GUEN
When, where and with what material did you start the underwater photo?
I started underwater photography in the Middle Ages, even before knowing how to use a "terrestrial" camera. It was with a used Nikonos 2 equipped with its 35mm lens on which I had tinkered with a wired extension with a magnesium flash (bulbs to be changed with each flash ...) which allowed to detach the silhouette of the diver moving in front of me. Because, of course, my first rolls of film were made in a resurgence, the Douix de Chatillon in Côte d'Or ...
What is your current material?
I am using a Canon 5D in a Sea & Sea housing with two YS 90 flashes. One 50mm macro and one 20mm with plane windows. and hemispherical. This material which was provided to me by Plongimage has already traveled around the world several times without a single damage.
Your most beautiful atmosphere?
My preference is for mood shots, which are more difficult to pull off, so I have a lot of them. If it had to be chosen it would be this view of the German source Popperodequelle, for its unusual point of view.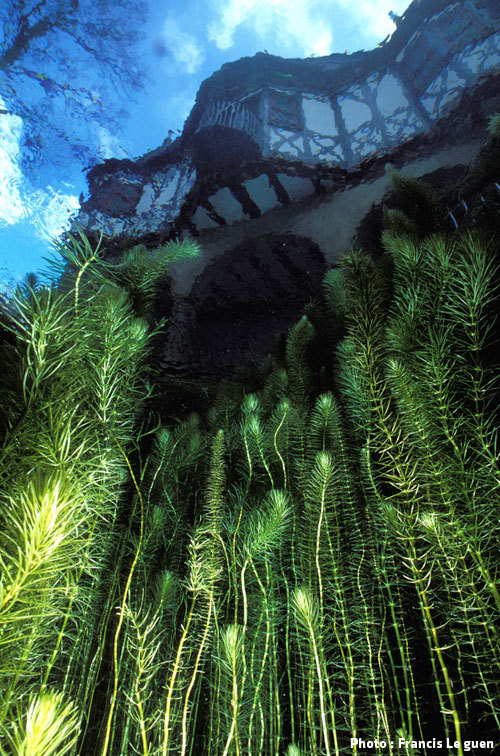 Your mood advice?
Remember that those who will look at the photo are not necessarily a diver. Remember to insert an element to give the scale (most often, a diver ...)
Your most beautiful macro?
It might not be the "most beautiful" but I like this one, in terms of composition and colors. It just goes to show that it is possible to do pretty things with extremely "common" subjects…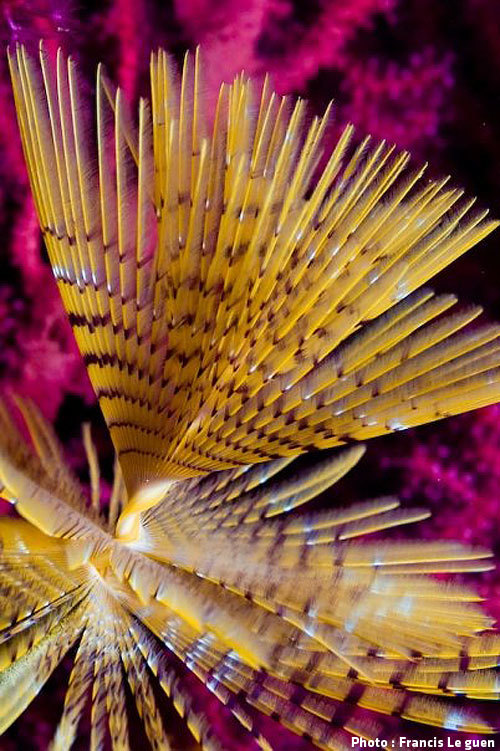 Your macro advice?
The macro photo should not be just a collection of species: try to be creative and compose a photo that is pleasant in terms of frame, colors. Paint!
If you had any advice for a beginner?
Try to renew the genre! For my part, I'm tired of the photos of coral drop offs with a blue sun, or a thousand and one sea creatures, shot from all angles. Think freshwater, rivers, waterfalls… Try to convey the "feeling" of diving, the "body" of water…
Your photo news?
I have just started working on the underwater nude with a few models, for an exhibition and a digital book.
Your website
PHIL SIMHA
When, where and with what material did you start the underwater photo?
The photo, I have been doing for a good twenty years; the submarine, I had tried a little in the 90s in Thailand with a Sea & Sea Motormarine… rather frustrating especially when you wait 3 to 4 weeks before seeing the results… So I gave up a bit until it ten years ago when I received my first digital and things have changed very quickly!
What is your current material?
I work with Canon EOS 5DMkII in Seacam housing, with Seacam flash too. I added a small CamOne (a GoPro-like gem but definitely more enjoyable and much cheaper) for the "quick" video. I supplement in some cases with continuous lighting for filming, lamps produced by Keldan for Seacam. My main lenses are from Canon: the 14mm aspherical fisheye, the 15mm fisheye, the 17-40mm zoom, a macro 50 for portraits of fish and a 100mm for the macro of course.
Your most beautiful atmosphere?
Rhôôôôôô, ah the question! Come on, we're going to put one on for fun, but really, sincerely, keep just one… among so many emotions 🙂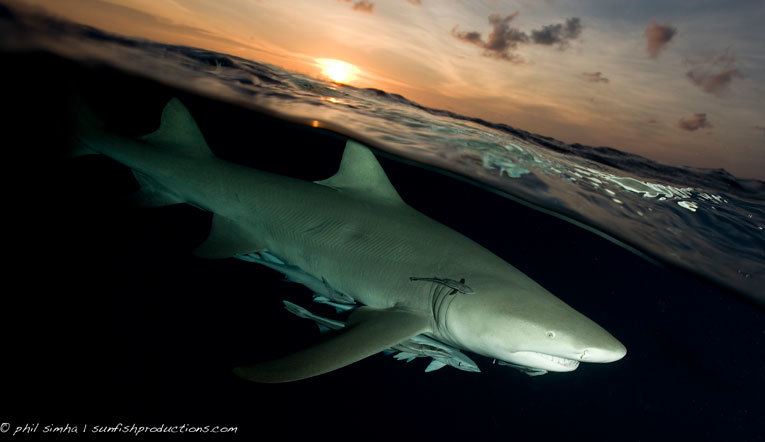 Your mood advice?
Composition above all: the image must reflect a feeling linked to the landscape or the atmosphere photographed, so the composition will be decisive in conveying the emotion.
Your most beautiful macro?
Well, I'm not really a macro in truth… But even if it's a classic, then this pygmy for the pride of having found it all alone like a grown-up (and to hear myself say later by the guide that I didn't had seen that the biggest of the three…).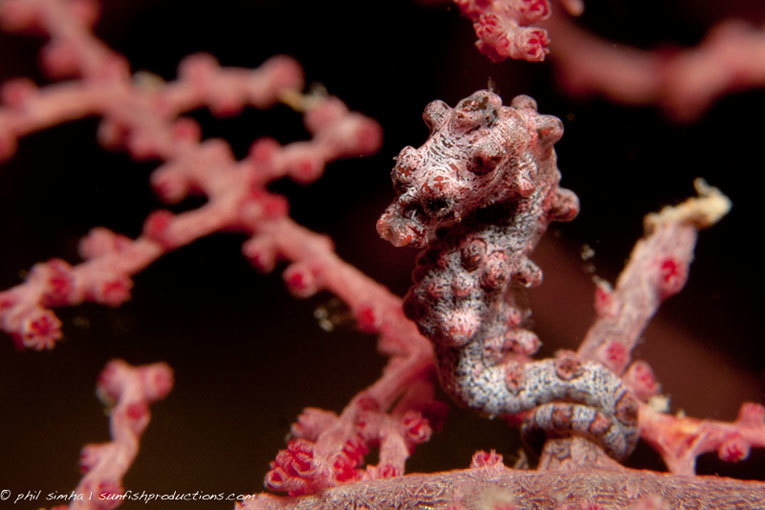 Your macro advice?
On animals, the look, the look, the look. For lack of glance, then you really have to grasp a very special attitude. For other subjects, give free rein to the imagination, play in super-macro, work with shadows.
If you had any advice for a beginner?
Read the manual for your camera, buy the Zoom on Underwater Photo book, take an internship, then work, work, work. And always remember that no photo deserves to destroy anything in nature!
Your photo news?
On a daily basis at the moment, I am working on articles and reports related to the images produced during the last 12 months during which I have not published much because I have traveled. And if not always a lot of courses on weekends, in partnership with diving centers or clubs; travel photography courses in September and October, a new book in the pipeline probably in eBook, and finally, a big underwater exhibition in northern Germany in October.
Your website