This weekend, Philippe Croizon and Arnaud Chassery embark on a sporting challenge: swimming the 5 continents. An adventure that is both physical and human between Oceania, Asia, Europe, Africa and America. With a particularity: Philippe Croizon has neither arms nor legs.
TOGETHER, THAT'S ALL
And that is also the whole point of this adventure: they will get there together or not, despite Philippe's major handicap. Beyond the sporting feat, the two men want above all to carry high the colors of surpassing oneself, but also, as Arnaud Chassery underlines it, "to advance together in the respect of the other and his difference". Over the next few months, they will therefore, in four symbolic stages, serve as a link between the continents: in all, 85 kilometers by swimming, from the warm waters of Papua to the Bering Strait, via Gibraltar and the Red Sea.
FIRST STEP IN PAPUA
The first step for Philippe and Arnaud is to link Wutung, a small village in northern Papua New Guinea, to Mabo, Indonesia. At least ten hours will be needed to connect Oceania and Asia, by traversing the 15 kilometers that separate as the crow flies the two villages. In this area they will have to contend with violent currents and the dreaded presence of Irukandji jellyfish.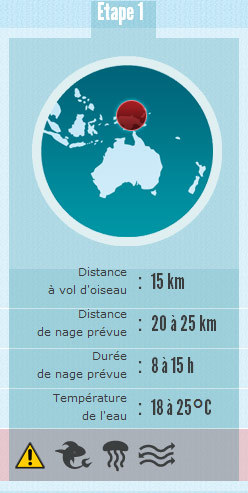 SECOND STEP IN RED SEA
They will then embark in Jordan in the Gulf of Aqaba and cross the Red Sea to Taba Height in the Egyptian Sinai Peninsula. They will have to travel this time even more 20 kilometers, which they plan to cover between eight to fifteen hours. Their main concern for this time, the presence of sharks off.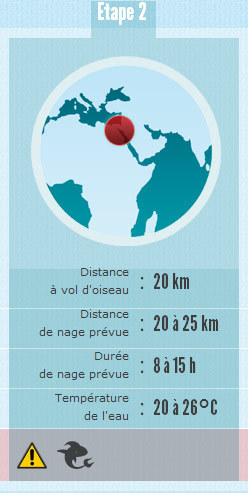 THIRD STAGE IN THE STRAIT OF GIBRALTAR
In early July, Philippe and Arnaud will settle this time in Morocco, near Tangier, and will take the sea to cross the Strait of Gibraltar as soon as the weather is favorable. In particular, given the sea conditions in the Strait, and the importance of maritime traffic, it will be a particularly difficult stage for both swimmers, even if the expected crossing time is the same as for the previous connections between the two. continents.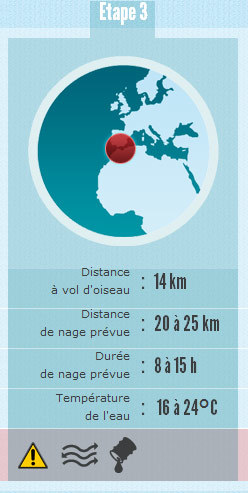 FOURTH STEP IN RUSSIA
The last stage will be the shortest, since there is only four kilometers between the Russian island of Grande Diomède and the American island of Petite Diomède. But the waters of the Bering Strait, even in summer, will not exceed 3 ° C ... Philippe and Arnaud provide a crossing in 5 maximum hours, but they will constantly fight against hypothermia and be able to assess their physical state.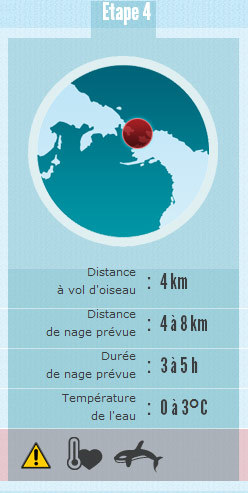 A HISTORY OF MEN
Neither Philippe nor Arnaud are at their first attempt. Philippe, amputated of all four limbs following an accident, began by learning to walk again with prostheses, then was initiated, among other things in diving, parachuting ... In 2010, he decided to cross the English Channel at the swims, and achieves it, in 13 hours and 26 minutes! A feat that gave birth to the idea of ​​this new expedition, with his friend Arnaud Chassery, mountaineer and mountain guide but also passionate about swimming, who has already crossed Gibraltar. It is therefore a sporting challenge that they are preparing to accomplish together, but it is also and above all a story of men. Aqua Lung had already provided support to Philippe during the Manche exploit, of course they "plunged back" and are once again a sponsor for this new exploit.
More: http://www.nageraudeladesfrontieres.com/
Text: Isabelle Croizeau