At the end of September, Olivier Creyssac, BEES2 and Course Director PADI, head of the diving school PlanetOcean in Hendaye, tells me that this week, a rather special student was coming to spend his Open Water Diver.
A young couple, Baboo and Katia arrive then quietly. I feel like I've seen it before. Very quickly I make the connection when I notice his left foot. I already saw him on a video on Facebook, it was the last part of the 7 to 8 program on Sundays on TF1, and he was telling his incredible story. In April this year, when he arrived in Hawaii, during his first surf session, he came across a tiger shark of almost 4 meters. From this sad meeting, he lost his left foot.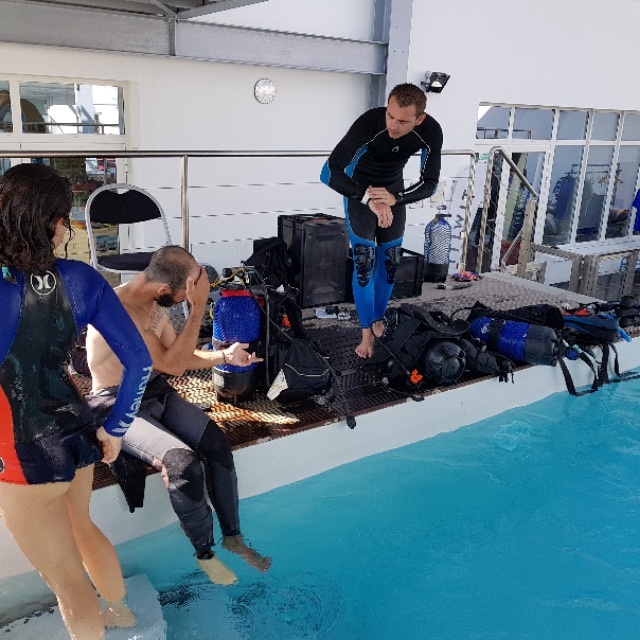 When I see the impression of ease that he exudes to move around with this prosthesis which is barely 5 months old, he commands my admiration. He will admit that the people who took care of his rehabilitation are also amazed by his progress.
For its first sessions, we use the swimming pool of the Water Sport Center by Décathlon. We have the advantage of being a technical partner of Subea, the diving brand of Decathlon, so our structure is located on the premises and we have access to the swimming pool. Very practical for our trainings which go from DSD to OWSI PADI (Instructor).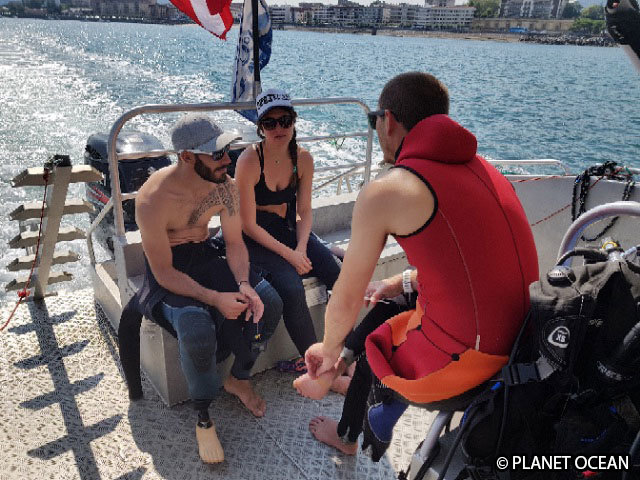 The sessions in the pool are going very well. No apprehension, no difficulty, and thanks to his beard and mustache, he quickly became a mask emptying pro. It was also the opportunity for him to test his new foot, a prosthesis dedicated only to diving which locks either at 90 ° or at 180 °. Indeed, for each activity that he practices, a specific prosthesis is necessary. This ski instructor in winter, and surfing and sailing in summer, is required to have a prosthesis adapted to each of these sports in order to be able to work. And this, at his expense, is why he created an online pool https://www.lepotcommun.fr/pot/ky4iw6aw .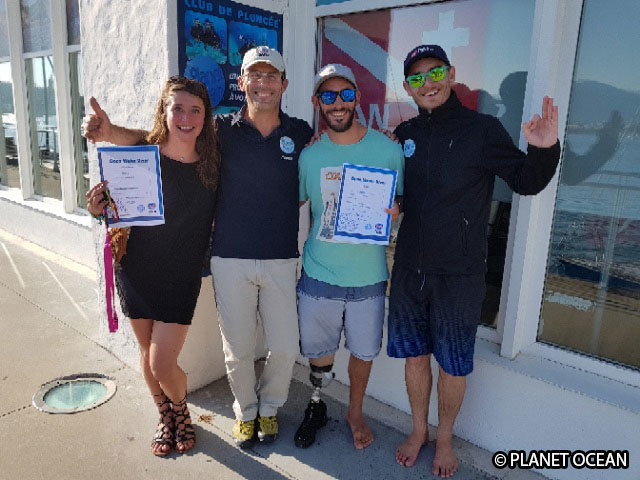 Then it's the big bath, in our huge play area that is the Atlantic Ocean. For this first, we choose a sheltered site, the aquarium less than 20 minutes by boat from the center: gradual slope up to 12m, visibility, a wide variety of flora and fauna. We are talking about technique: on which foot to take support to get into the water in giant steps, how to get back to the boat. The conditions are ideal, let's go, and not without a little apprehension! After the regulatory exercises, we go exploring. Cuttlefish, octopus, dories, schools of mules, saupes, dragonets… It's a treat, the little worries at the beginning disappear. After 50 minutes of diving we are back to the boat. They are happy with this first adventure, and relieved not to have had bad encounters underwater. Hawaii's adventure is still on their minds, and it makes sense! It's only been a few months since the tragedy happened, and when you see the ease with which Baboo moves and talks about his prosthesis, we can think that he has been in this situation for several years.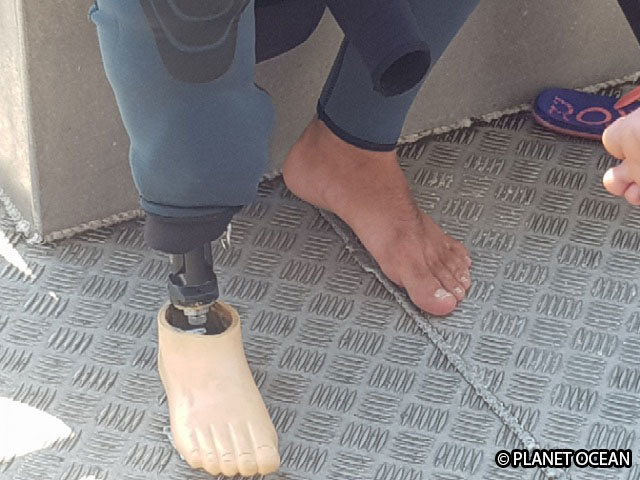 The days go by, we get to know each other, and we talk quietly about his future and the accident. He tells us about the different stages of his accident, he commands respect. He tells us about his plan to go diving with sharks. He doesn't blame her, he doesn't blame them. He defends the idea that we are responsible for what is happening. Global warming and overfishing are forcing sharks to come closer to the coast.
It was a real honor to participate in their training, but above all a real pleasure to have spent these few days with them.
The whole team of PlanetOcean, wish you the best, and hope to see you soon in the Basque country!