France 3 broadcast three weeks ago a documentary by Jérôme Espla, "Sleeping wrecks". Born from his meeting with photographer Patrice Strazzera, whose black and white shots are an invitation to immobile travel, he reminds us that they have a soul.
A NAME THAT IS NECESSARY
"In my search for ideas to make documentaries, continues Jérôme, I mainly look for stories, but sometimes it's a character who comes out and who holds the film. That's what happened with Patrice. I'm doing a series of docs for France 3. After the Haven, the Corail Rouge, I wanted to talk about the beautiful wrecks of the French Riviera. Even if Patrice is not too much from the neighborhood (Narbonne), I immediately thought of him. Why ? no idea… but not everyone is in the VIP area of ​​my memory. Talking about wrecks is a good idea. But on paper, it's not necessarily dreamy for "non-diving" viewers. Showing fish on sheet metal requires more to hold a film. We must find a hook. You need dreams and emotions… Well, here it is, after 15 years, Patrice appears to me as the unique and the only character who makes people dream when talking about a wreck. In a phone call, everything is settled. We felt like we had dived together every day. Patrice does not talk to me about the history of boats, or diving techniques or nikon supercharged with pixels, but emotions… "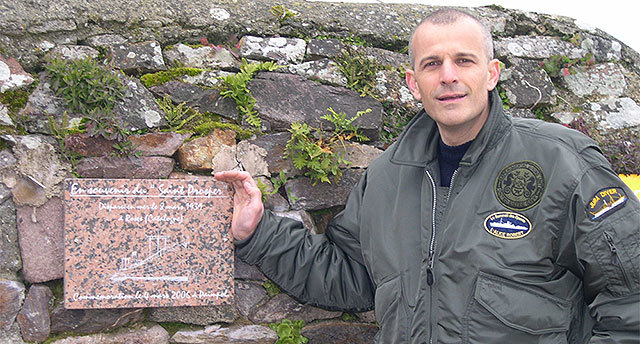 FROM THE LONDE
The shooting was done from La Londe, at Alain Lormeau's, where the choice quickly fell on the Donator and the Ruby. A "strategic" choice: the Donator because it is the emblematic wreck for thousands of divers and the Rubis submarine for Patrice's favorite side. "During this shoot, we will do 3 dives on each one," explains Jérôme. 2 for the atmosphere and 1 with Patrice. We dive into an inspiration rebreather which gives us time to take the images without worrying too much about the watch… Patrice, on the other hand, proudly wears his carbon bin, which will soon become a collector… .. "The shooting will then continue on the Greek with Eric Frasquet and his Center, then on the Silver-Wings in Cap d'Antibes with Romain Lhoste. The film was also an opportunity to talk about the wreck of Maréchal Canrobert off Planier in Marseille, at 110m deep on a virgin wreck. In all, a dozen dives over 7 days of underwater filming, 10 days of land filming and 15 days of post-production, for a collaboration between 13 Productions, Poisson-Lune Productions, and France Télévisions.
FORGET THE CAMERA
"But at the beginning," Patrice admits, "I was a little skeptical… What more were we going to show on wrecks that had been submerged a hundred times? How to convey the emotion that is an integral part of my dives? For once, Patrice didn't come down to take pictures, even if of course he did. But during these dives he had a new freedom, which Jérôme was able to exploit. "Don't mind me," he said, and I ended up forgetting him. He landed in places where I couldn't see him, and I didn't even know at times that he was filming me "And the director for his part is delighted:" filming Patrice is a treat. There is never a glance at the camera, he dives without worrying about the camera, the lighting designer, everything is perfectly oiled. Finally a diver who lives his dive. I never give briefings to "characters". I let them live their dive, I need this feeling of naturalness, the impulsive and spontaneous side of an attitude. It is rare that I take another take, because for me it will no longer be natural. Everyone has their own approach… "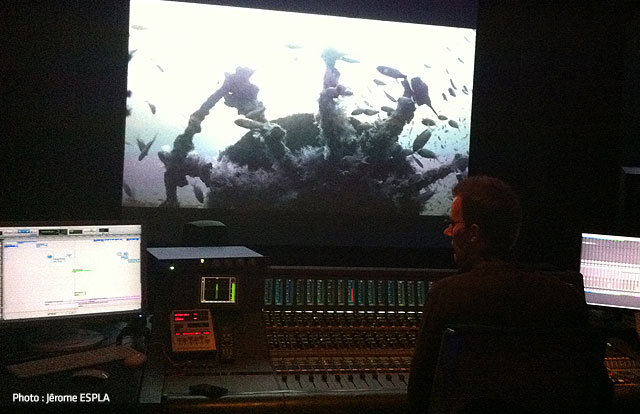 DESCEND TO BACK THE TIME
"Go down to go back in time". This is what Patrice Strazzera has always done. Photographer of motionless wrecks, steel giants lying at the bottom of the Mediterranean, he observes them, he immerses himself in them, approaches them to capture what makes their soul, their wealth. Of his models, photographed in black and white and always in film, he knows everything: their history, the dramas that were played out when they were shipwrecked, in the fury of wars or storms. Often with passion, and always with respect for the lives that have ended. And always in the exchange, in sharing, with the group of divers who accompany him in his quest and without whom, he says, he could not do the same.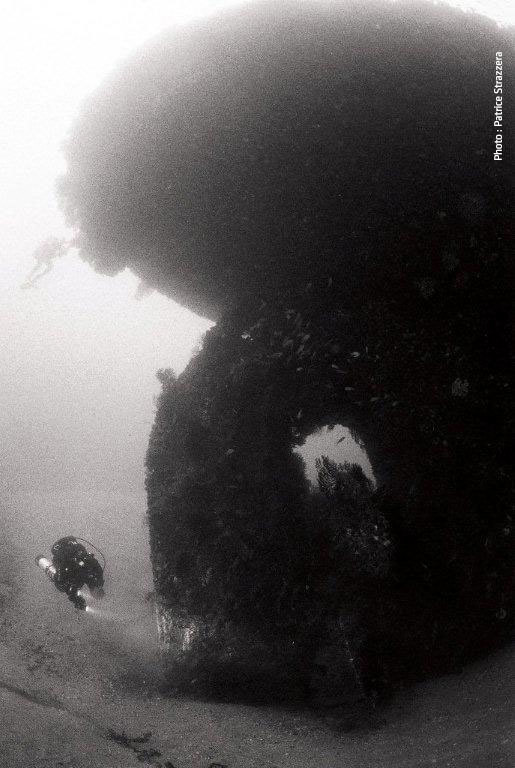 "TO LISTEN TO PATRICE IS TO FIND YOURSELF ON THE DECK OF A SHIP…
… With the captain screaming his orders on the bridge on a naval combat day, with the crew busying themselves to maneuver the boat, and a huge crackle announcing an impending sinking… all with goosebumps so much that it thrills you. Patrice saw this with each dive and tells you about it as if the shipwreck had just happened in front of your eyes. It's amazing to feel so much emotion in his words, so much life in his stories, and to see this ease in releasing his feelings. It's rare in a diver, I've never even seen it before. All this to say that I delighted in filming with Patrice even before having written the first line of my file… It was time, after 15 years.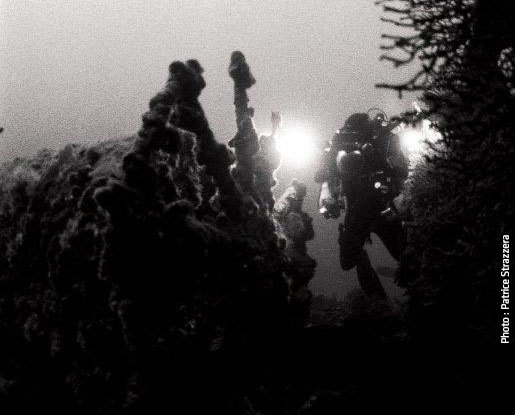 A CONTACT ALMOST CHARNEL
From the exuberance of the fauna on the Greek to the nudity of the Ruby, Jérôme follows Patrice. "On the Rubis, I felt a lot of restraint and respect from him. Patrice brushes the wreckage, lands delicately, almost asks permission to take a photo… It is a unique experience for those who know how to observe from the heart. It's almost carnal… "And that's indeed what Patrice transmits when he talks about his dives:" I always touch wrecks with skill, without harming them… "In his fins, we learn beyond the spectacle of love them again for what they used to be. "Some wrecks," says Patrice, "have stronger souls than others. And Jérôme's documentary allows us to finally put words into Patrice's photographs. Even if one suspected it, he simply gives here his way of approaching the world of wrecks. With respect, with modesty: "I see them deteriorate, he says, they let themselves die, but taking a picture of them is to make them continue their life, differently".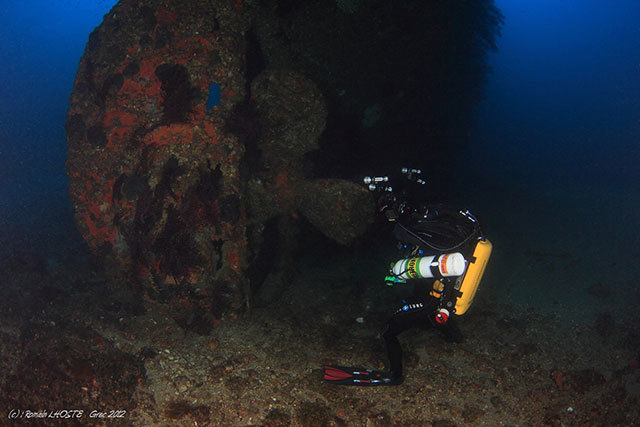 EVERYONE FINDS WHAT HE LOOKES FOR
From the meeting between the photographer and the director was born this documentary, which alternates between archival footage, interviews of Narbonne photographer, and divers tourist boats for whom the mythical wrecks of the Var coast are a quest, a happiness. Everyone will find what they are looking for. For some, the thrill of shadows and corridors, inaccessible holds from which one would almost expect to see shipwrecked sailors. For others pure wonder at the exuberance of life that attaches to sleeping plates, schools of sars and anthias that almost hide the wreckage, become over time a huge field of red gorgonians where sometimes appears, incongruous, a rail of metal that seems almost virgin. "And what I would like to tell them all," concludes Patrice, who has "dipped" dozens or even hundreds of times for some of them, is to take the time, to focus on slowness. Of course, they will not have seen everything, but they will have really watched. "
Text: Isabelle Croizeau
Images: Jêrome ESPLA & Patrice STRAZZERA