On the occasion of "Oceans Day" on June 8, diver and photographer Greg Lecœur exhibited his large format photographs dedicated to the Mediterranean Sea, with the appreciable collaboration of the City of Nice on the famous Promenade des Anglais. For the opening of the opening, we were able to meet the photographer in his hometown. In 2013, Greg was elected silver diver at the Marseille Underwater Image Festival. Two years later, he won the Palme d'Or. Many international awards will follow until his photos on the annual migration of sardines off South Africa earned him the title "Nature Photographer of the Year" by the prestigious American magazine National Geographic. His images and stories are published in magazines around the world. The aim of this exhibition is to strengthen public awareness of the issues of overexploitation of maritime resources, various pollution and global warming. The photos are to be discovered until September 30, 2018.
"At a time when France aims to be at the center of the fight for the preservation of our biodiversity, Nice is exhibiting its natural heritage to better protect it through an exhibition of breathtaking underwater photos. "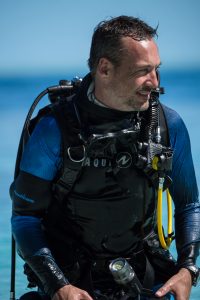 What was your background in the field of diving and, subsequently, that of photography?
I've always been in the water practicing a little apnea in my early days, and then I quickly turned to scuba diving and boating. What interests me most is to be in contact with nature, especially with an attraction for marine biology. The photo came to me naturally, following the need to deepen these new centers of interest. I wanted to share the encounters I was doing underwater, especially in the Mediterranean. Initially I made these images to show to my entourage and photography became a passion in itself.
What is the main motivation that led you to combine these two passions: diving and photography?
My passion is entirely linked to the animal world, but also to the importance of understanding the interdependence between species. For me, photography is really the way to share and make discover to people, who do not necessarily have the possibility of going to sea, the richness of the marine world. There is obviously a desire for preservation and conservation in which the tendency remains to promote the message that our planet is beautiful and that it must be protected, through transmission, awareness and wonder: our planet is everything. simply magnificent. I assume that the protection of the planet is linked to everyone's daily life. My photographic work consists of making readers discover marine species and their environment.
During your dives, what is the most striking experience?
As I explained before, behavioral observation and analysis of the functioning of the marine world fascinates me. Understanding how ecosystems or species interact, reproduce and feed, seems to me essential. One of the most beautiful events we can attend is in South Africa. This is the migration of sardines, where all the marine predators come together to hunt them.
How did you experience winning the National Geographic Prize in 2016?
It was a great satisfaction. Knowing that in my career I had had a "normal" life with a career as a manager of a company, following a "metro, work, sleep" routine. It was in 2011 that I decided to change my life to devote myself to my passions: travel and underwater photography. Five years later, being voted National Geographic Photographer of the Year remains a source of great pride. It allowed me to realize that you could live your dreams and thus do what you love if you gave yourself the means. It's a great lesson in life for me.
What evolution did this consecration bring you as an accredited photographer between 2016 and 2017?
The National Geographic Award gave me recognition. Personally it was more of a confirmation, since I already worked for many magazines in which I was already consulted in the field of photography (more abroad than in France). It did give me a lot of visibility on all my work. Continuing my momentum, I traveled a lot during this period. I therefore did not have time to communicate more about this event. After all, what really matters to me is being in contact with animals and continuing to share my passion.
What photographic equipment do you use during your dives?
I am using a medium range hardware, since I use a Nikon D7200. Although semi professional, this device has the advantage of being equipped with a small sensor. I also use a Nauticam box and two external flashes. Underwater this configuration offers a real advantage. In the field, I use material with a full-size sensor instead.
You are recognized for the rendering of your characteristic blue light mixing realism and poetry. How do you technically get this result?
I try to highlight the animals through the light. It's a long-term job to get that unique blue color that makes up my leg. Technically I try to transcribe reality as I see it. In diving, with the absorption of colors, we do not necessarily see the colors when we enter the deep sea. The use of a lamp reveals the colors of the spectrum. My goal is to transcribe as faithfully as it is the colors, using the light. I shoot my photo in RAW and I edit my images with the Lightroom software, which implies an adequate post-processing to transcribe as accurately as possible the original colors.
In January 2018, on the texts of Steven Surina, is published your book "Shark, Guide to Interaction". Can you tell us about it?
This book, the result of a collaboration with Steven Surina was published by Turtle Production. This collection is for me, the result of six years of intensive travel. I was lucky to go swimming with many species of sharks. It is a book that is very rich, in which the reader will be able to discover all the particularities related to the biology of the shark. As its name suggests, this book is a guide to best approach not only the sharks themselves but also the destinations where we can meet them.
What are the challenges of the "A Breath in the Mediterranean" exhibition?
It is above all a pedagogical approach aimed at raising the awareness of the public, especially the youngest on the Mediterranean life. It is a project dedicated to the environment of pelagic life taken offshore (from plankton to whale). The open sea at first sight is like a desert. In fact we do not necessarily apprehend life in its imminence, however a rich biodiversity people these funds. However, we must be armed with a lot of patience to cross them.
You have been diving since your childhood, what changes have you noticed concerning the seabed, more precisely the Mediterranean seabed?
The Mediterranean depths are still very full of fish and if it is true that the zone between zero and 15m is accessible to all, the resulting pollution makes this interval the most affected area, especially with the plastic which is a real scourge. What strikes me most today is the irresponsible fishing, the mesh of the fishermen are not all the time respected. Indeed, it represents a nuisance for fish that have not yet had time to reproduce.
Smart diving practice, with the least impact on the environment, is essential for the preservation of the seabed. Added to this, another phenomenon certainly caused by global warming, the proliferation of a filamentous alga that looks a bit like cotton candy that is observed more frequently and which is placed on the gorgonians. At the time it was seen occasionally and there it is more and more present.
This opening must be for you the result of your investment in your work for all his years. How is exhibiting your photos in the context of "Oceans Day" important to you?
Being from here it is a great pride to exhibit on the Promenade des Anglais. When I decided to change my life and become an underwater photographer, I was far from imagining that one day I will be able to expose my photos on this place. It is true that this is a theme that is particularly close to my heart. It's been fifteen years since I went offshore. I discovered these animals and now I go back regularly to document this wildlife, fauna in which I made great encounters. I can not help but remember the episode during which I could observe the swimming of a penguin under water. Moment really moving and unusual at the same time.
Exhibiting on the Promenade is a beautiful showcase and a privileged way to communicate to the public what is under our seabed. This is why World Oceans Day has joined the Nice Metropolis. The aim was to organize workshops on this subject, with lectures for children, on which they worked throughout the school year from images, combined with a presentation to questions / answers. The children are curious, passionate and involved in the protection of the seabed, which made this day very rich in my eyes.
Regarding the exhibition, what is your favorite series?
The most beautiful encounters that can be made in the Mediterranean are those with pilot whales. They are incredible animals of great sociability, that one could spend hours observing without necessarily being immersed. The fin whale is also a very nice encounter, it is one of the largest mammals that can be found in the Mediterranean. Making an image of this stealthiest and most shy animal requires a lot of patience. It is very difficult to get a nice photo of it.
I want to point out that at the time, the monk dolphin and the angel shark commonly occupied our seabed, giving name to the Baie des Anges. In the Lérins Islands there were seals, these animals have clearly disappeared because of the man's fault. Exhibiting on the theme of the seabed is also showing the other existing species, so as not to repeat the mistakes of the past. It is our duty to preserve this environment and to ensure that future generations can also benefit from it. Each individual has its place in an ecosystem, if we remove a link it is the whole chain that is out of order. The educational purpose is to remind people that we must live in harmony with these wildlife species.
What is your best diving memory?
I have many. I had the chance to meet great people. I can cite two: the first is this moment spent in South Africa which allowed me to take the National Geographic photo, immortalizing this predation at the time when sardines were being hunted by dolphins, sharks and birds. It was absolutely incredible to watch. There was also this encounter with a Humpback Whale in Tonga Islands. It had come to stand straight in front of me, which allowed me to make beautiful images.
What are your future projects for the end of 2018 and 2019?
This summer I went back to South Africa to do the "Sardine Run" (mid-July), I'm already on my sixth. I try to do a great report and to document myself on the sardine and its environment. I have other projects to come but it is still a little early to talk about them.
Aurélie Kula