Some truths are written in stone, but some explorers write stories in ice. Alban Michon is leaving for the Artik expedition, his departure is scheduled for March 2018 from the Inuit village, Kuglugtuk.
He will cross 1500 km of icy steppe alone and finish this route in another Canadian village called Resolute Bay. He will use a kite to tow his sled and dive under the ice, his goal being to reach the Northwest Passage; a legendary passage for boaters, which shortens this sea crossing between the American continent and old Europe by 6 km. The first man to have made this journey was a Norwegian explorer named Amundsen, we were in 000, times were very different.
However, this is not its main objective. It remains above all a scientific expedition. Indeed, during his journey Alban will collect plankton, to this day almost unknown. They will then be analyzed and their DNA should make it possible to better understand the impact of humans on climate change. Its second scientific mission will be to study this atmospheric pollution. This project, entitled "Calisph'Air", allows to study by taking atmospheric measurements from the ground, especially those of aerosols (solid and liquid particles suspended in the atmosphere). These measurements will be compared with others taken by satellites.
This last scientific experiment will carry out a study on the reactivity of the human brain in extreme environment. This critical fusion frequency, aims to check the "speed" of brain decoding. To be able to recognize the existence of close visual signals and to discriminate them. Thus, it makes it possible to evaluate the speed of cerebral reaction and to establish a correlation between fatigue, stress and extreme conditions.
With such adventures, the equipment is a major asset that can make all the difference for Alban. In an extreme environment like this, he must prepare and be prepared for any eventuality. Its sponsor ZRC has prepared a special edition "Grand Fonds 300" watch. ZRC very recently reissued this watch, a great classic which from 1953 equipped all members of the French Navy. This special edition bears the name "NORTH ADVENTURE" and is stamped with the logo of a polar bear, which represents Alban's initials: it is the toolwatch par excellence. It is fitted with a 4mm anti-reflection domed crystal sapphire crystal, with an oversized crown for handling in extreme cold. ZRC's "NORTH ADVENTURE" is a tool of immense importance to Alban. During his adventure, he will be daylight 24 hours a day, the watch will allow him to keep his biological clock in rhythm with his hours of sleep. It can also be used as a compass and therefore as a navigation tool. In the event that his GPS were to fail, he could determine according to the time and the position of the sun, the heading to maintain. In diving, it is also a high precision tool. No computer can operate in these temperatures. He will therefore have to use his watch to be able to calculate the groups.
More details about ZRC's watch on this video:
Let's talk about these dives! One can wonder how the adventurer will do to fill his bottles. An on-board compressor seems to be very complicated! For all his immersions, Alban will dive with an Aqualung mechanical rebreather that works entirely with O2. These rebreathers in addition to being fabulously light, are generally used by combat swimmers. These machines can be used with very small bottles of 1 or 2 liters of pure oxygen. The other particularity of ccrs is that their operation is very simple. He can completely disassemble them at any time, an essential step because he will need to dry the recycler. He will therefore sleep with the head of the ccr to warm it. These bottles will be collected during his only stop to refuel in an Inuit village in the middle of the route. It will therefore not need a compressor during this trip.
During his dives, in addition to collecting specimens, Alban will also try to take pictures of a mixture of multi-year and mono-annual ice. This amalgamation creates a rather surprising relief and promises beautiful images. Finally, among one of his immersions, Alban will fix a resin statue produced by the artist Richard Orlinski. Like a bottle in the sea, this 15 cm statuette will contain messages and drawings made by adults and children. The message will be to convey love for nature. One day, unfortunately, this statuette will come off and return to our civilization.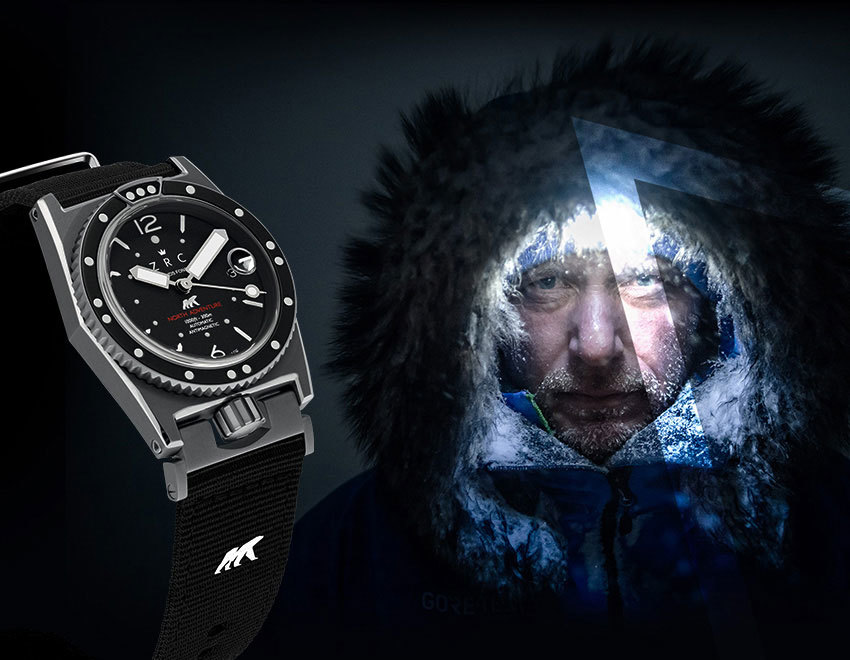 When Alban is questioned about his apprehensions about the expedition, it is neither the isolation of the great steppes, nor the cold that gives him pause; his only real concern is rather polar bears. While sleeping, he will plant a device with stakes. A firecracker would go off if an animal had to approach while sleeping. Hoping that the din will scare the animal away, but that only remains an audible alarm in case of danger!
This expedition will give birth to a documentary of 52 minutes and a book. It will also be a testimony to the humanity of climate change.
If you want to help ZRC ET ARTIK for the expedition, you can participate in the project, thanks to the kickstarter page that was created:
https://www.kickstarter.com/projects/489783724/zrc-north-adventure-tool-watch-alban-michon-arktic