Let's leave the Bahamas, but stay in the Caribbean to discover together this small country that all divers have heard of, Belize, whose Blue Hole, or blue hole, was enough to make the reputation around the world. This spot was made famous by Jacques-Yves Cousteau who ranked it among the ten must-see dive sites in the world. He came aboard the Calypso in 1972 to map the local depths in order to silence rumors that were then circulating that the Blue Hole was a bottomless hole.
Blue hole of Belize
What is a blue hole?
The blue holes formed during the previous glaciation, when the sea level was a hundred meters lower than it is today. These formations were subjected to the chemical alteration of limestone, mainly by rainwater made acidic by vegetation. It seeped into the ground, eroding and dissolving the subsoil and carving out vast underground cavities. Subsequently, the ceiling of these cavities collapsed, which created these famous chasms, then covered by the sea during the melting of the ice cap.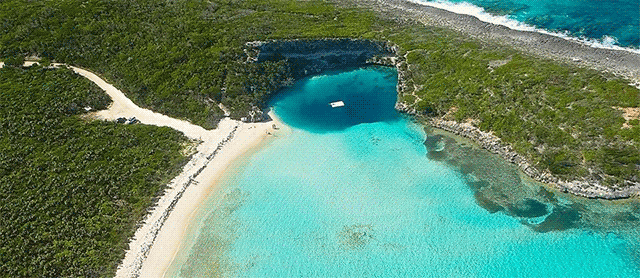 Dean's Blue Hole, made famous by Guillaune Néry and his famous video "Free Fall"
The deepest in the world is Dean's Blue Hole, Dean's Blue Hole, located in the Bahamas, at 202 meters. It serves as an exception because the second deepest sea hole, the Great Blue Hole located in an atoll near the coast of Belize, has a depth of only 120 meters… so to speak. The Andros Islands in the Caribbean have an exceptional concentration of blue holes, 178 of which are at sea and at least 50 on land. Another blue hole, infamous for the number of deaths there, is the Blue Hole in Dahab, Egypt.
Diving in the Blue Hole
Whether it is from Belize City or like us from San Pedro, it takes two good hours of navigation. It is a day trip and most operators offer three dives including one in the famous Blue Hole. On average, it costs $ 300 + $ 40 marine park taxes. It's not a gift ...
Some boats are more rustic than others. Ours, a superb 56 foot unit, was very comfortable. During this day, the sailing conditions were excellent but this is not always the case. It is according to the vagaries of the weather.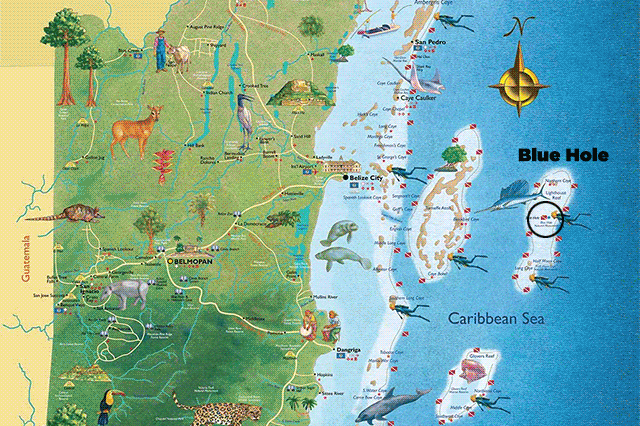 The meeting is fixed at 5:30 am, but in the Caribbean… we will end up weighing anchor at 6:15 am. The boat is approved for forty divers. This morning, luck is with us since we are only twenty. The vast majority of divers are Americans.
At 8:30 am, we arrive on site and jump into the water around 9:XNUMX am. We let you discover the video below so that you can form your own opinion.
After two minutes of immersion, it is easy to understand that this is a first for many of the divers present… when I speak of first, it is in reference to the depth… Indeed, it is necessary to descend into the 40 meter area in order to start seeing stalactites. So we end up with a human cluster who for the most part are "open water" and have never been trained to descend to such depths… Business, when you hold us…
After eight minutes just under 40 meters, the dive masters indicate the end of the dive and despite our insistence and all our signs, it is impossible to stay longer.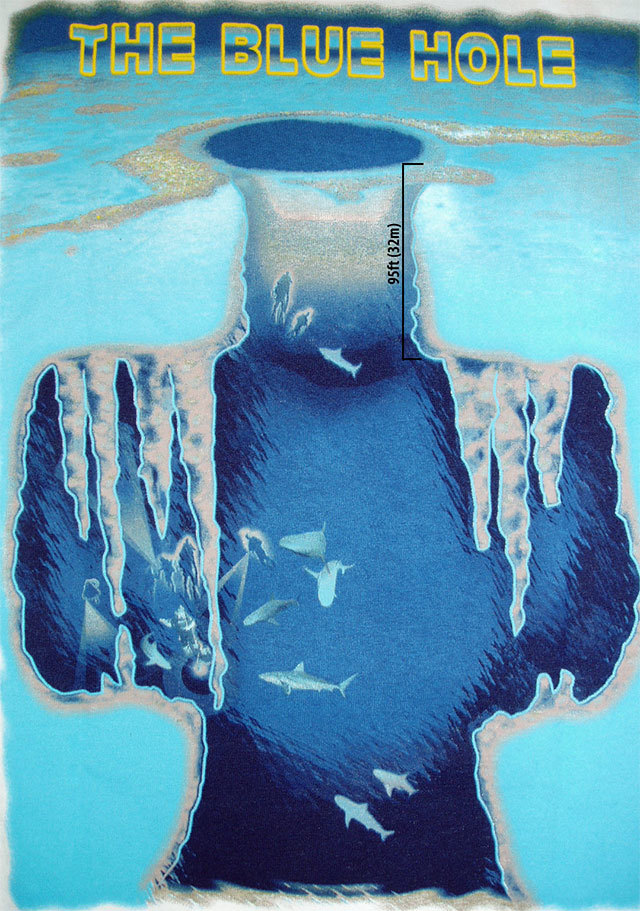 These famous longitudinal cuts of the Blue Hole give the impression that once at 40, the blue hole widens significantly. Well no! In fact, these diagrams are not to scale. In reality, there must be only about three meters difference, where we dived anyway.
I feel a bit like I'm a Japanese visiting our castles… I take pictures without taking the time to really see and I'll watch when I get home… Blue hole, it's done…
Diving around the Blue Hole
After a good hour of surface interval, we now submerge ourselves on Half Moon Cay, a dive site further south, about twenty minutes away. To be more peaceful, we opted for the nitrox supplement at $ 10.
I jump into the water without any conviction and there, as if by magic, the visibility is superb, flora and fauna are there and Loïc, our Belgian guide, arranged for us to just dive together. We had a superb dive which was certainly the most beautiful of the whole trip. A real joy!
Picnic at Half Moon Cay
About fifteen minutes after getting out of the water, we land on a very beautiful beach. As soon as we arrive, a plate with chicken, potato salad, rice and raw vegetables is served. A few wooden tables are set up on the sand. Okay, we're not alone there, but the place is really superb.
A five-minute walk is required to discover the bird sanctuary on the island. This is imperatively followed by a swim to try to lower the heat ... It bangs dry!
The third and final dive is very similar to the second, despite the visibility deteriorating noticeably during the surface interval.
On the way back, the boat literally seems to glide over the water. We must admit that with full Creole music and coconut pineapple rum at will, the perception of time changes. We have the clear impression that things are going much faster than on the way there.
Diving in Ambergris Caye
We have established our base in San Pedro. This small town is located on Ambergris Caye which is the largest island in the country. It is also the only place where the hyperbaric chamber is located.
For the record, this is the island that Madonna sings in "La Isla Bonita", "Last night I dreamt of San Pedro…"
San Pedro has a significant number of dive sites. Being there for only three days, we favored the spots located nearby, about fifteen minutes of navigation.
The rhythm is two dives per day and, surprisingly, they are not double tank dives, since we enter the center between each of them.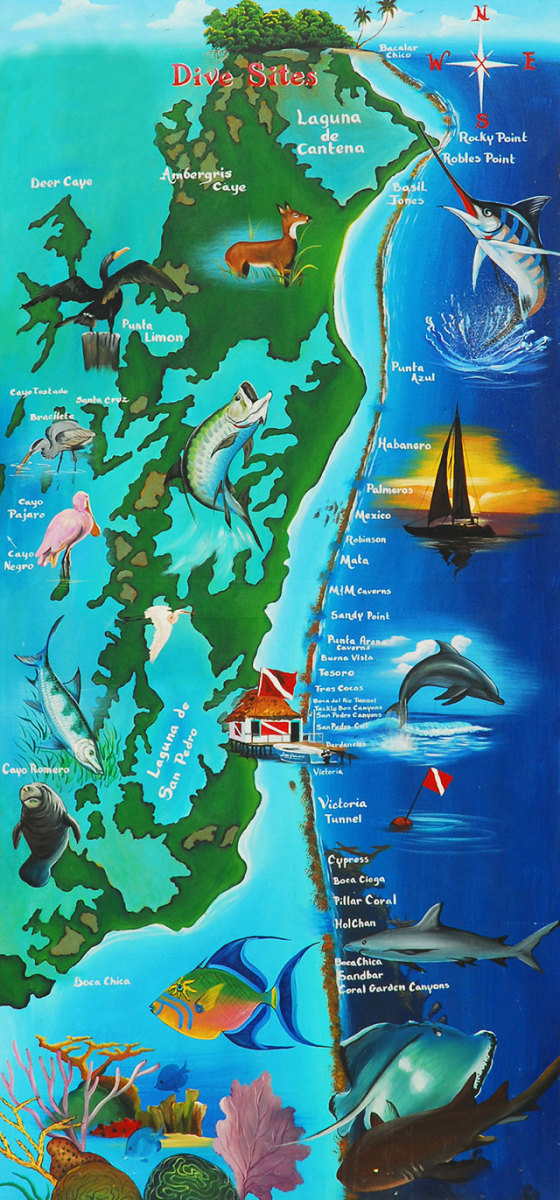 Tackle Box: the essential
The underwater life is very rich there and we meet nurse sharks and gray sharks on each dive. Three to four times, during the dives, the boat throws a few fish on the surface, just to keep all these animals above our heads because they literally delight American tourists. Groupers are also very present, as well as a lot of dolphins which, depending on their mood, let themselves be approached… or not.
Night dive at Ambergris Cay
We jump on the lagoon side and take a small channel to reach the ocean. The diving is done at very shallow depth and as the sea is a bit shaken, the visibility is not sublime as you can see on the video.
A lot of fish. A moray eel, who understood that our headlights could be an asset for her, will accompany us throughout the dive. Stingrays, groupers and even a cicada… very nice dive. Be careful though, the current can be really strong.
And what are we eating in Belize?
Fish or chicken? Chicken or fish? Okay, I'm exaggerating a bit, but hardly. Dozens of small restaurants follow one another on the beach or in the city. It is simple and good cooking.
We will even finish the stay at a San Salvadorian who, despite the season, we found lobsters!
To Belize
There is an international airport serving the city of Belize City. But we made the choice to trust Phocaea Mexico, once again. For more than three years, they have been offering a five-day, four-night extension to Belize, which is six hours from Playa del Carmen, Mexico. And Martine and Didier, the owners of Phocea Mexico, have as usual everything set up to satisfy their customers.
The hotel is located on the beach and without being the Hilton it is quite comfortable and quiet.
Four hours by minivan will be enough to reach Chetumal where you will take a fast ferry which will take two hours to reach San Pedro. Of course, a French speaking guide will accompany you. He knows the region perfectly since, as a rule, he's always the same, in this case Loïc, a beautiful Belgian baby who is of course also an instructor and who guides the dives.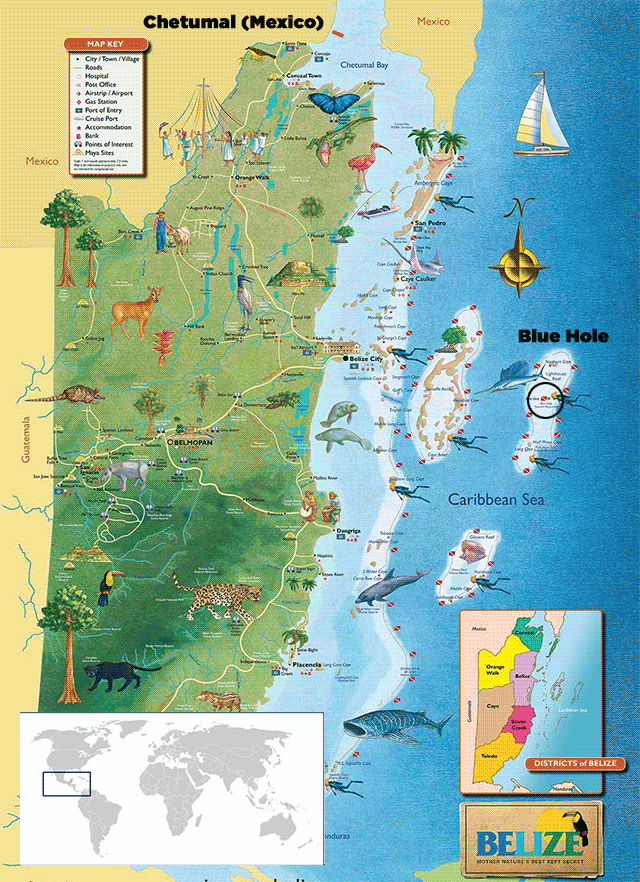 Didier tells us a little more:
"The Blue Hole is a world famous diving spot. Going there from France can be a nightmare. We therefore had the idea of ​​offering Belize as an extension from Mexico. In addition, to our great satisfaction, we have a lot of repeaters, those customers who come back to us regularly. The goal is to always offer them more new activities to give them an additional reason to come back even more often.
To organize this extension, we need a minimum of eight people, all groups being accompanied by a Phocea Mexico instructor to ensure the relay between the group and our service providers on site, which is also the guarantee of a quality of service equivalent to that offered in Playa del Carmen.
There is not necessarily a maximum because we adapt the stay to the number of people.
In order to guarantee the departure as much as possible, we made the choice to regroup the customers. Thus, here is the calendar of the next extensions in Belize:
From 24 May to 28 May 2015
From June 21 to 24 June 2015
From July 26 to 30 July 2015
From 23 August to 27 August 2015
From September 20 to 24 September 2015
From October 25 to 29 October 2015
From November 22 to 26 November 2015
From December 13 to December 17, 2015 ″
Price per person: $ 1.499 USD, including round-trip Playa del Carmen / Chetumal transport, round-trip Chetumal / San Pedro ferry, hotel nights in double room basis, breakfasts, lunches, dinners, dives and entries to marine parks.
For more information, only one address:
http://mexique-plongee.fr/plongee-belize/