Elie Boissin combines the humor of words with the love of women and waves. This Pythéas de Mazargues who crisscrossed the Mediterranean by sailboat and diving now writes the novels of his life, over the pen ... In his fiftieth book "For the love of feathered fish", he balanced everything on the picking of these curious fish around Marseille, the Lavezzi, the Balearic Islands ... As we know that this is the code used by amphora pirates to designate and redeem their packages, we cannot recommend too much to read this eponymous book, particularly "enriching" ...
"Somewhere in the north of Ibiza… With Thierry we bring the Zodiac above the site, then before mooring, I get into the water first, the small anchor in my hand to try, once at the bottom, to put it down while avoiding seeing it end up in the middle of the deposit and act like a vulgar rake in a reserve of eggs.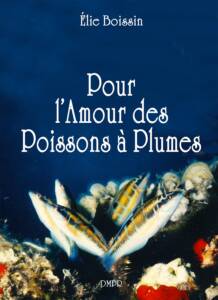 A few minutes later my friend joined me and as he approached me, I saw his eyes become all round and his right hand forward, his index finger pointing towards all these bodies at attention, concreted artistically by the surrounding environment, to offer our eyes the most beautiful "feathered fish". Everything is spread out in front of us for several tens of meters, and the more I look at them, the more I imagine myself hearing them address a prayer to me begging me to bring them back to the open air. However, my god it's beautiful an ancient wreck in the middle of a superb setting, the only museum capable of highlighting all these wonders that have survived two thousand years of immersion, watched by a whole world of guardians, going and coming incessantly in an elegant and rhythmic swim like a battalion of the Republican Guard on a day of grand parade. Here, where everything is dressed in blue, bordering on twilight, I sometimes want to sit down in this bewitching silence and not move, just so as not to disturb my guests!
Amphorae on the landing
At least fifty amphorae in perfect condition can be removed without any problem or loss of time, they are placed there… They were waiting for us. We do not ask for such a quantity, a fortnight for us, as much for the Spanish contact, history of watering his relations and above all, above all, what seems great to me is that the ease of picking them will make us gain a crazy time, therefore, to take advantage of scratching a little below and around the main pile.
We would really like to stay a little longer at the bottom but as my regulator begins to "harden" I give the signal to rise while heading towards the nearby cliff.
Our technique for the bearings was simple, totally disrespectful for my doctor friends, Raymond Sciarli and Professor Jacques Chouteau who have spent so many years studying the gaseous problems of the human body under pressure… I beg their forgiveness. We found during this expedition a very personal formula from which we derived total satisfaction.
Each time, we get into the water, having first opened the reserve of our bottles and of course removed the unnecessary rod. Result, we worked at the bottom until one of the two (Jean or me) began to feel less flexibility in the regulator (the old CG 45) and there, quietly we went straight up to ten meters. While playing with the small wreaths that came to greet us, we repeated the same operation: if the regulator became a little hard again, we went up a few meters. Around three meters we finished emptying the bottles as long as there was the possibility of drawing out the slightest trickle of air. If we had to go down to forty meters, we used the same method without ever having had the slightest problem… "
The hero of Sormiou
Elie was born on August 18 in Mazargues. It was then only a small village south of Marseille but already backed by the creeks. After putting down his bag all over the world, when he was not living on his boat somewhere on the Grand Bleue, Elie came back to Mazargues to write. He receives us in his three-story shed leaning over a wild garden where he lives, writes and paints. Greek Sifnos where we often feast too, as evidenced by this small friendly reception; another one of those "aperitifs dinatoires" to leave us all lit under the full moon ...
Near the wood fire, a few creatures get to know each other while scents of garlic and pastis invade the room: Elie is blazing prawns. With sea urchins, oysters, stuffed sardines, mussels and half lobsters, this evening again, it's sea to drink!
"We were a whole bunch of kids," Elie tells us, "and we often went down to the Calanque de Sormiou to fish for arapeds in the rocks. It was there, between the sheds, that we met the Beuchat girls. Sometimes their father let us borrow the boat and we could fish a little further.
The arapeds were most often eaten raw; with a knife, on the rock. I still have the taste on the taste buds and this desire has never left me. Moreover, I still go to the arapeds, in apnea, on sites where you have to be careful not to hit your head on the bottom while making a duck.
Yes raw ... Or else, we brought them home to prepare them "rich".
At this evocation, Elie interrupts his chipping, knife raised: his eyes shine.
"We chopped them with garlic and parsley, salt and pepper, before mixing them with a potato cooked in water and frying pancakes in olive oil".
The epicurean has woken up, who pushes the vice until freezing sea urchin coral in ice cube trays to organize feasts out of season ...
"My first trophy? It was when I was 12, with my first underwater rifle. I was diving in the rocks of the beach in Sormiou. Around three meters, I spotted a hole. At the bottom, huge tentacles ... But I did not have time to pull: the octopus hung on my face and I had to surface with the animal still attached to my mask. I was a hero! We ate it in crap… "
And then it is the meeting with Falco, a neighbor, who takes him to the Calypso at the age of 18 to dive. At the time there was no apprenticeship: bottles on the back and everyone went as he felt!
"It was probably around this time that I developed my" personal "techniques but which I do not recommend. My way of diving with the spare rod removed, my "dead reckoning" bearings, my preference for solo dives where you only have to take care of yourself which reduces any problems by 50%. I know it's unorthodox but I'm still alive!
We left by bike, on foot; swimming while towing the bottles behind us towards the inaccessible cove of Cancéou. I remember emptying a bottle on the Pierre de la Loude, playing hide and seek with fish at a depth of fifteen meters. Groupers, clouds of bream, dentis that did not leak. And at the time, the average visibility was 30 m, easy. There was Neptune's lace, faux coral everywhere. Today, they no longer grow back… "
The time has come for professional diving, at the end of a hookah under the black belly and without marks of the super tankers. With its share of incidents as told in a previous book "For the beautiful eyes of a lobster":
"I am at the bottom, between the mud and the hull of an oil tanker of three hundred meters by thirty, in zero visibility… Suddenly, while I am halfway between port and starboard, my narghile delivers me a real river of salt water: no possibility of taking a breath of fresh air! Far, far away, at the end of the darkness, I discern a lighter line. Over there, all over there ends the steel ceiling which for the moment keeps me prisoner. The length and weight of the hose slowed down my advance and I decided to strip and abandon my equipment. So, finally lightened, I swim towards this clarity. Thank you to all the gods of freediving, I arrive in open water and the surface is there, above me. It was then that I was struck down by a syncope ... "
The grouper tango
What made me want to write? But young girls, of course! I needed my pen to shoot poems for them. I have always considered women to be the most interesting thing on planet earth. And very early on, I felt the need to look into the subject… I wasn't too bad at French at school, but always off topic. I hated imposed subjects. Already rebellious ...
All my life trying to do nothing, I have exhausted myself ...
This taste for writing has never left me. On my boat there were always a few slips around my mechanical typewriter. One day, we were anchored in Sifnos, a Greek island which would become the name of my cabin in Mazargues, later and my friend had invited one of hers, passing through, on board for an aperitif. The friend in question, looking at the typed sheets, asked me if she could read them and plunged into the reading for a long time before saying:
- Wouldn't you like to write?
Her name was Marguerite. Marguerite Yourcenar ...
Because Elie, apart from his life as a diver and freediving champion, has always been an artist. Writer, painter of "neo-colonial" canvases from Marseille in the past, but also a performer, musician, singer…
"It was Terii who taught me to play the guitar. At Club Med where we were "nice organizers". A spearfishing instructor, this jovial Tahitian never lost an opportunity to party and to exercise his "cookie-cutter" humor. Club Med obliges, in the case of the free diving we were always surrounded by beautiful girls who made mines. The conversation was rolling that day over the big groupers that we were pulling out of the sea when suddenly, with a burst of laughter, Terii said to me:
- Elie, the Lady, she wants to see your grouper with blue eyes!
And on that, we started to improvise on guitar and voice what was to become "the grouper tango". It was the year Albert Raisner toured the clubs. This avid spearfishing enthusiast but also a television star and famous harmonica player thought he looked so good that he wanted a version for harmonica and that we made a record. But the producer was killed soon after and the project was abandoned ... Besides, I never had any luck with fortune: it always escapes me at the last moment. It seems that my sponsors die as soon as I deal with them.
More than 50 years ago, for example, I invented a life jacket for freedivers and hunters. It was a sophisticated buoy whose inflation with a CO2 cartridge was triggered in the event of syncope, thanks to the position of the accident victim's arms. It worked very well and it could save lives. To the point of interest to Spirotechnique which carried out conclusive tests at Porquerolles. We were about to develop the product when I learned that the CEO had just died in a taxi! "
Bohemian of the sea
A stony beach with some rubbish, the sea rolling green reflections under a hazy sun: I am at the end of the world, on the north coast of Libya. Degun, as they say in Marseille. No one ! Yes. A turbaned fisherman who sells huge prawns in newspaper. € 2 per kilo. We cook them on the hot stones of a wreckage wood fire and we share. And my urgent question:
- Where are the fish?
He agrees to take me on his boat, beyond the roller bar. I make a first pour and find myself in the pastis! A yellow water, opaque, disturbing by the presences that we can guess there. At five meters deep, everything tears and I find myself in crystal clear water. A 30 m long rague where, in the light and shade, dance huge cerniers, badeches, groupers… The hunter's paradise!
"I am not a diver. I rather claim with gaiety of heart, the life of a bohemian by the sea. It's true, she was mine and gave me the happiness of never knowing my future "…
Interview by Francis Le Guen