"THE SLEEP OF THE WRECKS" BY JEROME ESPLA AND PATRICE STRAZZERA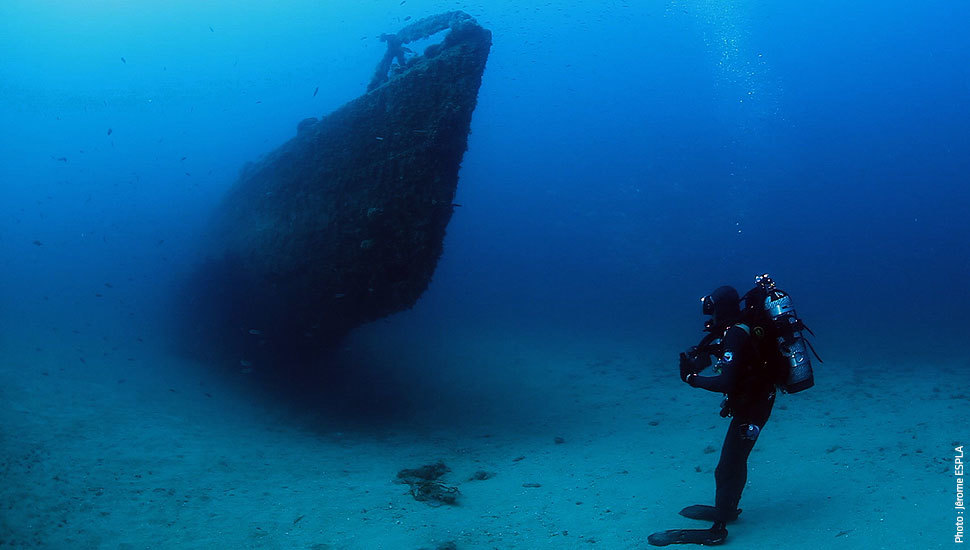 France 3 broadcast three weeks ago a documentary by Jérôme Espla, "Le sleep des épaves". Born from his meeting with the photographer Patrice Strazzera, whose black and white photos are an invitation to a motionless journey, he reminds us that they have a soul ... READ MORE
Next week, from November 1 to 4, Le Parc Chanot in Marseille will host the thirty-ninth edition of the World Underwater Image Festival: new team, new place, and new spirit. While remaining in the continuity of the event created by Daniel Mercier in 1974 ...

Barely 1 year ago, GOPRO unveiled its GOPRO HD2. And we must admit that it was a revolution in terms of quality. Well, let the brand's aficionados rest assured, Nick Woodman, creator and boss of the young company has just done even better. And yes, just to show Sony, Canon…
Released a few months ago, "Life in fresh water" has become The guide for inland water diver who wants to know more about the flora and fauna. Its authors, passionate divers of rivers and lakes, await you next Saturday at the Festival de l'Image in Marseille for a signing session on the Turtle Prod stand…

Our goal at scuba-people.com is to make you happy and to keep giving you "excuses" (as if necessary) for coming back to the site. We are happy to be able to make you benefit from these competitions and diving games organized with our partners. With each publication of Le Mag, you can win Beuchat equipment, invitations to the Show ...

At the beginning of October, the dream of the DRASSM archaeologists took shape: to finally explore the mythical wreck of La Lune with exceptional technological means, in collaboration with the French Navy and Dassault Systèmes. The goal is to bring back enough information to be able to model the wreck in 3D, and finally discover the secrets ...
Diatoms, salps, ctenophores or phronimes, the team led by Christian Sardet manages the feat of plunging us into the heart of topics that could at first seem boring, and to hang on to the first image!
"Frankly: aren't you a little fed up with coral? I do. Real coral eh? The hard one. With all its bad taste baroque, its peaks, its hollows, all this porcelain worthy of a Jacob Delafon exhibition. Me, these whitish, yellowish, beige, green colors depress me. Immerse yourself constantly in hot water, clear water, salt water and coral: I have the impression of walking in a spa!… "

This "beach resort" is part of the "Sea Explorers" group. Located 15 kilometers south of Dumaguete on the island of Négros, it was opened at the end of 2004. As they like to say: "built by divers, for divers". After this long journey, it is sweet to arrive at Pura Vida. It is a human-sized hotel whose central point is the bar. This one is ideally located between the diving center and the swimming pool where you absolutely must… "
BEUCHAT has just identified a crimping problem on underwater pressure gauge hoses (reference 331006) put into circulation from October 2011 ...

This blog brings together underwater photographers from nearly 50 countries! Recognized or more anonymous sizes, all offer portfolios combining the beauty of the classic image ...

Paul Watson received the Jules Verne Prize two weeks ago, in the category of adventurers and protectors of the environment. Of course absent from the ceremony, he nevertheless expressed himself ...

WeCab ​​is a shared taxi system launched by G7 which serves both Paris airports. A service that saves up to 40% on travel costs ...