GOMBESSA, LAURENT BALLESTA RE-FOUNDED COELACANTHE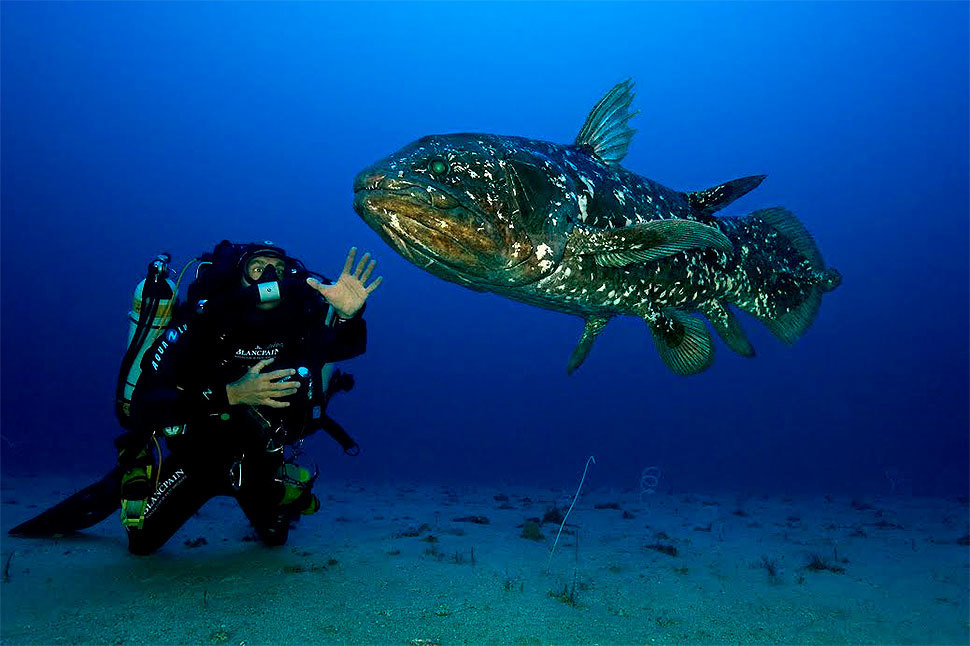 "Long before I met him, Gombessa nourished me with hopes and dreams. "I only believe what I see" some say, but with the coelacanth you had to believe in order to see it. JLB Smith, despite his 1939 publication, searched for it for 14 years of his life before proving he was right in 1952. Hans Fricke spent years and fortunes building the submarine leading him to him in 1986. Peter Timm sold his farm, moved and dived for almost three years only to finally see him through his mask in 2000. Go tell them there's no point in believing it. " ...
As every year now for nearly two decades, enthusiasts gather in Polynesia to fully enjoy the aquatic ride offered by dozens of humpback whales. The population of humpback whales or megaptera (Megaptera novaeangliae), so called because of their long (mega) fins ...

When Pierre Frolla, you know the quadruple freediving world champion, suggested that we come and do a report about the youth camps of the Blue School in Monaco, we jumped at the opportunity. At the same time, at scuba-people.com, we have chosen to test what we present to you in Le Mag… so difficult to tell you about internships…
Aqua Lung awaits you on its stand Stand: E 09 - E 11 - F 09 to present its new LEGEND GLACIA
Nomad was created in 2004. Initially, it was a very small center managed by Christophe Chellapermal, its founder, who arrived in the Emirates in 1986 and who has been diving in the Middle East since 1991. Nomad is a well-equipped center and we are there. finds the spirit and the atmosphere that one could find in the centers and camps of Dahab, in Egypt, from the very beginning…

H2O VOYAGE has been in existence for 12 years. This tour operator specialized in diving "but not only" has been organizing H7O expeditions for 2 years which we must admit, some of them make us drool… We wanted to know more in order to understand how the idea of ​​creating them is. she came? How are these organized? how are the destinations chosen? ...
"My photos are all black, hazy, blue, blurry, moving"… "I could never take beautiful photos with this camera"… "Impossible to work on my images: I'm angry with the computer!" So many received ideas, sources of ...

André Laban is a pioneer of the Cousteau team, he is today an underwater painter of international renown. Born in Marseille on October 19, 1928, he embarked in 1952 as a chemical engineer aboard the Calypso ...

Share! Sharing your passion is a real pleasure and that is what most divers do. And sharing his passion for diving with his children, with his partner or his partner with his parents, goes beyond this pleasure ...