Definition
Heavy steel or aluminum cylinder filled with pressurized gas that hurts your back and threatens to shatter your neck at any time.
Synonymes
Diving bottle | Bottle of compressed air | Scuba diving suit
Starter

I almost chose as entry B like… Barotraumatism. But the only definition I found on Wikipedia was: "People traumatized by too long stays at the bar." Politically incorrect! So goes for " Bloc ».
Block ... What a stupid name! When I started (in the Middle Ages) we talked about bottle. We were doing "scuba diving"! It was mouthful; compared to "snorkel" divers… But, "block diving" is ridiculous… When I arrived in Australia, they were "tanks", with US, "cylinders", coral with Sardinians, "bombole": how do you want us to find our way there? Block what first? Notepad? Concrete block, foie gras? Operating room? Block 19? I have already had the opportunity in the article on caissons, to insult me ​​against this vagueness of terms in a language yet one of the richest and most precise in the world ...
Anyway, block or bottle, these tanks cause a lot of civil wars aboard dive boats as we told in our podcast "This bottle is mine!"
Horizontal PLatform
The diving bottle was invented in 1839 by James elliot et Alexander McAvity, Saint-Jean au New Brunswick, east of Canada : we are well advanced! If anyone has more details, don't hesitate to come forward… Because for us, the bottle is the CG 45 of Cousteau-Gagnan. Composed of 3 blocks which were inflated, I believe, to 150 bars. When I started, it was the reign of the 2 × 9 liter bi-fuel or the 12-liter at ... 177 bars. I have always been traumatized by the precision of this operating pressure which forced me to stand in front of the compressor, my hands clenched on the purges and taps, while gradually becoming deaf ...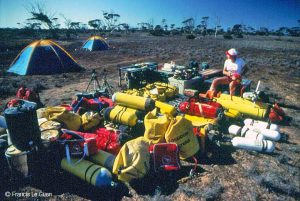 Then came the "200 bars", much more serious! That we inflated, of course, to 250 bars (hot). And the 15 liters, the 18, the 20 liters… I don't know what leap technology could have taken to allow us overnight to go from 177 b to 200 b? No doubt a story of standards and red tape. As for the pressures, it was the escalation: 232, 300 bars… In Australia, we tested composite fiberglass bottles from theAerospace up to 450 bars. With carbon fiber you can climb even higher as in some recyclers.
Dive like an anvil ...
But, to get back to the standards, not everyone was in the same boat within European regulations. In France, we could only use 18 liters of steel weighing 25 kg! Anvils! In caving, combining them in bi or sorting was not even possible. But there were nevertheless 20 liters / 20 kg. In Italy. The absolute weapon! The perfect weight / volume ratio to compose large diving suits. For our expeditions, it is Jochen Hasenmayer who took charge of negotiating our bottles at F, on the Slovenian border. We then went to pick them up at his place in the Black Forest, not without having "soiled" them before discreetly crossing the French border…
Desserts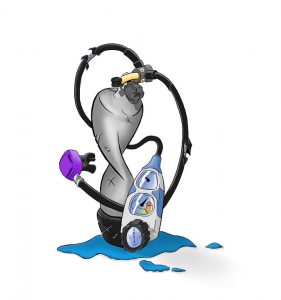 Diving is still a curious sport: who else would accept to carry a real time bomb on their back? In the 80s, cavers used extinguishers that were diverted from their use because of their lightness. A definite advantage when it comes to transporting scuba diving equipment thousands of meters underground. Except that these tanks were absolutely not designed to withstand the pressures to which the explorers inflated them. We thus lost a good friend, shredded by a fire extinguisher which exploded in his garage during an inflation.
If accidents of this type are not rare during inflation (where all precautions are taken, in principle, to avoid the worst) I do not believe that there have been any cases of tank bursting during diving. But the same is not true of the famous "stirrup" first stages. I miss the place here to tell you how with René Heusey, during a filming in Mauritius in the wreck of the Stella Maru, we had successively hit the same obstacle from the first floor, finding ourselves in apnea with a major leak behind the neck… But this reminds me of another anecdote, in Normandy this time.
We were spotting in a murky spring in the land of chalk and one of us had devoted himself to exploring the basin of icy water. Old fashioned: neoprene "sharkskin, bi" 3,2 m3 ", Spiro 8 regulators with calipers, Fenzy, construction helmet, battery-powered Aquaflash lamps, DIY reel and Yalaah!
It was then that a detonation sounded and we saw our friend Hervé literally go flying, arms outstretched, slowly flowing. Quickly recovered and lying on the bank, we could see that the first stage caliper had suddenly given way, throwing the first stage like a bullet in the Fenzy first, spraying the back of the helmet then before finishing its race in Hervé's neck, happily protected by neoprene, slowly regaining consciousness, apparently without after-effects, saying nothing. Well, normal, what ... Still, he would remember this "whiplash" for a long time ...
See you soon for a new definition of Scuba Bécédaire. The irreverent lexicon of diving, but not only. Because sometimes ...
Francis Le Guen
Coffee
It is always quite exhilarating to attend these burst tests. In complete safety, of course. Unbearable suspense beyond 320 bars… 🙂