Definition
A hilarious gas invented to double Donald Duck in the movies.
Synonymes
This gas is so light that it has no synonyms! | Symbol: He.
Starter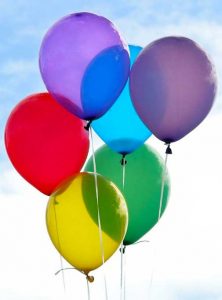 Apart from its anecdotal use in deep diving and rebreather, thehelium is especially used to inflate the balloons and to make children laugh and not so young by breathing helium to produce the famous voice of duck. The internet is full of hilarious recipes that are not without danger. Three breaths of pure helium lead, in the best case, to a sudden syncope. Beware of the fall!
Some haven't even found anything better than inhaling helium directly from high pressure cylinders! What quickly look like the airship Hiddenburg… Needless to say, due to the high flow and pressure, this can produce barotrauma that tears lung tissue and can be fatal. However, these accidents are quite rare, since there were only two deaths between 2000 and 2004 in United States.
Horizontal PLatform
For my part, I used helium diving from the middle of the 80 years, on foot, on horseback or in Zodiac. Rapidly supported by Swedish society AGA, which financed me and provided me with gas and expertise, I was able to experiment with all kinds of mixtures and push my limits in cave diving. Think about it: before this time, I exceeded several times - 100m with compressed air, which, you will agree, was not very healthy… The opportunity to use the decompression tables of theUS Navy beyond the mythical "300 feet" to learn, 10 years later, that these tables were only the product of empirical equations, never tested underwater!… Moment d 'apnea; perfume of box...
But, in terms of heliox and trimix (which I had learned to make with coralists in Sardinia), I did not expect the nasal fight that was to come. Let me explain. I received a phone call from the teacher one day Abitbol, laser surgeon and researcher invested in the French space program, qHe immediately asked me this incongruous question: "Can you sing with a camera in your nose?"
Can you sing with a camera in your nose?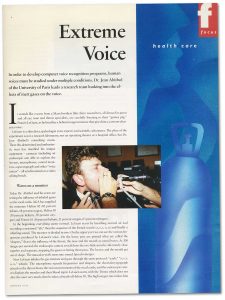 Having a reputation for not being cold-hearted, I couldn't see what was going on with my nose and replied in the affirmative, without hesitation. This is how I found myself strapped in a chair, several endoscopes in the snout focused on the vocal cords, sensors everywhere, a regulator in the mouth with just enough heliox to keep me alive ... And there , under the watchful eye of the cameras, you are told: "Sing Frères Jacques"… Nah, let it pass… It seems that the trauma disappears after 30 years…
During this experience which I would later call "The Voices of the Extreme", en company of the imitator Yves Lecocq, the singer Pierre Bachelet and other voice silversmiths, we tested different heliox blends and explored changes in the vocal cords. These, projected in full screen, these sticky things that move and yet are yours: it's disgusting! I admit that, of course, when the nerves gave way, in the laboratory it was more "the dance of the ducks at the box"...
Desserts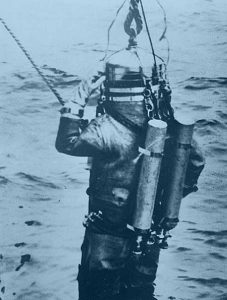 This is the American physiologist Thompson who The first is the use of helium diving in 1919. Given the very high cost of this period (around 90 000 $ / m3), nobody was thinking of buying one. TheUS Navy still drives aboard theUSS Falcon a series of dives including at least one at -30 m to the heliox mixture. But history has mostly held a dive in December 1937 in Lake Michigan. With a helmet of his design, Max Gene Nohl, a student from MIT (Put on your Institute of Technology socks) went down in autonomy to - 128m.
Today is the Marseille diver Theo Mavrostos which reached the greatest depth with the hydreliox mixture: - 701 meters. He obtained this record during the diving campaign which took place as part of the experiment COMEX Hydra 10.
See you soon for a new definition of Scuba Bécédaire. The irreverent lexicon of diving, but not only. Because sometimes ...
Francis Le Guen
Coffee
The Hydra 10 experience of the Comex and the depth record of Theo Mavrostomos.