Definition

Action to hold your breath while pinching your nose ...
Synonymes

Free diving | dive in pig | breathless | to have gasps | The Big Blue ...
Starter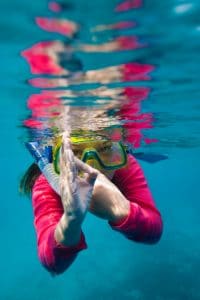 Apneists, in general, do not lack air. Their goal is to stay under water for as long as possible and to break records of depth, with or without fins. At sea or in the pool; in hot or cold waters; underground, under ice, in the club toilets ... We get lost a little in all these categories of constant weight, not constant ... I also noticed that all freedivers around me are world champions in at least one of these multiple specialties. Man or woman, with or without lead, string or not, vegan or under cassoulet, smoker or no smoker, with or without Zodiac... There is even a discipline of static apnea with prior inhalation of oxygen! The record is ... 24 '03 s.
When the apnea lasts several hours, it must be considered that it is actually a drowning and it is advisable to go up the body, to dry it ...
The practice of apnea was perfected during the 20 th century to Marseille (2ème city of France) because of the chronic strikes of the municipal garbage collectors and the disembarked sewers on a decennial base. do not forget that Jacques Mayol was Marseille.
Horizontal PLatform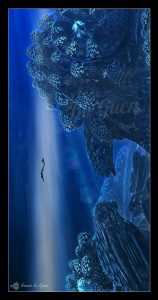 Like many, I began my discovery of the underwater world by spearfishing. In apnea therefore. Out of season, we trained hard, my father, my brother and I, every Sunday morning, at the swimming pool of Massy Palaiseau, to be blown away. box. The Breton squares had only to be well!
This is how I reached my personal bests: 3 '20 in static apnea and 2' 40 in dynamics. The fact that I remember these figures proves the vanity of our attempts at the time. Because, if we had empirically discovered that the movements of the diaphragm prolonged apnea, we would have been far from imagining staying more than 11 minutes underwater as is practiced today! In terms of depth, we were fishing quietly, within 10 m. Even if a few "record" forays had made us cross the 20 m ... Until this day when, following an inexplicable mess, I did not let my depth gauge escape, which sank in a spiral into the translucent water of a mountain atoll. Maldives. I could see the instrument very well, stranded between two coral bushes ... I ventilated a little and began the descent in apnea. Which seemed interminable to me. But the depth gauge was there, however, at the end of my outstretched hand ... When I grabbed it, on my way to the blue window on the surface, I could see that the needle was set on minus thirty! Going to get his record in a swimsuit, it still had the mouth! But what a derisory performance, again, compared to the record of a Natalia Molchanova in "constant weight with fins", at -101 m in 2011…
Desserts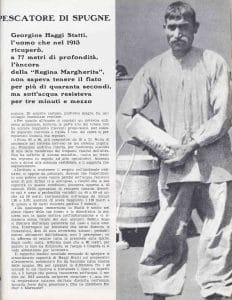 Apart from the mythical "pearl fishermen of the Sunda Islands", the first recorded exploit of a freediver dates back to 1913. The Regina Margherita, a battleship of the Royal Italian Navy, had just sank in the 80 meters, in front of the island of Karpathos, in the Cyclades. A sponge fisherman, Haggi Statti, proposed to recover the anchor and the chain. In apnea ! He claimed to dive regularly at 100 meters. This little hungry man? With his pulmonary emphysema and two punctured eardrums?
In the following days, Haggi plunges about fifty times on funds of 60 84 meters, in jerseys, weighted with a big stone for the descent and the strength of the arms along a rope, to go up. Finally, he finds the anchor by 76 meters ...
"Deep down, I feel the weight of the sea, there, under my shoulders. My throat is tight, I am oppressed but I no longer think about breathing »…
Today, the records are set at 11 '35 s in "static" apnea, - 132 m depth in "constant weight without fins" apnea (breaststroke, with just a leopard thong) and - 214 m in " no limit "… Performances that command respect.
La Cuvier's beaked whale, meanwhile, is capable of freediving over 137 'to reach depths of 2992 m. But who cares: the Japanese will soon be the last ...
See you soon for a new definition of Scuba Bécédaire. The irreverent lexicon of diving, but not only. Because sometimes ...
Francis Le Guen
Coffee
The New Zealand Apneist William trubridge crossing the arch of the Blue Hole Dahab in Egypt ... the breaststroke and underpants! You do not have to imitate it 🙂