Definition
Dive with the bottles on the sides rather than on the back. Method invented by the English to annoy the French.
Synonymes
Side mounting | English-style diving
Starter
After having put on the hood (English), it is clear that the English have still put a layer on us with the so-called "English" diving. First mocked by the cocoricos of which I was a part, this technique gradually imposed itself by its common sense. But then, you should have seen them Angliches at the time: on the way to the sources, halfway undressed by their bottles beating their thighs. Ri di cu les! Well, at the same time, we (good divers) were weaving on slopes that were always too steep, caissons at arm's length, bent under the weight of steel bottles full of pipes and straps that tore our shoulders. Hey ho! Hey ho! We are going under water… Hey ho! Hey ho! Finally, do you see the painting?
But then, underwater, the roast beef, they were newts! At the first tightening, we had barely started to struggle with the straps to strip off the damn bottle they had already passed. Like suppositories between the tired buttocks of retirement homes. Distant, mocking in the emerald, we had only their headlights to cry on.
But, in fact, when it comes to extreme sports, it all seems to be about the backpack. Parachuting, diving, mountaineering… We all have this little old man's approach, crushed under the load. But hasBe careful not to confuse your leisure time! If you find yourself in an airplane full of wind, at 6000 m, with a rebreather in your back, two 20 liters in your butt and someone says "Go", there is still time to regret… There is only the first step which costs ... No, you may well shoot, it will not slow down the fall! No, no, I assure you. As for the free faller who, when opening, realizes that he only has a stove, a hammock and a sleeping bag, waking up may be difficult ... The climber, my faith, will have drawn the best number: he will always be able to reach the valley, under his unfolded bag ...
Horizontal PLatform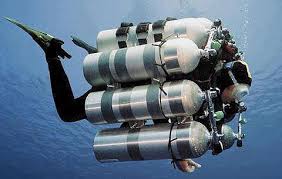 It is clear that, twenty years later, the use of Sidemount has become widespread. We cavers are not surprised: we have always had relays and decorative bottles that swarmed around our belts. Recyclers at theHelium, it's the same, with all these "bail-outs". Sidemount or not, it still looks like a bunch of bottles on the move.
God knows that I have faced narrow passages, horizontal or vertical, jagged with erosion or rocky terrain, with or without current, with or without visibility. Each time, there were bumps in the road, "stripped", which is not the most rational, especially in waterproof clothing, all these pipes, Argon inflator, etc. Question of culture ... We had tried hard at Dionne Pit de Thunder an artisanal sidemount, with a climbing harness and two 7-liter aluminum but which did not convince us. We were missing all those little briefs strapped up close, all that perfectly designed buckle, which we find today on every street corner! So yes, the sidemount technique is a joy that allows you to overcome almost all obstacles and enjoy a real new autonomy. Not to mention the management of taps, manos and regulators that fall "to hand" and in front of the eye instead of hiding like false asses behind your neck, out of reach of your dislocated arm and your ribs broken by the effort ! As for your eyes: my God, your eyes ...
The fax was not yet invented but we were getting closer ...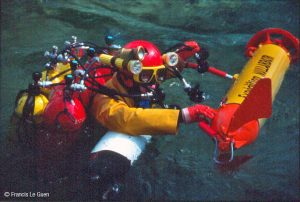 Faced with certain restrictions, my brother and I did our classes with flatfish. Carrelets, soles, turbots… The fax was not yet invented but we were getting closer…
As for the Sidemount, well, it was somehow included, as on this spacesuit tested in Australia and composed of a 4 × 20 liter steel backing plus 3 x 10 liters (which we would replace shortly after by composite cylinders) and 4 × 15 liters in "sidemount"…
Desserts
The concept was developed in England in the 1960s by the caver-diver Mike boone while exploring the Hardrawkin Pot cave, in the Yorkshire. The smallness of the place and the alternation of dry and flooded passages made this configuration compulsory. It was then used with success in the explorations of Wookey hole, Ax river...
It was in 1970 that an accident occurred at Royal springs. At Florida. An inexperienced diver drowns in an extremely narrow passage. All attempts to recover the body prove to be in vain ... Even Sheck Exley et Wes skiles must give up because of their back suits. Sheck then had the idea of ​​a minimalist configuration, consisting of a single bottle on the side, with Wes as a backup, and they succeeded! Since then, these two great explorers have left us, under water… We had dived together many times.
In 1977, still in Florida, Forrest wilson et Woody jasper improve the concept with the addition of a buoy and various harness systems. The first commercial configuration was created in 1995: The Transpac of Dive Rite. At the start, a special order of Lamar hires for an expedition to Japan ...
See you soon for a new definition of Scuba Bécédaire. The irreverent lexicon of diving, but not only. Because sometimes ...
Francis Le Guen
Coffee
A nice demonstration of the usefulness of the configuration sidemount in caving. Jug Hole, Florida. Can you imagine all this being "stripped"? Nah, eh? 🙂