Driven by the same thirst for adventure and surpassing themselves, Philippe Croizon and Arnaud Chassery embarked on an extraordinary challenge between May and August. 2012: connecting the five continents to swimming in four months, side by side.
A COMMON OPERATOR
Connect 5 continents to 4 swimming crossings in waters up to 0 °. Extreme situations, cold and dangerous waters ... Without arms or legs for Philippe ... Driven by a foolproof mind and intensive training, these extraordinary 2 pioneers reminded the world that the notion of exploit is accessible to all regardless of the situation.
PHILIPPE CROIZON: A MAN NOT LIKE OTHERS
In 1994, at the age of 26, Philippe Croizon was the victim of a dramatic accident: while changing his television antenna on the roof of his house, an electric shock of 20000 volts crossed him right through. Months and months of hospitalization, dozens of hours of operations, hundreds of days of tireless rehabilitation… A terrible battle between body and mind to overcome the insurmountable: having four limbs amputated . Today, he likes to be called "the man in a kit!" "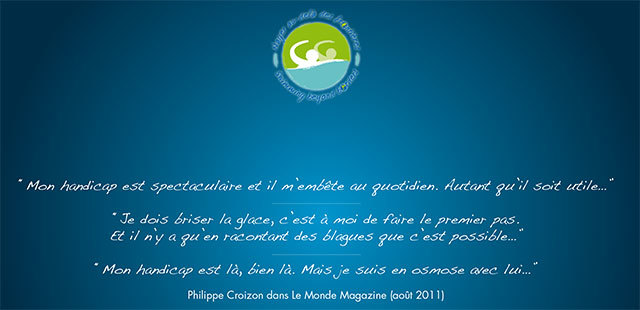 ARNAUD CHASSERY: A SPORTSMAN AGUERRI
Arnaud is mountaineer and mountain guide, specialized in orientation. For many years he coached groups on snowshoeing, mountain biking, sea kayaking and canoeing. He then worked as a teacher for future candidates for the State Mountaineering Certificate.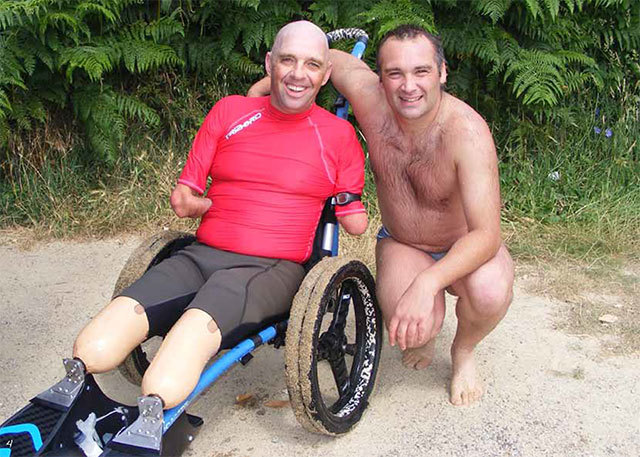 FRIDAY 30 NOVEMBER 2012 TO 20H45 IN A SPECIAL THALASSA
At first, France 3 Poitou-Charentes co-produced with Gédéon Programs and broadcasted a first documentary "life in arms" *, the regional antenna and television news have supported each stage of this epic off common. Georges Pernoud and the team of Thalassa have engaged with the same enthusiasm on the magnificent long-term film project proposed by Robert Iseni and Marianne Cramer of Gédéon Programs. It is with great pride that France 3 accompanies the screenings of the film "Swimming Beyond Borders" with the general public during screenings in regions or at the City Hall of Paris 7 last November for the "Extraordinary Month". The channel will broadcast the film on Friday 30 November 2012 at 20h45 in a special Thalassa **, just days away from the World Day Against Disability.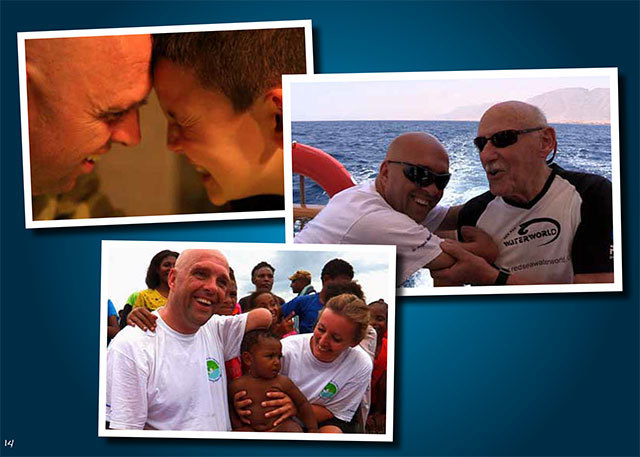 A SPORT
Alongside Philippe and Arnaud, AQUA LUNG and AQUA SPHERE are part of a human approach based on strong values: the equality of men in the face of disability, tolerance, solidarity and the systematic refusal of any kind of discrimination. In this context, AQUA LUNG and AQUA SPHERE are proud to bring their material and financial support but also their moral support by their presence, admiration and encouragement. AQUA SPHERE is the swimming department of AQUA LUNG, manufacturer of diving equipment. AQUA SPHERE shares the legacy of AQUA LUNG by benefiting from a unique know-how and advanced technology to develop exclusive solutions in swimming. Promoting endurance swimming for its beneficial virtues on the body and mind could not be better illustrated than by the exploit of Philippe Croizon and Arnaud Chassery.