A month and a half ago, we lost Henri-Germain Delauze. This week Albert Falco has gone. The generation that guided us, moved, transformed is taking off. A few weeks ago, we wanted to believe Everlasting Beern by introducing you to his latest book. We found there the roots of his childhood, all that built him. We could have here, once again, tell his life, his extraordinary journey, his adventures. We preferred to give the floor to one of his friends, Pierre Martin-Razi, to talk about the man he was.
"Twenty one in the morning, April 22. An SMS destroys the calm of the night: Bébert is dead… Bébert is dead? Yes. Bébert is dead. Three words rehashed until the improbable. Three terrible words. A simple and obscene sentence. Bébert is dead? What next ? This is not true! Of course, for weeks I had known the inevitable. There, however, frozen in the cold loneliness of the resurgent dawn, I refuse to believe the impossible ... The comrade can go and walk her sinister silhouette elsewhere, Bébert remains there, indestructible. I will always hear his voice with nasal intonations, I will still share my meals with him and, forever, he will be in my dives to accompany me, his gaze of wonder behind his mask from another time.
Tell Albert Falco? He did it himself better than anyone, carried by the enthusiasm and this gift of words and images received in the Marseille of his childhood. Evoke what everyone knows? Calypso? The thousands of dives? The Denise saucer? Diogenes, the first house under the sea in the Frioul Islands (whose sixty-year anniversary will be celebrated next September)? Shaab Rumi? The fight for the preservation of the oceans, the commitment to young people? His fight for the preservation of Marseille's creeks symbolically materialized these days? I will do it elsewhere, perhaps, as a journalist.
I prefer today, divers diver, reach out to those who have not had the chance to know the captain of Calypso to train them in the early nineties, one morning very early at anchor from Terre de Haut, in the Saintes archipelago. The sun is coming up, the sloping clouds are sliding on the trade wind. The coffee maker shuddered. It's nice out. Sitting in the cockpit of my sailboat, I look at the sea, the sand, the moving bangs of the coconut trees. And I feel the ineffable impression of belonging to a universe where everything seems in order. In a few days, I'm going to cross to Europe and I'm waiting, sails curled, wings folded ... Further, on the other side of the bay, an unknown catamaran pulls gently on its cable.
A guy dives off the back platform and swims straight at me, without hesitation. Its crawl has the regularity of a metronome. A few minutes later, two strong arms are leaning on the skirt of the boat, a face appears: Bébert. Shit ! If I expected… Smiles. From afar, the guy recognized me. At sea, nothing escaped him. His eye was that of a true sailor, his visual memory as vital as it was formidable in precision. Suddenly, he climbed aboard then, mug in hand, we talked about tomorrow's now passed out while I can hardly write these words. We talked for a long time. The sun has come up. I offered to accompany me on my planned solo crossing, which he declined due to lack of desire and time, he who nevertheless gave a lot to his friends. No doubt he wanted to let me take alone a path chosen for months, a path that belonged to me. I also understood that, for his part, a thousand battles still awaited him, battles that he waged with stubbornness and courage without ever deviating from a youthful spirit and a critical lucidity on the world and perhaps more about himself.
That day, little white seashell in an existence of salt and water, could I imagine that an infinity of waves later, Bébert would be by my side to testify of a crossing of another kind, of a commitment sprinkled with gusts of wind but also bright? Much more than doubtful generosity, Bébert possessed the subtle and delicate sense of the gift without calculation. The shade is important and that's why I loved it. That's also why I love him.
By presenting him to Cousteau at the beginning of the excavations of the Grand Conglu, Jean Flavien Borelli had described him as the god of water. The first president of the FFESSM was wrong, reductive. Bébert was much more. Beyond the exceptional diver, we knew the good man, we knew the… Words fail me, my eyesight is blurred, I can no longer do it. My hand trembles, fatigue assails me. In a dazzling decade, my address book has become a necropolis, reading it is unbearable. Now that I know philosophy vain and religion without effect, what is left for me? Love of mine and my taste for the sea. And this taste - must I admit it now? - child dreamer, I owe it to Bébert. As many.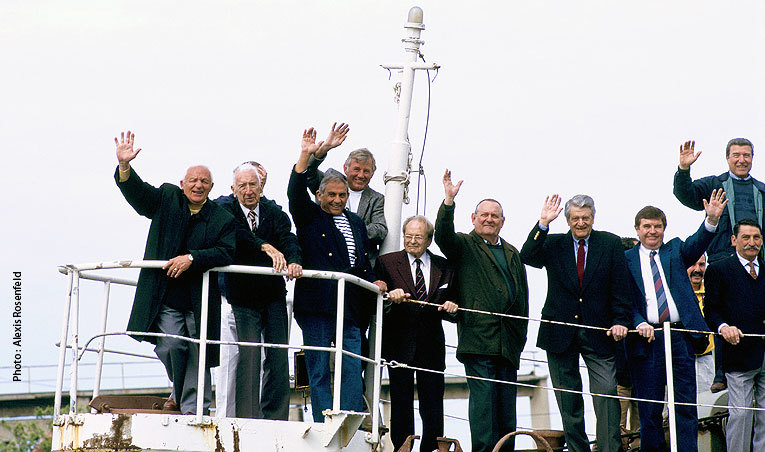 Because he was a friend, Albert Falco was, for more than thirty beautiful years, the punctuation of the happiest moments of my life. And he will remain that friend until my turn comes. It is thus: by remaining by my side, Bébert will continue to help me live. I kiss Maryvonne. Very strong."
Pierre Martin-Razi