The idea has necessarily crossed your mind: bring back from your dives more than nice memories, and immortalize your underwater ballads. Expensive ? Complicated ? Not necessarily. Without becoming a pro image, you can get started. We asked Eric Le Coedic from H2O Voyage, a photographer and a frequent traveler, and Hubert Lacour from Plongimage, to help you ask the right questions before choosing your first camera.
A CROWD OF COMPACT DIGITAL DEVICES
As the photo market has become widely democratic, all brands now offer a full range of digital compacts, at all prices. Before making your choice, you must therefore simply ask yourself the question of what you want to do with your photos: if it is only a question of bringing back a few memories, as you do on earth with your family, you can shoot for an envelope of around 400 to 500 euros. You will then have a small device and its housing, inexpensive and very easy to use. Also think at the time of your purchase of your level of diving, asking yourself the question honestly: am I able to lug a large spider underwater (box, articulated arms, flashes ...) or is it still too much early for me and should I be content with a very small, compact case that will almost fit in my hand?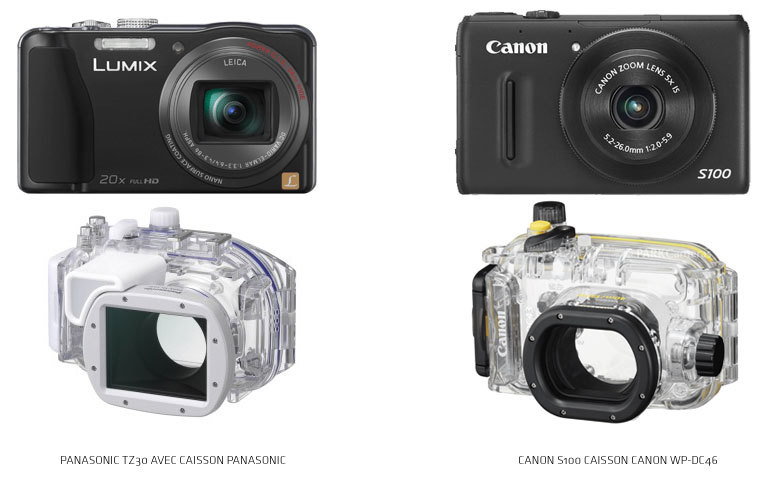 THE PREFERENCES OF PLONGIMAGE
- Panasonic TZ20 or TZ30 with Panasonic housing
- Canon S100 Canon WP-DC46 housing
MORE EVOLVING DEVICES
But if you want to be able to progress towards better image quality, you will have to choose the range above: here again, we remain in the world of devices and compact boxes. They now offer an extremely fine resolution, in the order of 16 million pixels, and provide basic files in Raw format, apart from Sony, which allow them to be processed on return from travel. All the major brands offer this type of device, and the boxes that go with it, at a cost of around 1000 or 1200 Euros. The advantage, besides the resolution, is that they are considerably closer to the equipment of the pros in terms of accessories: plates for attaching arms and external flashes, macro rings, wide-angle lenses… You will have all the photographer's panoply. submarine.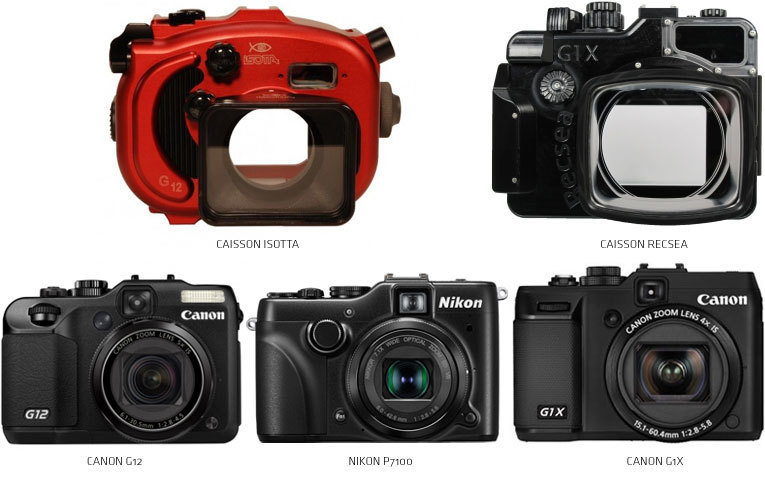 THE PREFERENCES OF PLONGIMAGE
- Canon G12 Isotta housing
- Nikon P7100 Isotta housing
- Canon G1X RECSEA housing
WITHOUT THE DISADVANTAGES OF PRO MATERIAL
Moving to professional equipment is another story. In addition to the price, extremely high to acquire the best boxes and the best digital devices, which should of course equip the best flashes (this time is in sums 5 figures), the problem of maintenance and the fragility. You may not want, as an amateur, to spend an hour or two of your precious vacation every day cleaning, checking and monitoring your valuable equipment. Not to mention that when a drop of water creeps into pros equipment, the tension is immediately palpable ...
DO YOU ADVISE BY A SPECIALIST
Whenever possible, get advice by interviewing real specialists in underwater shooting, there are a few, and their technicians will be best able to direct you to this or that model depending on your budget and your level of practice. These specialists can also sometimes offer you excellent appliances and second-hand boxes that will get you started without breaking the bank. If you buy elsewhere prefer the most famous brands: think of service if there is a problem. European brands arrive on the market; with them, no worries of service, no worries of long and expensive factory return, a direct contact in French ...
SAFE VALUES
"These last 3 years," insists Hubert de Plongimage, "too many" disposable "products made in Asia under names seemingly respectable brands (SeaLife, Intova, etc ...) have disappointed divers. So they returned to the safe, Canon, Nikon, Panasonic, Olympus with box manufacturer when it exists (Canon, Panasonic, Olympus) or Japanese or European brand box (RECSEA, ISOTTA, HUGYFOT), the American brand boxes being more and more shunned for their lack of ergonomics, their size and reliability sometimes questionable. "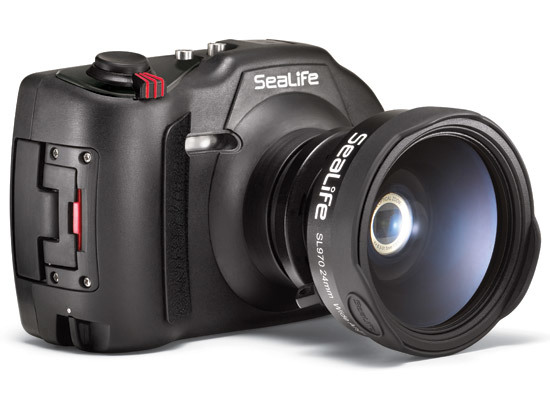 EUROPEAN QUALITY PRODUCTS
"From now on, continues Hubert, we want a camera capable of making good terrestrial photos and good underwater photos, for a small footprint, optimum reliability level device and caisson level. This quest for quality has revived in Europe brands either forgotten or badly exploited for years by distributors seeking margins at the expense of the real needs of customers. The future is now the Made in Europe in all areas, compact housing, SLR, video, accessories and it is not over, a manufacturer of underwater flash European must arrive shortly on the market. Buy European is more expensive initially but cheaper in the end. "
ALL MUST ENTER IN YOUR HANDBAG
The choice of your camera and its accessories, all photographers will tell you, must also be conditioned by the weight and size of the craft: "we can only advise, recalls Eric Le Coedic of H20 Voyage, if it is possible, not to put his camera equipment in the hold ": risk of lost luggage, or shocks to transport, unless you have robust Pelikan type luggage (the best solution, since they are shockproof and waterproof). Check that the bag or small suitcase that you choose will be allowed in the cabin and will carry all of your equipment. This is especially true as soon as you start to use external lighting: flashes and flash arms quickly take up space, they rank badly because they are rounded, and you will have to become the kings of the optimized space!
THINK IMMEDIATELY FOR STORING YOUR IMAGES
"The files created by digital devices are becoming heavier, warns Eric Le Coedic, it is also necessary from the outset to think about your storage capacity: cards, hard drive to take with you are essential." All the more so because of the fact that there is no more film to develop, the "digital" photographer is more easily left on the trigger. Remember that 10 years ago, it was necessary to count with 36 shots before getting back on the boat to change the film, remaining calm so as not to dip the camera and correctly put the O-ring of the box (without hair) , but fast enough so that the dolphins are not gone yet ... The problem does not arise any more, one presses without qualms on the trigger, but that supposes to have a lot of place. It also means sorting at home if you do not want to be quickly overwhelmed, and remember to do regular backups.
TAKE THE TIME TO TRAIN
More and more structures, some clubs offer training in underwater photography. You can also register for an internship offered by a professional underwater image. But whatever formula you choose, go for it! You will save valuable time by integrating the basics of framing, lighting, defeating the small traps of the underwater environment and learning to maintain your equipment. By interacting with divers who have the same type of device and more experience than you, whether from the visu or through the internet, you will also progress much faster: do not be ashamed to ask for their notice to photographers more seasoned than you. Even the best started with tails of fuzzy, faded tapestries! Like you !
Text: Isabelle Croizeau
Thanks to Éric Le Coedic - H2O Voyage
And also Hubert Lacour - Plongimage