THIS BOAT IS NO LONGER IN OPERATION ...
After Sudan, No Stress cast off in the Bahamas. We have just returned from a shark cruise on this one and no need to wait until the end of this report to tell you that it is to be done urgently, absolutely. Imagine a little. The Bahamas have more than 700 islands and islets scattered over approximately 260 km² and form a stable nation. It's a change from Sudan ...
The Bahamas, pioneers in protection
The Bahamas was one of the first countries in the world to inaugurate their first national park, theExuma National Land and Sea Park, in 1958. They founded in 1959 by parliamentary decree the Bahamas National Trust. This organization now manages the 27 national parks and nature reserves of the archipelago and offers education and awareness programs on environmental protection.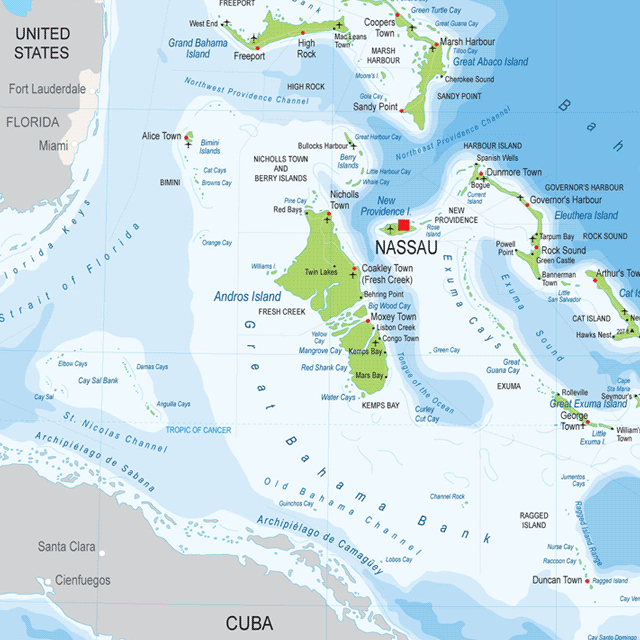 Arrival at Freeport
No direct flights to Freeport, so you will need to stop over in Miami to reach Grand Bahamas Island. Once you arrive, thirty minutes separate you from the Lukaya marina where the boat is moored. It is THE marina on the island. Many bars, restaurants and shops of all kinds if you want to bring back souvenirs, jewels and diamonds… This is also the Bahamas. Useful info, most bars and restaurants have free wifi connections because you might as well be clear right away, internet point on No Stress.
When we arrived, Jérôme informed us of a weather complication. Sailing to Tiger Beach will not be possible as planned the next day due to the weather. Two options are available to us. The first is to go to Bimini without being certain of being able to return to Tiger Beach during the stay, the second being to stay and lose, so to speak, a day in Lukaya only to leave the next day on Tiger Beach, before then continue towards Bimini. We unanimously choose to wait a day to be sure to dive at Tiger Beach. Thus, on No Stress, we set the objectives of the day after general consultation: no stress!
Tiger Beach
At the end of the following day, Jérôme set sail for Tiger Beach, despite the still capricious weather. He therefore made the choice to sail slowly in order to get there the next morning rather than at night. A sailboat is much more stable under sail than at anchor. As soon as he leaves the marina, as usual, he hoists the sails and cuts the engine. It is like that Jerome. He did not choose to buy a sailboat to make the engine. Navigate with the only sound of the sails flapping? An incomparable happiness.
Steven prepares the baiting crate and submerges it. We get into the water immediately on a bottom of 8 meters. The first shark does not take long to arrive. It's not the first time I've seen a tiger but it was a long time ago, by surprise and just a few minutes. I had forgotten how this animal moves. Indeed, it has almost no predator ... and it shows. At first, he stays at a safe distance and observes. Several distant passages, in order to gauge these strange "fish" which blow bubbles, before he decides to approach. Its size, it is enormous, contrasts with its placidity. He doesn't have to rush, he's the boss. Quickly joined by two of his fellows, what is happening in front of our objectives is extraordinary. The ballet that these super-predators begin in front of us is as magical as it is impressive. Quiet strength, as the other said ...
His inquisitive eye does not let us go, certainly the food is there but at no time is there even the beginning of a binge eating.
After 90 minutes of diving, we go back amazed and aware of the chance we had to be able to approach this mythical animal as close as possible.
The sails of No Stress are hoisted again. We will need a night of navigation before reaching Bimini and its great hammerhead sharks.
Bimini and the Mokarrans
After a hearty breakfast, Steven quietly immerses the baiting box but we wait to see the sharks under the boat before we immerse. It will not take them long, fifteen minutes and here they are!
The atmosphere is totally unlike Tiger Beach. The Sphyrna Mokarran come much more to contact and are much faster, even over-excited. They pass, they pass again, they brush against us, they sniff the box… from time to time, Steven decides to give them a sardine so that the frustration does not win them over.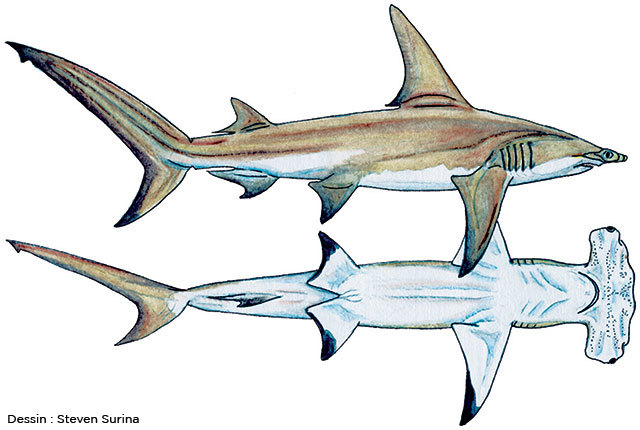 The large, flattened extensions of their heads give these fish ample lift and allow them to take tighter turns than other sharks. And their ridge is impressive in height. It often represents half of their body, or even more. Three, four then five, all equipped with sensors so that the Bimini Shark Lab can follow their movements to discover more about these animals, they turn around the box. Because they are there for her. And even if they take us into account, it is the fragrant scent of sardines that interests them. The encounter is much less subtle than with the tiger shark. They make you think of hieratic and confident Dobermans ...
I had met this species in Rangiroa but once again it had only lasted a few minutes and always from relatively far away. The magical thing here is having the time to admire them, generally in dives of… two hundred minutes. It is also magic to really approach them, even if in reality it is they who come towards us and not the other way around! A sublime and unforgettable experience.
The Bimini Islands are an archipelago and district of the Bahamas that consists of two main islands: North Bimini and South Bimini. These islands are best known as a hotspot for fishing. As the Bimini Islands are only 80 km from Miami, Florida, the archipelago is home to many American fishermen who come by boat. Diving is also a popular activity here, with many shipwrecks lying in the surrounding waters. And recently, the presence of mokarrans has attracted more and more divers. For your information, local centers offer this dive for US $ 250 ...
Ernest Hemingway has had a special relationship with Bimini. In particular, he introduced it to a good number of big game fishermen, an activity that he particularly liked. It is said that a 250 kg blue marlin caught near these islands inspired him for "The Old Man and the Sea", Le Vieil Homme et la Mer, and "Islands in the Stream", Drifting Islands. At the time already, the sharks were there and reveled in the catches of the big game fishermen. Hemingway came there very regularly. A small museum exists and the hotel where he used to stay is still there, but it was devastated by a fire.
NO STRESS: an Amel 54
On the AMEL 54, fun has its place everywhere. It is remarkably beautiful, the design of its deck contributes to the quality of life on board and greater freedom of movement. Each maneuver is made extremely easy. And this limitless cruise ship, with its comfort and safety requirements, is as pleasant for skippers, amateurs or seasoned, as it is for passengers.
The aft deck, the cockpit, the aft and fore sunbathing areas and the foredeck allow 3 or 4 groups to rest in different and comfortable places on the deck ... A large rectangular barbecue on two levels allows you to prepare barracudas and the jacks that you will be trolling. Each cabin is equipped with a flat screen which receives navigation, the front vertical underwater camera, the rear horizontal underwater camera, the mast camera, the DVD and the satellite television . There are seven flat screens on board. You can also see your photos and videos on a large screen in the saloon… listen to music on the Cabasse IO2 System… or taste a fine wine from the boat's wine cellar… three air conditioning units will refresh you… finally, the No Stress is also equipped with two 220V converters…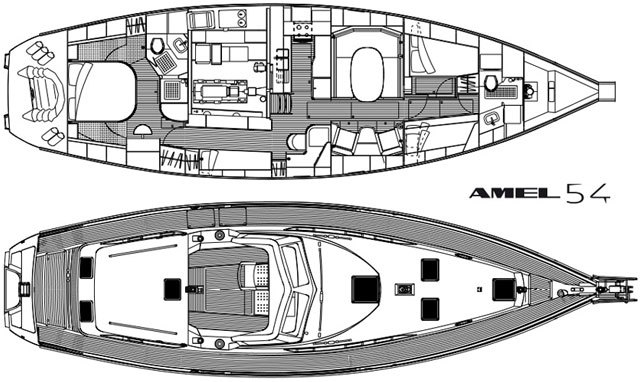 The No Stress has a safe and fast annex that allows you to explore, reach dive sites several miles from the anchorage or return even if the weather deteriorates. Other features: AB in Alu (diving) + Hypalon, 4m70, 60cv Evinrude; Rack 6 bottles; GPS / dual-frequency sounder to recognize funds in poorly mapped locations.
Its latest equipment: a retractable platform with two parrot ladders has been added, which allows easier launchings and which above all guarantees your safety, if necessary to get back on board quickly.
But let's give the floor to Jerome Arnaud, the owner and skipper of the No Stress who will tell you much better than us.
The pongee aboard the stress in detail
Diving since No Stress
How are the dives organized?
For which divers?
And last but not least ...
SPECIAL OFFER scuba-people.com
                  Any cruise between the 30 May and the 13 June has an exceptional discount. Instead of 350 € per day, we have negotiated for you a special rate at 290 € !!! Remember to mention "scuba-people.com" in order to benefit from it.                  

---
The Bahamas
ID card
Capital: Nassau is the capital of the Bahamas
Number of inhabitants: The BAHAMAS have approximately 307 inhabitants
Currency: The currency used in the Bahamas is the Bahamian Dollar. The US dollar is accepted everywhere and it is at par (1 $ US = 1 $ Bahamas).
Day: In the Bahamas, the National Day is celebrated on Independence Day, July 10 (1973)
Time difference: When it is noon in Paris, it is 6 a.m. in the Bahamas in winter and 5 a.m. in summer.
Official Language: English is spoken in the Bahamas
Main Cities: The main cities of the Bahamas are Freeport, Nicolls Town, West End, Andros Town
Religion: The majority of the population of the Bahamas is Baptist and Anglican. There is also a minority of Catholics.
Climate
The Bahamas enjoys almost permanent sunshine, but it is not their only asset. Their temperate climate cooled by the trade winds, the mild temperatures of the winter, the very tolerable heat of the summer make it an almost ideal destination all the year round. Even during the rainy season, between May and November, rainfall is generally quite sporadic, especially in the south.
formalities
For French nationals, a passport valid six months after the return date is required to travel to the BAHAMAS. No visa is required for a stay in the Bahamas for less than 3 months.
Gastronomy
The cuisine of the Bahamas is rich and mixed. It is closely linked to Spanish, Caribbean, American and British influences that meet in the Bahamas. You can enjoy these typical dishes of the Bahamas:
simmered conch, a popular shellfish of the Bahamians.
Bahamian style macaroni, filled with celery, pepper and grated cheddar cheese.
Crab salad with mango, chilli and tarragon.
Johnny Cake: sort of nutmeg flavored.
Guava Duff: a guava and rum pudding.
pineapple from Eleuthera, small and sweet.
Souvenirs & crafts
Locally made, basketry articles abound in the various markets of the large islands. But international products are also a source of good business. Jewelry, watches, perfume, clothing, cameras or decorative items can be 10-40% cheaper. The main shopping venues are Bay Street in Nassau, the International Bazaar in Freeport or the Market Place in Port Lucaya. Business hours: Monday to Saturday, 7 a.m. to 18 p.m., and Sunday, 8 a.m. to 10 a.m.
---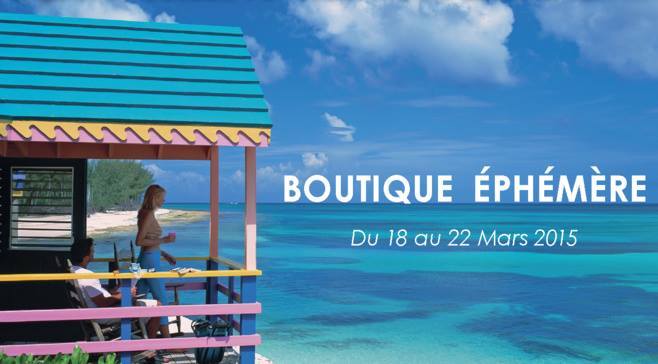 Want to take a vacation? From March 18 to 22, 2015, the Bahamas tourist office is opening La Maison des Bahamas, an ephemeral place dedicated to this archipelago. Inside, all the soul, culture, traditions and folklore of the Bahamas, to put balm in our hearts and why not give us travel ideas!
For five days, the Bahamas invite themselves to Paris, in an area of ​​80m². We will discover the joys of diving, golf, fishing and boating, all the life of some 700 islands that make up this archipelago in the Atlantic Ocean, near Florida. You can imagine your vacation in the Bahamas through video presentations, tastings of Bahamian specialties, tastings of Goombay Smash, the local cocktail, as well as an array of local crafts. To give them a glimpse of their vacation in the Bahamas, a nail bar awaits all women who want to feel Bahamian to their fingertips and a "beach selfie", a selfie against a beach background, awaits you all all day long. !
- Saturday 21 March : special day and evening dedicated to weddings and honeymoons, in partnership with the wedding planner BAHAMOUR.
- Sunday 22 March : special family vacation day with entertainment for children, in partnership with Atlantis Paradise Island and Viva Wyndham Fortuna Beach.
Practical information :
The House of Bahamas
From 18 to 22 March 2015
Location: 14 / 16 street Jean-Jacques Rousseau, 75001 Paris
Schedule: 10h-18h
Accès libre