The mood of Francis Le Guen
Because sometimes, do not mess around!
Music credits: Erwan & Eric Le Guen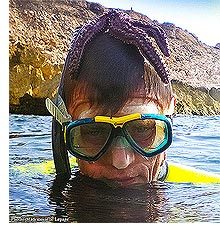 There is still a practice that is lost, it is feeding. You know, the feeding of marine animals to be able to observe them quietly… Baiting, force-feeding, what… Who now has bad press under the pretext that it would modify the behavior of animals and sharks in particular…
It was cool though: you were put in a row, your ass in the sand, with no movement and you had the right to watch the monitor playing the puppet with a fish in your hand or even in your mouth. Well, sometimes there were misses and the shark would walk away with an extra piece… The martyrdom of the morons. But what a circus!
Feeding, however, was a long tradition from the days when peanut bags were bought in zoos to feed monkeys in cages. Now it's the divers that are being caged. The world upside down !
Today, everyone is against the practice of feeding. It's dirty, it's maaaal. Yes but, in practically all the structures where I dived during the shootings, it is however the rule. You have to believe that supply follows demand… Because sharks are not there by chance, for your beautiful eyes, be sure. With all the noise of the daily groups, the reels of the fins like a combine harvester and the sand tornadoes that go with them, tell yourself that the sharks agree to have their portrait drawn only by the enticing smell. Not yours but that of dead fish, frozen, broken down like a puzzle or locked in cunning boxes with holes. But if ! Look carefully ! It's the same for stingrays, big groupers, and so on ...
Obviously, one should not exaggerate. I remember a dive in Crystal River Florida where a fool was trying to stuff a manatee with bananas! While it only feeds on water hyacinths. Moreover, exasperated, the placid animal had returned a slap to the moron who had lost his mask ...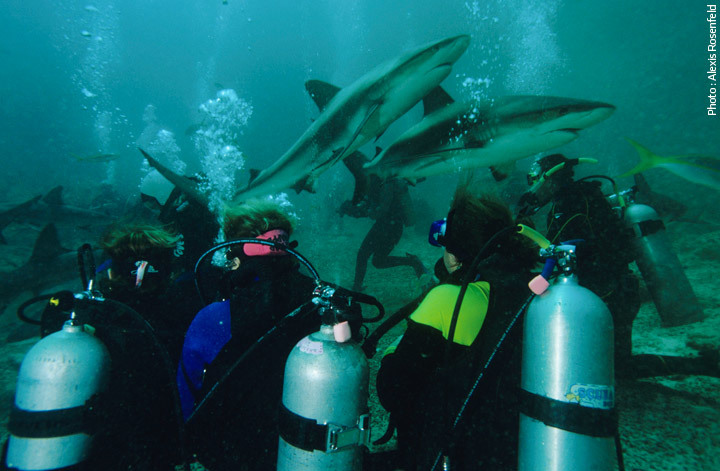 So ? Would you be ready to forgo a dive if you found that the center practices feeding? Frankly ? I did it. Once. In the Coral Sea in Australia. After a trip of more than 3 days where I had slept badly. I was in a bad mood. Yes, it happens to me! And then I discovered that the announced cluster of gray sharks was not there by the luck of Mother Nature: this spot, however remote and "wild" it was, was regularly stocked with fish carcasses. Well, I decided to skip this dive and therefore this sequence. No sharks in the movie! Instead, a magnificent branch of soft coral. Only one. In the desert. Yes, we were on the wrong site. But that's another story… Well, I'm not a fundamentalist either, and I have often dived on properly baited shark sites.
Because finally, who's bothering who, the feeding? Sharks are happy. The divers too. The centers, do not talk about it. So ?
Before, during baptisms, we crushed a sea urchin to bring in the wreaths. No one could fault it. It was innocent, and educational. How are there no more sea urchins? Come and walk barefoot in our creeks, you will see! Oh well, is fishing regulated? Would we have unbalanced the population by catching too many edible females? What should not be invented! Aaah the ecologists ...
Obviously sorrowful minds will tell us that a fed shark is a rotten shark. That by dint of getting used to the man, he will end up eating it. Let's admit. But frankly, they mostly eat surfers, sharks. Divers, are we okay? So ?…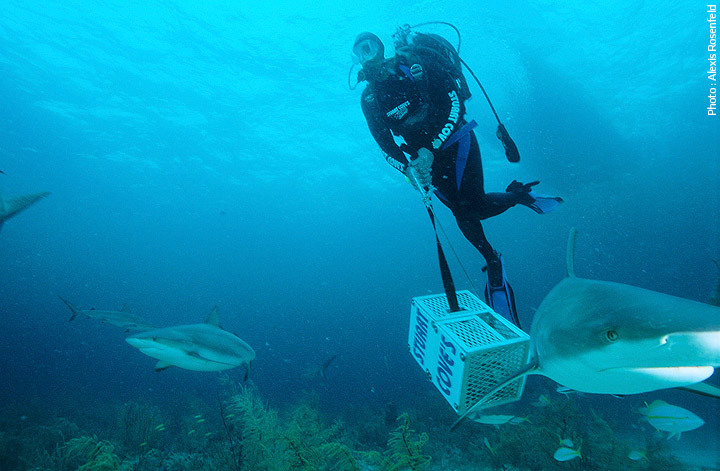 But, it's true, feeding also presents risks. I remember this story that ran in the Red Sea, on a certain busy site ...
A monitor had the good idea to regularly feed a large Javanese moray using these delicious sausages in plastic, you know, the ad: "let's not miss the simple things"… Except that one day, particularly inspired and to make his team laugh, he had taken his own knacki out of the underpants to urinate in the water. Evil took him. Knack! Gobée! The tail was sliced ​​clean by the moray and no question of recovering the piece ...
The worst part is that these moray crap get used to it! You innocently approach a hole and the beast springs up like a spring, swallowing what it can. While diving in Hurghada with the staff of Plongeurs International, A few years ago, I saw Olivier Oudon save his right ear very little… The ears, and the tail, as the bullfighters say… You see?
And since we are below the belt, let's stay there with this other anecdote occurred in New Caledonia. The lagoon is particularly rich in shells and often attracts lovers of conchyliology and other fishermen on Sunday. One of them had found nothing better than gleaning particularly beautiful cones and, full hands, to stuff them in his bathing trunks to harvest again.
Stung directly into the femoral artery, he did not have time to reach the shore. What a siege!